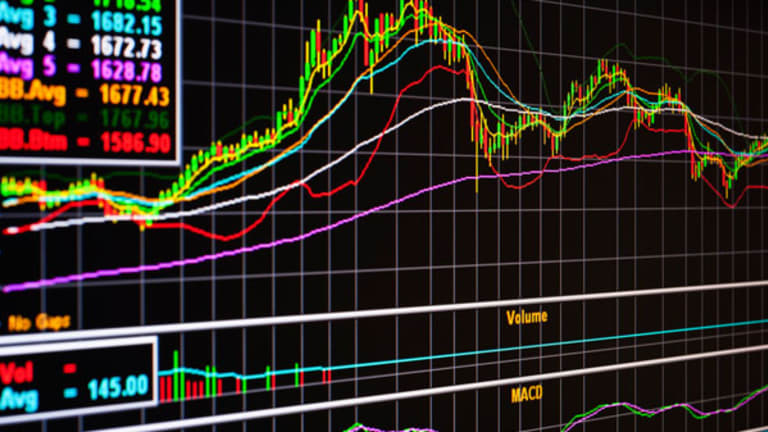 3 John Paulson Stock Buys for 2011
Here's a look at some of Paulson & Co.'s top new buys in the most recent quarter.
BALTIMORE (Stockpickr) -- "If you don't own a home, buy one. If you own one home, buy another one, and if you own two homes, buy a third and lend your relatives the money to buy a home."
So goes that infamous quote attributed to John Paulson's speech to Manhattan's University Club in the fall of 2010. That quote has received no shortage of attention in the months since, and it's no surprise why.
Paulson, whose firm,
, manages a handful of hedge funds with assets approaching $30 billion, is famous for making a massive bet against CDOs ahead of the financial crisis of 2008, making billions in the process. Paulson's switch to a housing bull is a change that hasn't been lost on Wall Street -- and neither has his performance. Last year, Paulson is reported to have made $5 billion ($4 billion from personal gains in his fund, and another billion in compensation).
Related:
Seth Klarman's New Bullish Stock Picks
Forecasts of a bull market for housing aren't the only notable predictions being made by John Paulson. He's also betting on massive increases in the price of gold (he's targeting $2,400 to $4,000), and double-digit inflation by 2012 -- an observation that would also make stocks an asset to watch.
So what
stocks does Paulson see rallying in 2011
and beyond? Here's a glimpse at three of the newly-initiated positions at Paulson & Co. in the last quarter.
Transocean
Paulson is obviously no stranger to being a contrarian, a fact that's even more evident when looking at his firm's biggest new stake,
Transocean
(RIG) - Get Report
. While Transocean's involvement in the Gulf oil spill adds the potential for significant financial liability and potential downward pressures on shares, it's the company's flat price chart in the last five years that's causing real pain for shareholders.
Over the last half-decade, Transocean has trailed the S&P's (also paltry) performance by more than 400 basis points. That hasn't stopped Paulson & Co. from buying 7.2 million shares -- a $572 million stake at current levels.
To be fair, there are significant fundamental reasons to expect upside in shares of Transocean. For starters, the company's market position is enviable. With a massive 139 vessel fleet, and expected macroeconomic tailwinds for deepwater drilling, Transocean should be one of the biggest beneficiaries in the next several years. At the same time, a massive $26 billion backlog (the majority of which is made up of ironclad contracts with terms favoring RIG) bodes well for investors.
Demand for deepwater drilling expertise is palpable in emerging market countries right now, with oil operators in places like Brazil and Nigeria in need of Transocean's abilities. Once the black clouds of the Gulf spill have cleared, expect shares of this stock to gain some upside momentum.
Another notable Transocean bull is
Omega Advisors' Leon Cooperman
, who increased his stake in the stock by 104% in the most-recent period. Transocean was one of
Fortune's 10 best stocks for 2011
, and according to Dirk van Dijk, chief equity strategist at Zacks, it's one of
several stocks to ride a recovery
.
BlackRock
As the largest money manager in the world,
BlackRock
(BLK) - Get Report
has dealt with one of the biggest challenges facing asset management firms following the recession -- it's got the client cash to continue collecting substantial management fees.
We're talking about $3.5 trillion in client cash, in fact, more than two-thirds of which comes from institutional clients, whose dollars are considerably stickier than fickle retail investors. That gives BlackRock much less earnings uncertainty than peers who are beholden to consumers for their AUM.
Part of the pull to BlackRock's services is the wide portfolio of products the firm offers - from equities to fixed income to alternatives, clients have significant choice within the BlackRock family, a factor in retaining those assets. As one of the biggest ETF providers (though its iShares family of funds), the company is also well tuned to in-demand investment products on Wall Street -- and capable of creating new funds that meet the ever-changing demands of the investing public.
Those factors clearly have attracted investors to more than just BlackRock's product offerings -- they've also boosted the profile of the company's stock of late. And Paulson & Co. is one of the firm's that's been buying. The company initiated its position last quarter with 2 million shares -- a $411 million stake that gives the hedge fund manager claim to close to 1% of the asset manager.
Other major holders of BlackRock include
Lee Ainslie's Maverick Capital
, which initiated a 1.3 million-share position in the stock in the most-recent period, and
John Griffin's Blue Ridge Capital
, which maintained its 800,000-share position. According to Frank Byrt, BlackRock is one of
five top stocks for the 2011 market rally
, and Credit Suisse included it as one of its
.
Del Monte Foods
From a percentage-ownership standpoint, Paulson & Co. is taking on a much bigger stake in
Del Monte Foods
(DLM)
, the firm's third-largest newly initiated position for the most recent quarter. With 19.15 million shares of the San Francisco-based food and pet food company, Paulson's firm owns 9.6% of the company's outstanding shares.
But the Del Monte Foods position isn't quite as cut and dry as Paulson's other stakes. That's because the company is currently the target of a $4 billion acquisition bid from a handful of private equity firms lead by Kohlberg Kravis Roberts, Vestar Capital Partners, and Centerview Partners. The PE firms are bidding $19 for shares, a tiny premium over the stock's last close but a premium that would represent a nearly $2 million gain for Paulson & Co. based on recent buying.
This week, Del Monte announced that it would adjourn its special shareholder meeting to vote on the acquisition offer until March 17. By that time, it may become more clear whether the company will go through with the cash offer, or whether other suitors will step forward.
David Dreman's Dreman Value Management
is another Del Monte Fan, having increased its position by 2.6% in the most recent period to 2.5 million shares. With an A- buy rating, Del Monte is one of TheStreet Ratings'
top-rated food products stocks
.
To see the rest of the firm's plays, check out the
on Stockpickr.
-- Written by Jonas Elmerraji in Baltimore.
RELATED LINKS:
>>Top 10 Warren Buffett Dividend Stocks
>>Seth Klarman's New Bullish Stock Picks
>>Renaissance Technologies' Top 30 Stocks
Follow Stockpickr on
and become a fan on
Facebook.
At the time of publication, author had no positions in stocks mentioned.
Jonas Elmerraji is the editor and portfolio manager of the Rhino Stock Report, a free investment advisory that returned 15% in 2008. He is a contributor to numerous financial outlets, including Forbes and Investopedia, and has been featured in Investor's Business Daily, in Consumer's Digest and on MSNBC.com.