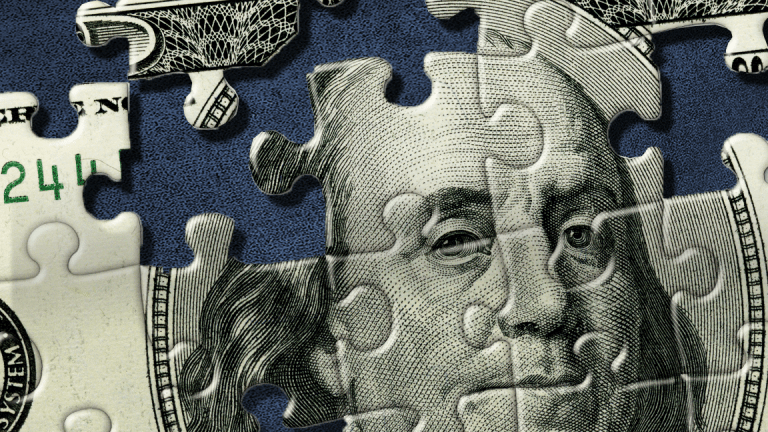 3 Investments I Like for October (and 2 That I Hate)
Bitcoin looks good, but dividend stocks don't. Here's the full rundown as to why.
Bitcoin looks good, but dividend stocks don't. Here's the full rundown as to why.
As October gets underway, here are three asset classes I like (and two I don't) for the coming month.
First, let's check out what I like:
U.S.Small-Caps That Could Be M&A Targets
Some pundits say small-caps that currently pay high effective tax rates could benefit the most from President Trump's proposal to cut U.S. corporate tax rates to 20%.
However, the Russell 2000 is very overbought as I write this -- so things might have already gone too far. Therefore, you need to look beyond just small-caps in general and identify ones that are potential takeover targets.
Small-cap M&A activity should also help support the high-yield bond market despite what I expect will be rising U.S. interest rates. As a rule of thumb, added M&A activity tends to benefit high yield bonds while hurting investment-grade bonds.
European Financial Stocks
The Eurozone looks like it's strengthening, but a stronger euro -- the one potential drag on the European economy - shouldn't impact European financials as much.
After all, European financial institutions tend to do a better job than non-bank corporations when it comes to matching their income with their costs on a currency-by-currency basis.
And after years of weak performance, it's rational to expect European banks to "catch up" as the Eurozone economy stabilizes or even does well. Banks stand to benefit from this increased economic activity.
Add it all up and I see the potential for European financials to recapture their 2014 highs, if not more. Check out this chart of the iShares MSCI Europe Financials ETF (EUFN) - Get Report to see what that could mean:
Bitcoin
Bitcoin remains highly speculative -- but from a pure trading standpoint, I think it can rally from here in the near-term.
The bullish case for bitcoin is that the cryptocurrency survived the recent bearish case so well. Bitcoin initially sold off as big Wall Street players like Jamie Dimon of JPMorgan Chase (JPM) - Get Report railed against it and the Chinese government attempted to shut bitcoin exchanges down, but the cryptocurrency has since rebounded.
Bitcoin behaved just like its true believers expected it to -- it withstood a challenge by an authority. Now, I view the true believers as a group that sees bitcoin as the answer to government intervention and/or oppression.
I don't share that view, but I have to give credit where credit is due -- bitcoin overcame these obstacles. That will likely encourage investors to convert more money to cryptocurrency.
However, I have two caveats to my "buy bitcoin" thesis (which is why I would only treat the cryptocurrency as a highly speculative, short-term trade):
The cost to "mine" bitcoin is low relative to the cryptocurrency's market price, so all "miners" have an incentive to prop bitcoin prices up as much as possible (and with bitcoin, I think anything is possible).
I believe we saw a concerted effort by either governments or central banks to push bitcoin prices down, and governments and central banks don't give up easily.
Here are two asset classes I dislike for October and beyond:
Sovereign Debt and Yield-Driven 'Safe' Investments
To understand why I don't like these assets, let me start by saying that I expect yields on sovereign bonds across the globe to head higher in coming months.
For instance, I see the 10-year Treasury yield getting back to 2.6% or even higher over the next several months, compared to Tuesday morning's 2.33%. As the chart below shows, 10-year yields broke the 2.23% resistance level (the green line below), meaning they could next go to 2.4% (the red horizontal line). I think they could even target 2.6% (the yellow circles) after that:
The reasons I see for higher yields include:
Nascent Inflation. While the inflation picture admittedly remains mixed, I don't think the market is sufficiently pricing in inflation risk.
Tighter Monetary Policy. Central banks across the globe are reducing their support to bond markets.
A Growing Treasury Supply. The potential for a lot more U.S. Treasury supply is very real -- in fact, there's talk about removing the federal debt ceiling entirely. After all, President Trump's tax-cut proposal will likely create larger deficits at least initially (supporters claim these will fall over time as growth kicks in). Trump also wants to boost infrastructure spending, which will presumably involve issuing even more debt.
A Peaceful Resolution to North Korea. I continue to think that the North Korean crisis will resolve itself without further escalation. I did spend two days recently with retired U.S. Army Brigadier Gen. Anthony Tata, who has a more pessimistic outlook than I do. But while the headline risk from North Korea remains, I don't think there's enough of it to cause a "flight to quality" into Treasuries that would derail momentum for higher yields. https://en.wikipedia.org/wiki/Anthony_J._Tata
If Treasury yields are heading higher, that typically means that the safest stock investments will underperform. For example, I think both dividend stocks and low-volatility investment strategies will get hit.
As this chart shows, some minimum-volatility strategies like the iShares Edge MSCI Min Vol USA ETF USMV have already stalled:
U.S. Big-Caps With Very Low Tax Rates
If President Trump's proposal to cut U.S. corporate-tax rates to 20% moves forward, that will hurt some large corporations that already pay effective rates already much lower than 20%.
Now, the market is expecting Trump's related proposal to cut or eliminate taxes on U.S. companies' repatriated overseas profits to offset any negative impact of higher marginal tax rates. Perhaps it will, but I think investors are overly optimistic to assume repatriation will fuel more stock buybacks or one-time dividends.
My friend Peter Boockvar recently looked at how companies with lots of offshore cash have acted so far. One example is Oracle ORCL, which has added $15 billion of overseas cash over the past three years -- but also took on $22 billion of debt.
All told ORCL, now has $67 billion of total cash ($52 billion of it overseas) and $53 billion of debt. I expect companies like that to use repatriated cash to pay down debt long before they release any overseas money to shareholders.
Watch More from October's Trading Strategies:
Will the Market's Upward Momentum Continue into October?
A Strong September Could Be Setting Up an October Pullback
A Dovish Dollar in October Will Push Stocks Higher