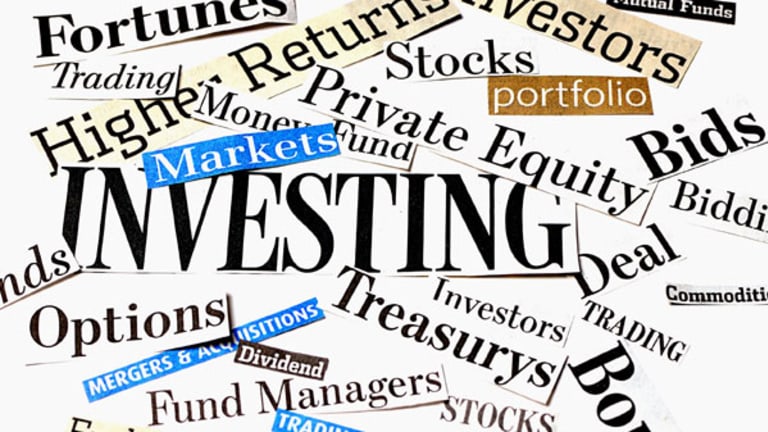 3 Inflation-Beating Stocks to Watch
Inflation could provide savvy stock pickers with the opportunity for huge profits.
Inflation could provide savvy stock pickers with the opportunity for huge profits.
WINDERMERE, Fla. (Stockpickr) -- I don't know what camp you're in, but I am strongly in the camp that has accepted the fact that inflation is going to be a gigantic trend for the foreseeable future. And when I say "gigantic trend," I mean that it's going to make savvy market players tons of profits if they position themselves in just the right stocks.
So many things right now are pointing toward a coming inflation tsunami that it's almost too much to list. I will mention just a few that deserve your attention: soaring prices in precious metals such as gold and silver, soaring crude oil prices,
and soaring soft commodity prices
. This market behavior just can't be ignored. Traders and investors should perk up right now and pay attention because it's not just the speculators who are pushing up prices. Costs for all of things consumers need on a daily basis are going through the roof due to the unintended consequences of a loose monetary policy that has been on full display throughout the world.
Central banks across the globe are now scrambling to start raising interest rates in an effort to fight off rising inflation. South Korea's central bank just raised interest rates on Thursday. A Chinese central bank advisor recently said that inflation could hit 5% due to soaring commodity prices and rising wages. The European Central Bank said on Thursday that "strong vigilance is warranted" -- code for raising rates -- to contain inflation risks. The Polish central bank said today that it will probably raise the benchmark interest rate to a two-year high of 4.25% by the end of June to keep inflation in check.
Related:
3 Market Leaders Headed Even Higher
If all of that isn't enough to convince you, then I suggest you consider the biggest tell of all that out-of-control inflation is speeding toward us like a Bugatti Veyron: the news that broke Thursday that the world's largest bond fund has dumped all of its U.S. debt. Bill Gross, who runs Pacific Investment Management, said he eliminated all government-related debt from his flagship fund last month. Pimco's $237 billion
Total Return Fund
(PTTRX) - Get Report
last held zero government-related debt in January of 2009. Even more interesting were Gross' comments on inflation, which he said may be a bigger factor than many are suggesting.
Under normal market conditions, bonds are usually safer than stocks, but they get absolutely killed when inflation rears its ugly head. With this in mind, let's take a look at
stocks that should benefit tremendously from rising inflation
.
Avalon Rare Metals
One of the best ways to inflation-proof your portfolio is to buy basic materials stocks because the underlying commodities go up so much when we're in an inflationary environment. What's awesome about the world in 2011 is that we now have the red hot
. These stocks are basically going to become inflationary rocket for market players. I am predicting right now that they will have record-breaking runs when it's all said and done. They're simply the perfect storm for playing inflation.
If you're looking for a rare earth metals name with a technically bullish setup, I would suggesting checking out the chart for
Avalon Rare Metals
(AVL)
. This company engages in the development and exploration of rare metals and minerals in Canada. So far in 2011, this stock is off to a very solid start with shares up around 13%.
If you take a look at the chart for Avalon, you'll see that the stock is forming a bullish ascending triangle chart pattern. What's important to see now from Avalon to confirm this pattern is for shares to hold above or around the uptrend line and at the 50-day moving average of $6.77. If Avalon can hold these levels and find some support via buying interest, then I think we're going to see this stock make a run at taking out the all-time high of $8.57.
I really like that upside volume has been increasing lately for Avalon, with 5.1 million and 4.1 million shares changing hands recently vs. the three-month average trading volume of 3.5 million shares. One way to approach this trade is to either wait for the stock to breakout above $8.57 a share on strong volume, or to buy it here with a stop slightly below the 50-day moving average.
I also like that this company has $40 million in cash on its balance sheet with zero debt. Plus, 23% of Avalon's total rare earths produced are heavy rare metals, which are scarcer and sell at higher prices. However, this company has yet to turn a profit, and its major mine won't be set to come online until 2015. This stock holds a lot of risk, but if you take your cues off of the technicals, I think you safely enter a trade that holds a lot of upside.
It's worth noting that the bears have increased their short positions on the stock by 24.3% during the most recent reporting period, bringing the total short interest as a percentage of the float to around 6.2%. A large short squeeze could develop if this stock can start to trend higher.
Molycorp
Another rare earth metal play that could be a tremendous winner off of rising inflation is
Molycorp
(MCP)
, a rare earth oxide producer in the Western hemisphere that owns the most fully developed rare earth project outside of China. So far in 2011 this stock has traded flat with shares up only around 1%, but I expect that to change quickly into a strong uptrending pattern that takes this stock significantly higher.
If you take a look at the chart for Molycorp, you'll see that this stock is forming a symmetrical chart pattern that looks poised to make a bullish break higher. What traders should watch for now is for the stock to break out above the falling trend line at around $51.50 a share. A move above that past overhead resistance level should set the stock up for a bullish move higher. Conformation of the move will be reinforced if the volume can come in above the three-month average trading activity of around 5.7 million shares.
If you see this breakout happen, I would add to the position every time it takes out another overhead resistance level, including at $55.71 and at the stock's all-time high of $62.80 a share. Again, look for strong volume to confirm each test of resistance, so you know that large institutional investors are sponsoring the stock.
This stock has some strong fundamentals behind it as well, and Piper Jaffray raised its price target from $52 to $56 a share following the company's positive fourth-quarter report. Molycorp reported earnings of 3 cents a share on revenue of $21.7 million for the quarter, topping Wall Street estimates for a 7-cent loss on $13.5 million in revenue. The company also sold around 638 metric tons of rare earth oxide products for the quarter, which represents a 37% increase from around 467 metric tons sold during the same period last year.
It's also worth noting that this is another rare earth metal stock that's heavily shorted by the bears. The current short interest as a percentage of the float for Molycorp is a rather large 27.4%. The bears have increased the positions during the most recent reporting period by around 5.2% or around 470,000 shares. This top-notch inflation play could be setting up for a massive short squeeze.
Bronco Drilling
One final stock that should register big profits as inflation increases around the world is
Bronco Drilling
(BRNC)
, which provides contract land drilling and workover services to oil and natural gas exploration and production companies throughout the U.S. This stock is off to solid start in 2011 with shares up around 20%. My thesis here for playing Bronco as an inflation play is pretty simple: Rising oil and natural gas prices means booming business for Bronco because the major energy producers flock to this firm for their products and expertise.
It also doesn't hurt that the richest man in the world.
, with an estimated net worth of $74 billion, holds a 15% stake in Bronco Drilling with warrants that could boost the stake to 20%. It's never a bad thing to have an inflation play that piggy backs off the guy with the deepest pockets in the world, right?
If you take a look at the chart for Bronco Drilling, you'll see that the stock has recently broken out above some past overhead resistance at around $8.15 to $8.64 a share. This is a major breakout for the stock since it confirms a move above a past resistance level that dates back over a year. If you pull the chart back even farther on your own, you'll see that the stock really doesn't have any more overhead resistance until about $15.60 to $20 a share. Since this stock recently printed a new 52-week high at $10.41 a share, I think the trend towards $15 to $20 has already begun.
Volume has also been expanding dramatically in the past couple of trading sessions after Bronco reported a beat on both the top and bottom line, with earnings of 6 cents per share, vs. an estimate for a 2-cent loss. I would suggest buying this stock on any pullback as long as it doesn't trade below the breakout prices I mentioned above.
To see more inflation stock picks, including
Freeport-McMoRan Copper & Gold
(FCX) - Get Report
,
Peabody Energy
(BTU) - Get Report
and
Potash
(POT)
, check out the
portfolio on Stockpickr.
-- Written by Roberto Pedone in Winderemere, Fla.
RELATED LINKS:
>>3 Market-Leading Stocks Headed Even Higher
>>5 Growth Stocks at Reasonable Prices
Follow Stockpickr on
and become a fan on
Facebook.
At the time of publication, author had no positions in stocks mentioned.
Roberto Pedone, based out of Windermere, Fla., is an independent trader who focuses on stocks, options, futures, commodities and currencies. He is also an outside contributor to Beconequity.com and maintains the website Maddmoney.net, which he sold to Blue Wave Advisors in 2008. Roberto studied International Business at The Milwaukee School of Engineering, and he spent a year overseas studying business in Lubeck, Germany.