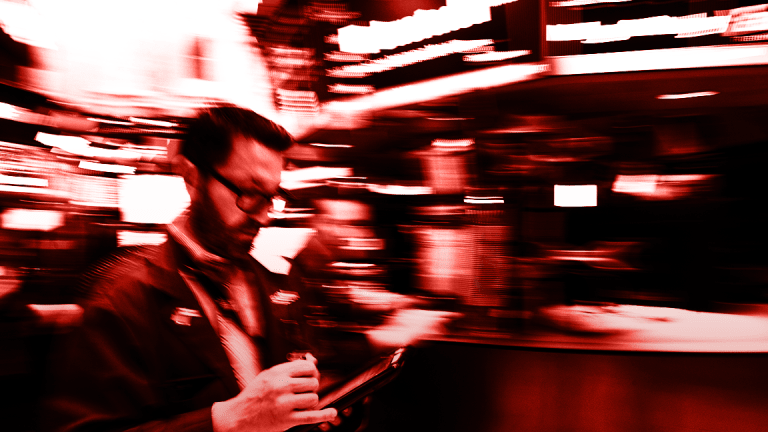 3 Hot Reads From TheStreet's Top Premium Columnists
Jim Cramer and our other experts discuss the fickle market, bear market evidence, and 5 market negatives.
On Monday, the markets were mostly lower, as a deal between Sprint (S) - Get SentinelOne Inc. Class A Report  and T-Mobile US (TMUS) - Get T-Mobile US Inc. Report  was announced (see Jim Cramer's Sprint/T-Mobile Merger Is Crazy ... But Just Might Work), and Walmart (WMT) - Get Walmart Inc. Report  said it would sell its U.K. supermarket business. The Personal Consumption Expenditures price index rose 2% year over year in March, up from 1.7% in February. The 2% gain in the PCE met the Federal Reserve's inflation target.  
Here are three top takes from the columnists of Real Moneyand Real Money Pro, our premium sites for Wall Street professionals and active investors:
Jim Cramer: The Market Has Gotten Too Fickle to Maintain a Sustained Advance
"Leadership is so hard to come by in this market. We seem to gain and then lose it on a daily basis. Just think how often leadership has changed: we loved the banks, and then hated them, we loved the industrials, then hated them, we loved the soft goods, and then hated them. We loved FANG last week, now we have turned on it. We loved tech upside surprises, now they can barely hold on," writes TheStreet's Jim Cramer.
What does work? asks Cramer.
Evidence of a Bear Market Keeps Piling Up
"Is a bear market showing up? Certainly, some qualities of a bear have started to arrive," notes Real Money Pro columnist Robert Lang.
"The action last Tuesday might have indicated that we're ready to shift gears. We saw a downright nasty reversal that day, with higher volume levels and some very heavy selling," Lang adds, "Further, there was little buying of protection, which is often seen as a trait of bull markets. (Bear markets arrive unannounced.)"
5 Negatives That Are Hanging Over This Market
Real Money columnist James DePorre points out that "Many market players are growing concerned that a major market top is starting to form. There are hard core bears that have been anticipating that event for many years but now less dogmatic market participants are starting to worry that it is going to be a rough summer for the market."
"You don't have to be a fortune teller to think that the market has some issues. The evidence is right in front of our faces," says DePorre. Here are the issues that are causing concern.
Join Jim Cramer May 5 for TheStreet's Boot Camp for Investors
Meet Jim Cramer and more than a dozen top market experts on Saturday, May 5, in New York for How to Diversify Your Portfolio: A Boot Camp for Investors.
Highlights includes:
An exclusive market update from Jim.
A keynote interview between Jim and PayPal CEO Dan Schulman.
Break-out panels with top market experts like Tony Dwyer, chief market strategist at Canaccord Genuity; Mike Hanson, senior vice president of research at Fisher Investments; and Peter Hug, global trading director with Kitco Metals.
Roundtable discussions with TheStreet's Carley Garner, Stephen "Sarge" Guilfoyle, Bob Lang and other columnists.
All attendees will also receive a free one-year subscription to our newest premium Web site, Retirement Daily (a $99 value).
Where: The Convene Center, 117 W. 46th St., New York
When: Saturday, May 5, 8:55 a.m.-2:45 p.m.
Price: $199. Includes a free one-year subscription to Retirement Daily (a $99 value)