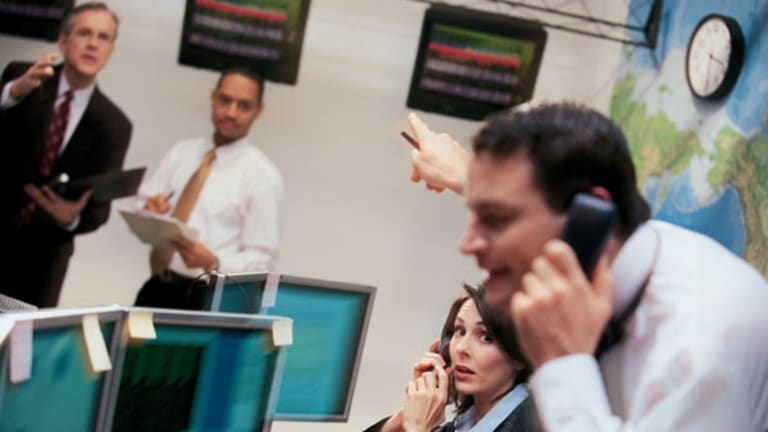 3 Homebuilders Ready to Fall Down
These stocks look ripe for pullbacks if the housing market fails to grow at a pace that the major share price gains already imply.
These stocks look ripe for pullbacks if the housing market fails to grow at a pace that the major share price gains already imply.
NEW YORK (Stockpickr) --The verdict is in: The housing market is officially in bloom.
At least that's what the share prices of the major homebuilders are signaling. These stocks have posted such stunning gains over the past few years that you'd think we're right back in 2006, the last time this industry was booming. The PHLX housing index has risen a hefty 150% in just 18 months.
But it's far too soon to sound the "all clear" for housing stocks as stiff headwinds remain.
In recent quarters home sales have been perking up, aided in large part by very low interest rates. Yet as the U.S. economy starts to strengthen from here, so will mortgage rates. And as rates rise, fewer mortgage applicants will qualify for loans.
Supply is another factor you should be concerned about. Investors, from major hedge funds to local retirees, have been snatching up distressed properties in hopes of eventually flipping them for a quick buck, leading to a relative shortage of homes for sale. Yet with home prices already rising at a double-digit annual pace in many markets, these speculative investors may soon look to start unloading the homes they bought, adding a broad supply of homes to the market. And supply of those homes could easily blunt the hopes of homebuilders that had hoped to entice buyers into new homes.
>>5 Defensive Stocks to Protect Your Portfolio Gains
Analysts at UBS cite two other concerns: "The cost of better located land has risen faster than home prices, reflecting limited availability and the concentrated nature of the recovery. Further, cost pressures associated with labor and materials will likely intensify as the supply chain slowly rebuilds."
With these potential headwinds in place, the environment has simply become too risky to chase homebuilder stocks at this point in hopes of yet more gains. In fact, many of these stocks look ripe for pullbacks if the housing market fails to grow at a pace that the major share price gains already imply. Here are
three homebuilder stocks that look ripe for profit-taking
or even shorting.
>>4 Huge Stocks Ripe for a Sharp Pullback
KB Home
Shares of
KB Home
(
) surged from under $6 in late 2011 to a recent $24, a stunning run that reflects the company's emphasis on higher-end homes. Upper-income Americans have continued to flourish in the still-weak economy, at least compared with middle- and lower-income consumers.
>>5 Stocks Insiders Love Right Now
You can see the improving backdrop in KB Homes' growth trajectory. Sales are on track to rise 40% this year and another 25% to 30% in 2014, to around $2.8 billion. Per-share profits above $1 in 2014, as analysts currently anticipate, would be the most impressive performance since 2006.
Yet at the end of the day, any homebuilder should be seen in the context of its assets and not just profits, and that's where investors are getting carried away. In the prior decade, before the housing market collapsed, this stock typically traded for around 2.5 times book value, yet it now trades at four times book.
Analysts at Citigroup see shares falling by half, to just $12, as the froth in this industry evaporates.
Meritage Homes
You can see the quickly improving industry outlook by assessing the consensus forecasts for
Meritage Homes
(
) as well. Analysts think that sales will more than double form 2012 to 2014, by which time they will reach $2.44 billion.
Yet analysts at UBS think that investors may not realize the emerging cost headwinds for homebuilders (in terms of land acquisitions costs as well as construction material costs) and think that current profit forecasts are simply too rich. For example, UBS thinks the company will earn $3.20 a share next year, roughly 50 cents below the consensus.
>>5 Trading Setups With Upside This Week
Meritage targets the mid-range of the new-home market, mostly in the Carolinas and Florida. Those markets slumped badly in the recent recession but have started to generate impressive price rebounds. Yet that can sow the seeds of its own reversal, or what UBS calls "the negative impact on affordability from rapidly rising prices." That's why UBS sees shares falling from a recent $50 to just $33 and rates Meritage a Sell.
Apartment & Investment Management
The challenging economy has led many consumers to rent apartments rather than buy homes, which has pushed up rental prices in many regions. In response, builders of multi-family homes have been quite busy, constructing thousands of new units across the country over the past few years.
But what will happen when many of those renters seek to become home buyers? Investors will likely start to unwind their positions in firms such as
Apartment & Investment Management
(
) , a real estate investment trust that owns apartment complexes.
In recent quarters, this company has managed to push through rent increase in excess of 5% in many of its markets, though the addition of many new apartments coming on the market, coupled with an eventual migration out of rented apartments into bought homes will likely blunt that pricing power.
Still, by one key measure, it's clear that investors are losing sight of value: The dividend yield on this REIT is now about 3%, thanks to a 20% surge in this stock since December 2012. And that's too low a yield to compensate for the risk inherent in this business model. Shares would at least sport value if they traded closer to the value of the company's real estate. Yet shareholder's equity of $888 million is just a fraction of the $4.8 billion market value.
In effect, this stock reflects all of the positives in the rental housing market that have emerged over the past few years, but it ignores the challenges that lie ahead.
To see these potentially vulnerable real estate stocks in action, visit the
3 Homebuilders Setting Up to Fall
portfolio.
RELATED LINKS:
>>3 Tech Stocks Under $10 to Watch
>>Warren Buffett's 5 Favorite Stocks for 2013
>>5 Stocks Poised for Breakouts
Follow Stockpickr on
and become a fan on
Facebook.
Stockpickr is a wholly owned subsidiary of TheStreet.com.