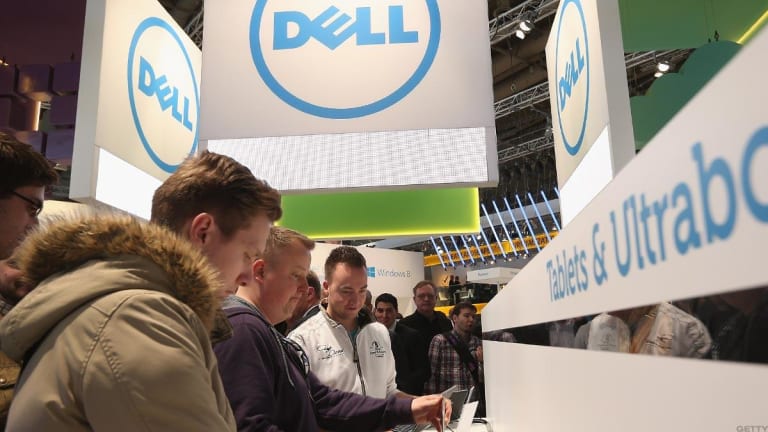 3 ETFs with the Largest Dell Holdings
Dell is planning to go public once again. Investors who believe in the company could play the IPO through several ETFs.
If you truly believe in Dell's comeback and looming IPO, there are several ETF options. 
Goldman Sachs Hedge Industry VIP ETF (GVIP) - Get Goldman Sachs Hedge Industry VIP ETF Report  holds 2.6% of Dell Technologies Inc. (DVMT) , iShares North American Tech-Software ETF (IGV) - Get iShares Expanded Tech-Software Sector ETF Report  has 2.25%, and SPDR Kensho Future Security ETF (XKFS) with 1.91%.
It's not the Round Rock-based company's computer hardware business that may make a Dell-linked ETF attractive, but rather it's stake in the cloud-computing provider and server virtualization leader, VMware  (VMW) - Get VMware, Inc. Class A Report . The company continues to grow, spurred by a deal with Amazon.com Inc. (AMZN) - Get Amazon.com, Inc. Report to develop a new cloud service for Amazon Web Services. As cloud services gain more popularity in tech, ETFs will want to capitalize on the new tech trend by favoring certain stocks.
Amazon is a holding in Jim Cramer's Action Alerts PLUS. 
"Dell is choosing a good time to return to the market," David Russell, vice president of content strategy at Tradestation Securities, told TheStreet. "Right now, cloud [computing] is taking over the whole world of IT. Dell is simplifying its capital structure to make it more desirable to indexes and ETFs."
Dell went private back in 2013 by Michael Dell and buyout partner Silver Lake in a deal worth $24.9 billion. In October 2015, the company purchased EMC - which owned storage, cloud services and VMware - for $67 billion, the biggest tech deal at the time. The takeover left Dell with a lot of debt that it hopes to clear by going public. The company's plan includes converting its DVMT Class V shares into Dell's Class C stock, currently owned by Michael Dell and Silver Lake. 
For investors, it might look attractive to "get a Dell" share on the first day of trading, but instead of jumping in feet first, an ETF might be a more ideal choice. 
Marc Pfeffer, senior portfolio manager at CLS Investments, Inc., says ETFs allow for diversification. Investing in an ETF with Dell's stock may see the value of it grow depending on how well the company does on its IPO, but if shares plummet, it won't be as painful as buying the stock outright. 
Watch why TheStreet's Executive Editor Brian Sozzi thinks the Dell IPO will be a "dog."