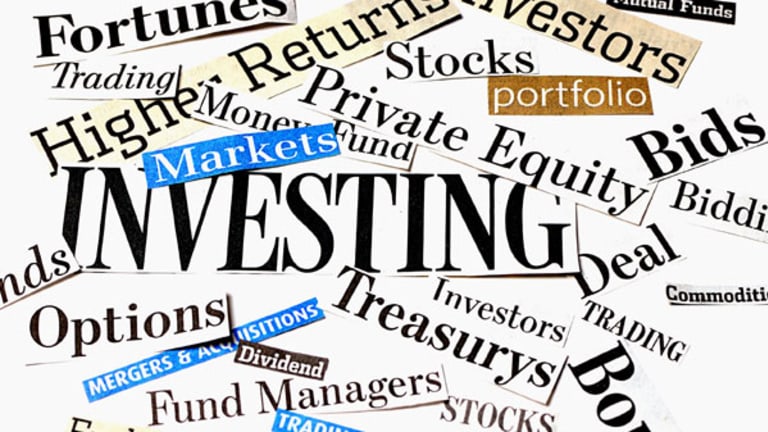 3 Earnings Trades for the Week
Here's how to trade three companies reporting earnings this week.
MINNEAPOLIS (Stockpickr) -- The money continues to roll in from very profitable trades during the current earnings season. Last week the market surprised many by rolling to another 1% gain for the week thanks to strong earnings and merger and acquisition activity. That strength propelled my winning trades last week higher by 10% on average.
For those keeping score at home, we had two losing trades, but we were able to exit those trades with minimal losses.
P.F. Chang's
( PFCB) did better than expected and a short of that stock needed to be closed with a 4% loss.
Strayer
(STRA) - Get Strategic Education, Inc. Report
reversed a losing trend for the for-profit education space with a strong earnings report. Traders short that stock would have been able to cover for a fractional loss.
Tax and accounting software company
Intuit
(INTU) - Get Intuit Inc. Report
beat earnings estimates, and investors bid up the stock by 8% after the news was reported. The
was
Red Robin Gourmet Burger
(RRGB) - Get Red Robin Gourmet Burgers, Inc. Report
. The casual dining space is on fire, and a good earnings report from the company resulted in a stock that gained nearly 15%.
Related:
7 Stocks Leading the Market in 2011
I've had some traders following my work wonder how I am able to find so many winning trades. The answer is fairly complex, but I wanted to share a few things that any trader can do when reading the tea leaves of a company about to release earnings results.
Every week there are dozens of companies reporting results. During peak earnings season, the number of trading opportunities is fairly limitless. The first step then is to identify the companies to trade using my approach. For starters, I pick stocks of companies that are likely to swing wildly when earnings news is released.
What I'm looking for in particular are companies that are traded fairly heavily or have demonstrated in the past to have volatile moves in share price when any sort of news is announced. Earnings reports are not just any sort of news. Earnings are a key determinant in a market valuing a particular stock. There is good reason why traders, investors and professionals focus so much attention on a stock after it releases earnings results.
Once I narrow my search to potential stocks that will move when news is released, the next step is to anticipate what the earnings report is likely to say. For that I use many factors in guiding my trading recommendation. Included in the analysis is current share price, short-term technical factors, analyst estimates, 90-day history of earnings estimates, fundamental valuation and performance against estimates over the last year.
Put it all together and I get a pretty clear picture of what is about to transpire. The final piece of the puzzle is more qualitative and based on game theory. This step is probably the most difficult and the best way to explain it is with poker as an example of how it works.
Poker players use math and game theory to guide decisions at the poker table. Understanding how people are likely to react in a given situation is what game theory is all about. Those proficient at game theory can pretty much determine an outcome before it occurs.
The same is true with the market. Here we try to gauge how other traders are likely to react to a piece of news that is previously unknown to all players. By using the variables listed above, we can determine certain outcomes for different results.
Once I nail down what I think will be the most certain outcome, I make a trading recommendation accordingly. As I mentioned last week, I am quite proficient at this, but you can do it at home on your own too.
Or you could simply follow my column here. For this week I have
.
Tim Hortons
In stark contrast to abject failure of
Krispy Kreme Doughnuts
(KKD)
stands Canadian star
Tim Hortons
(THI)
. The little doughnut shop that could found the profit and growth formula for doughnuts and coffee that previously eluded the
. We'll get a snapshot of how Tim Hortons is performing when it releases earnings for the fourth quarter on Wednesday.
The company has been doing well since going public in the middle of the last decade. The recession knocked it down a bit, but shares of Tim Horton have nearly doubled since bottoming in 2008. For the fourth quarter ended Dec. 31, 2010, analysts expect the company to make 55 cents a share.
That number is a bit less than the estimate of 57 cents at the start of the quarter despite Tim Hortons' having slightly beaten estimates over the last three quarters. The reduction highlights analyst conservativeness at the early stages of an economic recovery.
That attitude does not properly reflect current business and consumer trends. The casual dining space is doing quite well with other public companies such as
Buffalo Wild Wings
(BWLD)
and Red Robin Gourmet Burger recently beating estimates.
That would be the result I would expect for Tim Hortons. From a valuation shares of Tim Hortons are cheap. The company trades for only 17.5 times 2011 earnings estimates of $2.42 a share. A beat then is likely to trigger a rally in the stock to reflect what could be 20% earnings growth in 2011.
Look for Tim Horton to move 5% to 10% higher with an earnings beat.
With an A buy rating from TheStreet Ratings, Tim Hortons is one of the
top-rated restaurant and hotel stocks
.
Chesapeake Energy
How long will the natural gas bulls have to wait? For several years now we have been hearing about the coming explosion in natural gas use that will surely result in an increase in price. In 2011, we are still waiting.
That does not stop the bulls in the group from
pounding the table on natural gas
. Once again the
prediction is for prices to rise in 2011
as demand puts pressure on supplies. So far the price is hovering in the four dollar per million BTU. Last week, the price slipped below $4 to $3.92.
One of the favorite stocks of the bulls in the group is
Chesapeake Energy
(CHK) - Get Chesapeake Energy Corporation Report
. Its shares have moved sharply higher in the last few months. Since mid-November of last year the stock is up some 40%. On Tuesday the company announces earnings for the quarter ending Dec. 31.
Analysts expect the company to make 63 cents per share. 90 days ago, the estimate was 67 cents a share. The drop is a bit disconcerting considering the company has beaten estimates by several cents over the last four quarters.
Given the sharp rise in the stock and lowering of estimates over the quarter I would trade this stock for a disappointment. From a valuation standpoint, analysts expect the company to make less in 2011 than in 2010, and despite predictions for an increase in natural gas prices, such a rise is simply not materializing.
Even if Chesapeake beats estimates, I still expect the stock to trade lower. This one is a short.
Chesapeake is the top holding of
, which increased its position in the stock by 18.8% in the last quarter to more than 883,000 shares.
also increased his position in Chesapeake, by 25.5% to 29.9 million shares. Jim Cramer recently cited Chesapeake as one of
several reasons he's still a bull
, and Scott Rothbort included it in a list of
stocks that could benefit from M&A this year
.
Steven Madden
Who doesn't love the shoe business? I've heard
comment on shoes a number of times. While I may not share his affinity for shoes, I do think money can be made by trading companies in the group.
Steven Madden
(SHOO) - Get Steven Madden, Ltd. Report
is one of the popular consumer shoe brands out there and the company reports results on Tuesday. Analysts are expecting the company to make 55 cents per share for the fourth quarter that ended Dec. 31. That number has held steady throughout the period.
With a recovery consumer and strong retail sales in the fourth quarter, the company is likely to beat estimates. It has done just that over the last year and that trend should continue with the current report. First quarter results ending March 30, 2010, were the most impressive, with Steven Madden besting estimates by 17 cents per share.
The question for traders is what will happen with the stock after the report. The stock is up four fold over the last two years and now trades for a very healthy valuation. Analysts expect the company to make $2.99 a share in 2011. At current prices, Steven Madden trades for 15 times estimated earnings.
That is not expensive, but the estimate for 2011 is only 11% better than 2010 results. My point is that the company will have to beat by a wide margin in order to move the needle for investors. In the year ago period it beat estimates by five cents.
It will take a number north of that to move the stock. I would trade this long basically conceding to current bullish sentiment. If there is a sell the news reaction, I would close the trade immediately.
To see these stocks in action, check out the
on Stockpickr.
-- Written by Jamie Dlugosch in Minneapolis.
RELATED LINKS:
>>3 Old Stocks: Will They Soar Again?
>>3 Stocks Setting Up to Break Out
Follow Stockpickr on
and become a fan on
Facebook.
At the time of publication, author had no positions in stocks mentioned. Jamie Dlugosch is a founder and contributor to
MainStreet Investor
and
MainStreet Accredited Investor
. Formerly, he was president and CEO of Al Frank Asset Management. He has contributed editorially to
The Rational Investor
,
The Prudent Speculator
,
Penny Stock Winners
and
InvestorPlace Media
.