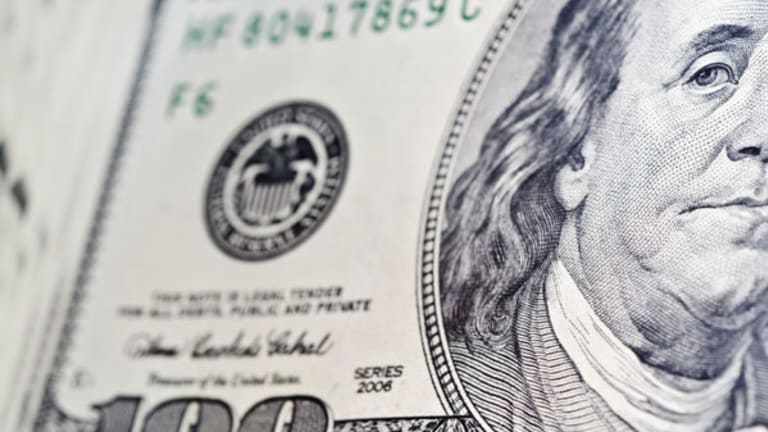 3 Earnings Short-Squeeze Plays
These heavily shorted stocks could get squeezed higher by the bears if they report strong earnings.
(Earnings short-squeeze story updated to address the early leak of NetApp's earnings.)
WINDERMERE, Florida (
) -- The earnings short squeeze trade continues to work in this market. The latest examples of how powerful this strategy can be have been seen in
Priceline.com
undefined
and
Dick's Sporting Goods
(DKS)
, both of which have seen huge percentage gains after posting results that Wall Street just loved.
These stocks had large short interests heading into their reports, and the big bets by the bears were the fuel to set both names off on a rampage higher. Nothing can deliver superior stock performance better than strong fundamental news combined with a ton of short-selling bears leaning the wrong way on a stock.
On Nov. 9, Priceline.com reported better-than-expected third-quarter results driven by strong rental car demand and a pickup in global hotel bookings. The company said sales grew 37% to $1 billion, handily beating Wall Street's forecast of $973.6 million, as discount travel services boomed outside of the U.S.
>>Also:
Following the report, the stock soared from around $385 a share to a post-earnings high of over $426 a share. That was an impressive move that would never have happened had the stock not been so heavily shorted.
This is exactly the reason why I love to hunt for stocks with big short interests for potential earnings trades.
Just yesterday, Dick's Sporting Goods posted numbers that beat Wall Street estimates due to robust demand for its products, which include sporting footwear, gear and apparel. The company also forecasted a strong fourth-quarter profit, saying that the beaten-down U.S. consumer is starting to spend again on sports gear heading into the holiday season.
>>Also:
Top-Rated Specialty Retail Stocks
The stock closed up 14% after soaring as high as $34.18 on very heavy volume. Once again, the bears were leaning all over this stock going into the report, with more than 10.4% of the tradable float sold short as of Oct. 29.
Both of these stocks are examples of the perfect blueprint for investors who are searching for ways to win on Wall Street. At the end of the day, we have to remember that stocks are still a function of supply and demand. Too many shorts in a stock tighten the supply of shares, especially when that supply, or float, is not very big. This is what can spark such powerful short squeezes and launch a stock into orbit.
A short squeeze is a rapid increase in the price of a stock that occurs when there is a lack of supply and an excess of demand for the stock. Short squeezes happen when bears who've sold the stock short are forced to cover their position on a stock as it rises. Short sellers will cover their positions to avoid losses further losses.
>>Also:
3 Stocks Setting Up for a Breakout
Here's a look at a
that could experience a big short squeeze when they report earnings.
One stock that could be ripe for an earnings short squeeze is
Blue Coat Systems
(BCSI)
, which designs, develops and sells products and services that secure and optimize the delivery of business applications and other information to distributed users over a wide area network, or the public Internet. So far this year, the shorts have been winning the battle in Blue Coat Systems, with the stock off around 8% year-to-date.
The company is due to report earnings on Nov. 18 after the market close. Wall Street analysts are looking for Blue Coat to report revenue in a range of $118.94 million to $123.39 million, with the average estimate at $121.03 million.
>>Also:
I have a feeling that some investors might be concerned about being long Blue Coat Systems after networking giant
Cisco Systems
(CSCO)
dropped big after its recent earnings report. However, since Blue Coat is more of a play on networking security solutions, I think the probability of a Cisco-type quarter is relatively low here.
As of Oct. 29, the short interest as a percentage of the float for Blue Coat Systems is a whopping 15%. That means that out of the 41.6 million shares in the tradable float, 6.35 million shares are currently sold short. The shorts have only decreased their bets by 3.2%, or around 203,000 shares from the last short reporting period, so clearly the bears aren't running from this trade by any means. If the company can report a solid quarter and issue bullish guidance, then this low float and high short interest could spark a major move higher in the stock.
>>Also:
From a technical standpoint, I would like to see this stock stay in a tight range or trade higher going into the report. If you start seeing the stock break down and trade below the 50-day moving average of $24.74, then I would avoid it for an earnings short squeeze play. However, any move above the nearest overhead resistance level of $28.30 should be a strong signal that the stock is going to short squeeze.
I would also like to point out that on Monday, the stock closed higher on very heavy volume of 1.6 million shares versus the three-month average daily volume of 1.1 million shares. This could be a sign that smart traders are getting in the stock ahead of the report.
>>Also:
Stocks Rising on Unusual Volume
Another potential earnings short squeeze play is
Sears Holdings
(SHLD)
, the parent of Kmart and Sears. Sears Holdings is broadline retailer with 2,235 full-line and 1,284 specialty retail stores in the U.S. operating through Kmart and Sears, and 402 full-line and specialty retail stores in Canada. The bears have been battering this stock year-to-date, with shares off a notable 22%.
Sears Holdings is due to report earnings on Nov. 18 before the market opens. Wall Street analysts are looking for revenue to come in at $9.79 billion to $10.14 billion, with the average estimate at $9.95 billion. Since competitor
Wal-Mart
(WMT)
just raised its full-year outlook today above Wall Street estimates, it's possible that Sears could report a decent quarter. I wouldn't look for a great quarter since Sears is highly leveraged to the U.S consumer, but if the company can say that it's seeing an improving retail environment, then the stock could experience a short-squeeze rally.
>>Who Owns Sears?:
Sears has announced that it plans on remaining open for the first time in the company's history on Thanksgiving Day. This could be a sign that Sears is starting to see retail traffic pick up in its stores and the opportunity cost of staying closed on this big holiday is just too great to pass up. Sears has already started promoting pre-Black Friday deals much earlier this year than in the past, and that could boost sales for hot-ticket items such as flat-panel televisions, washers and dryer combos, and cookwear and appliances. This could be a very smart strategy if the company knows that consumer end-demand is there. If Sears can sell a big volume of products at the right price point, then it shouldn't affect their margins. All that volume selling will flow right to the bottom line as long as they've managed their inventory accordingly.
>>Also:
The current short percentage of the float for Sears as of Oct. 29 stands at 13.2%. This is a sizable short interest, and the bears have only decreased their bets by around 90,000 shares, or 0.8%, since the last reporting period. With a tradable float of just 41 million shares, that means that 11.75 million shares are currently sold shot. If Wall Street likes what Sears has to say when the company reports, then this low float and high short interest will spark a big rally in the stock.
Technically speaking, I don't love how the chart for Sears looks at this time, with the stock below both the 50-day and 200-day moving averages. However, since the stock has recently sold off big from around $79 a share to its current level near $65, it could see a relief rally if the earnings report is anything short of a disaster.
>>Also:
Cramer's Christmas-Isn't-Canceled Retail Stocks
Longer-term support for the stock sits at close to $60 a share, so keep that level in mind as well in case it sells it off initially before a post-earnings really. A break of that level though would have me moving aside and letting the bears do their thing.
I highlighted
NetApp
(NTAP)
for an earnings short-squeeze play, but the market threw us a big surprise this afternoon.
Apparently, someone leaked the company's earnings numbers, and the stock sold off sharply by 6.6% to $49.21 a share before the exchanges halted trading.
This is really unbelievable; things like this aren't suppose to happen. How did someone get the results when only the company controls that information? I don't have the answer to that, but the current reality is that traders took advantage of the leak and dumped the stock.
The question now is: Were they premature in selling shares?
Since
, NetApp has officially reported that its second-quarter revenue was in fact $1.21 billion and earnings were 52 cents per share, excluding nonrecurring items. This compares with a $1.19 billion Wall Street estimate. The leak was correct.
>>Who Owns NetApp?:
NetApp also released their forward guidance of 48 cents to 50 cents a share vs. estimates of 51 cents. The company sees third-quarter revenue of $1.24 billion to $1.29 billion vs. estimates of $1.26 billion.
My take here is that Wall Street will not like this guidance since it is defiantly on the lower end of previous estimates. What's worse here is that I think traders are going to extrapolate this news, combined with Cisco's recent earnings report, and conclude that storage and networking companies are starting to see some headwinds.
From a technical standpoint, volume prior to the leak was huge, with 23 million shares trading hands. This is well above the three-month average trading volume of 7.4 million shares. The huge volume on NetApp also pushed the stock below its 50-day moving average of $50.97 a share. The earnings short squeeze trade is almost certainly off the table now, unless the stock reopens and trades back above today's high of $54.78 a share.
If you're looking to buy this stock when it reopens, look for support at around $47 to $46 a share. If it can't hold at those levels, then just avoid it from the long side. The shorts might be the winners here.
To see more potential earnings short squeeze candidates, such as
Salesforce.com
(CRM)
,
Nuance Communications
(NUAN)
and
Children's Place Retail Stores
(PLCE)
, check out the
portfolio on Stockpickr.
-- Written by Roberto Pedone in Winderemere, Fla.
RELATED LINKS:
>>4 Stocks Moore Capital Is Betting On
>>5 Penny Stocks for Big Profits
>>5 Market Leaders to Keep an Eye On
Follow Stockpickr on
and become a fan on
Facebook.
At the time of publication, author had no positions in stocks mentioned.
Roberto Pedone, based out of Windermere, Fla., is an independent trader who focuses on stocks, options, futures, commodities and currencies. He is also an outside contributor to Beconequity.com and maintains the website Maddmoney.net, which he sold to Blue Wave Advisors in 2008. Roberto studied International Business at The Milwaukee School of Engineering, and he spent a year overseas studying business in Lubeck, Germany.