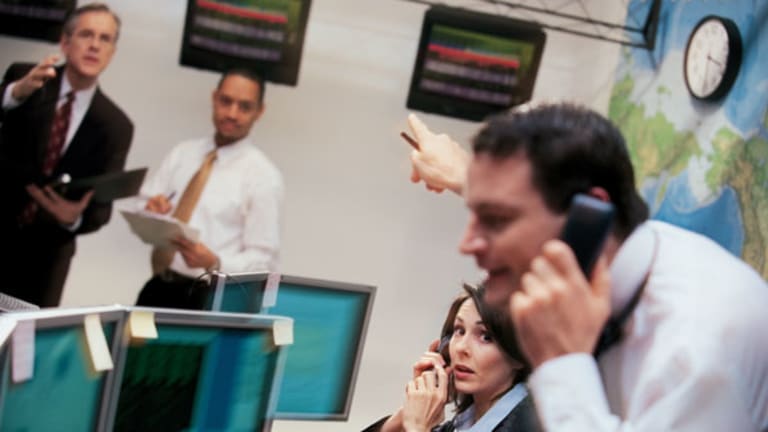 Publish date:
3 Coffee Stocks Brewing Up a Comeback
Coffee stocks have cooled after their hot run, but the drop in commodity coffee prices could heat them up again.
Coffee stocks have cooled after their hot run, but the drop in commodity coffee prices could heat them up again.
Editor's note: As part of our partnership with Nightly Business Report, TheStreet's Debra Borchardt will appear on NBR Monday (check local listings) to reveal which coffee stocks might perk up as commodity prices fall.
NEW YORK (TheStreet) -- Restaurants remain one of the key areas for job gains in this slowing economic recovery, and the stocks have followed accordingly. Where there's hiring, there tends to be good earnings reports.
Drilling down even further, coffee stocks have also had a good run -- especially category killer
Starbucks
(SBUX) - Get Report
. Any restaurant even associated with coffee has performed well. So it becomes difficult to dig out that rare restaurant stock or coffee maker that hasn't already run up.
Well, hold on to your mug, because the coffee stocks are about to get even hotter.
8 Stocks Rising Fast on Rich People's Spending
Arabica coffee has dropped below $2 per pound at a time when most coffee watchers predicted the price to remain flat. Brazil, known for its Arabica beans, is expected to have a record crop this year, and that has helped drive down prices further. Starbucks is a big buyer of Arabica beans.
Robusta beans are the cheaper of the two types of coffee, favored by consumer giants like
Procter & Gamble
(PG) - Get Report
and
Sara Lee
(SLE)
. Indonesia, the third largest grower of the robusta variety, has increased production by 20%, the most since 2009. Smart coffee users will want to lock in these low prices on both varieties, and that will translate into better coffee earnings.
10 Stocks Owned by the Best Fund Managers
While coffee stocks have been hot, in the last few days the prices have pulled back a bit as investors have taken some profits off the table. This cooling off could be short-lived once the lower coffee prices filter down to the bottom line.
Three coffee names come to mind for investors and they can be classified, like the coffee they sell, from mild to bold picks. Safe and steady Starbucks is a mild roast;
Caribou
(CBOU)
fits in the medium category; and Sara Lee is the more speculative coffee player, and could be considered the strongest cup of all.
Starbucks is to coffee what
Apple
(AAPL) - Get Report
is to tech stocks. The siren of Seattle seems to do no wrong, and its competitors just keep wishing for the company to screw up.
Starbucks jumped into the single-serve market instead of trying to fight it, signing deals with
Green Mountain Roasters
(GMCR)
. It also opened its first juice store, Evolution Fresh. There is little risk in opening one store and fine-tuning the concept, especially as fruit beverages play on the strong wellness trend that has benefited
McDonald's
(MCD) - Get Report
. Even
Burger King
is touting its new smoothies.
The 10 Worst of the Worst in 2012
Evolution Fresh won't help the bottom line yet, but it demonstrates that Starbucks has no desire to miss out on any part of the beverage market. It will clearly benefit from lower commodity prices on coffee with its eye on the future beverage market. It's a safe stock and has been on a steady uptrend, earning its mild roast character. Jefferies & Co. analyst Andy Barish recently raised his target price to $62 and
Goldman Sachs
(GS) - Get Report
has a price target of $66.
Caribou Coffee sells whole beans, ground coffee and single-cup coffee to grocery stores in addition to operating its namesake coffee houses. Barish also raised his target price for Caribou, to $24; the stock is currently trading around $17. He believes the earnings per share could grow 47% year over year. The company has guided to a net sales growth of 10-12% and now believes it will be closer to the bottom of that range -- which caused the stock to pull back.
Caribou isn't the big behemoth that Starbucks is, which makes it a medium roast. It has experienced some insider selling, and that has spooked investors. Caribou, though, is positioning itself as a socially responsible company and highlighting its food options as more healthy. If the company successfully sells itself as a higher moral choice than Starbucks, it will be able to draw clientele that want to "feel good" about their coffee purchases.
Sara Lee is the riskier coffee choice -- making it the dark roast of the stock selections. The company will be splitting into two parts this summer, spinning off its international coffee and tea brands under the name
D.E. Master Blenders 1753
.
Sara Lee is home to Maryland Club coffee, as well as international names like Senseo and Douwe Egberts. Barish believes the international coffee and tea business is a very strong portfolio. He writes, "It has more than 30% of sales in emerging markets. It has the potential to get back up to 17%, 18% operating margins, which was the typical level for coffee before coffee bean prices surged about 18 months ago."
--Written by Debra Borchardt in New York.
>To contact the writer of this article, click here:
Debra Borchardt
.
>To follow the writer on Twitter, go to
http://twitter.com/wallandbroad
.
Disclosure: TheStreet's editorial policy prohibits staff editors, reporters and analysts from holding positions in any individual stocks.