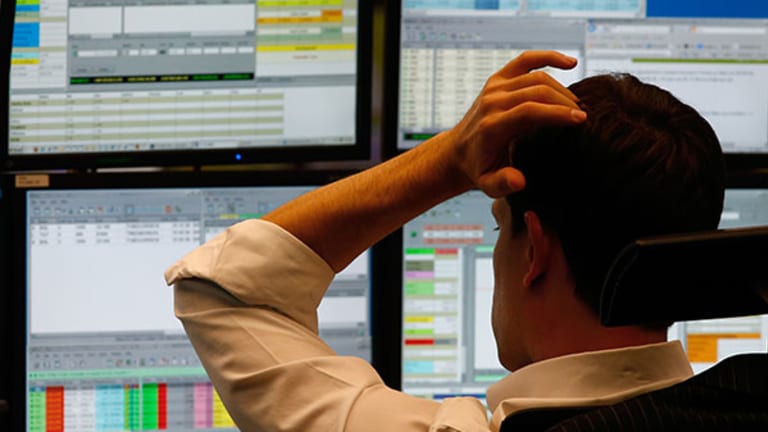 3 Charts That Will Tell You When It's Safe to Buy Stocks Again
The market correction could be nearing an end when these three charts for Apple, Starbucks, and crude oil start to reverse course.
NEW YORK (TheStreet) -- The stock market has blown up, leaving many investors psychologically wounded and confused as to the next move.
Can't blame someone with thousands less in their 401k being a bit bewildered amidst the latest carnage. The Dow Jones Industrial Averageplunged over 500 points on Friday, its fourth straight day of losses, and on a dearth of new earth-shattering developments.
The number of shares on the New York Stock Exchange trading above their 200-day moving average hit a 10-month low on Friday. Technically, the Dow Jones Industrial Average is now in a correction, having dropped about 10.1% from its May record. It's not pretty out there by any means.
Investors have largely been privy to the drivers of the summer flu infecting the markets: slowing growth in China, the People's Bank of China devaluing the yuan, and a seemingly confused Federal Reserve here at home. Sprinkle in ongoing growth slowdowns in emerging markets such as Brazil and the recipe for the market's slow motion summer train wreck becomes clearer.  
Still, Friday's market rout still came as a shock to most investors. 
Pinpointing the exact moment as to when to wade back into the rocky swirling waters and buy perceived bargain stocks is a sucker's game. After all, stocks were "cheap" on Thursday right before Friday's bloodbath, right? Obviously wrong. But, to at least get a better feel as to whether the market crash has stopped and it's OK to buy stocks, TheStreet thinks watching these three charts is vital.
1. Crude oil vs. the Dow Jones Industrial Average
Crude oil broke below $40 a barrel on Friday, only to finish slightly above the mark. Since June, oil has receded 30% on fears China's economic slowdown would lead to reduced oil consumption from a country that accounts for 15% of the world's economic output. Not exactly a welcome development as global oil producers continue to pump at record rates despite the downdraft in prices.
If the broader stock market is about to rebound in the short-term, two things would likely start to be seen with respect to oil. First, oil prices would rise in tandem with gains in the Dow Jones Industrial Average, suggesting China's recent efforts to boost its economy will prove successful later this year. Or, oil prices decline and the Dow Jones Industrial Average goes higher, breaking the recent correlation and perhaps, fear of a next leg down in the broader equities market.
The chart to use, as pictured below, is the United States Oil ETF (USO) - Get United States Oil Fund LP Report . The ETF tracks the spot price of West Texas Intermediate (WTI) light, sweet crude oil.
data by

2. Apple vs. the NASDAQ
Shares of tech heavyweight Apple (AAPL) - Get Apple Inc. Report have lost about 22% from their Apr. 28 52-week high. While Apple's stock has likely suffered from Wall Street souring on the early success of the Apple Watch, a bigger factor is what China's growth slowdown means to Apple. Investors have come to expect strong growth from Apple in China, as tech-oriented consumers snap up its pricey smartphones.
Apple's second quarter revenues from Greater China surged 112%, with iPhone unit growth rising 87%. Revenue from Apple's app store doubled in second quarter. 
Investors also have high hopes for the return on investment from huge new Apple flagship stores being opened in China. Apple opened its 22nd store in Greater China in the second quarter, and remains on track to have 40 stores open by the middle of next year. China's slowdown may lead to less packed Apple store openings in 2016 than previously anticipated.
If the market is done crashing, Apple's stock will regain its typical market leadership position. Doing so would be the clearest sign the market has priced in enough fear regarding China's economic woes.
data by
3. Starbucks vs. the S&P 500
In a market crash, investors usually sell first and ask questions later. That logic even applies to companies with strong fundamentals and future prospects, such as coffee king Starbucks (SBUX) - Get Starbucks Corporation Report .
Starbucks shares have dropped about 12% since reaching a 52-week high on Aug. 5. The selling likely stems from two reasons.
First, Starbucks has a yawning exposure to China, where it now has 721 stores in operation. That isn't too far removed from the over 1,500 Starbucks stores in all of Europe. Starbucks has had great success in China as consumers view drinking lattes as a status symbol -- it's also a trip that may become less frequent due to the economic slowdown.
Second, the market is likely worried that volatile stock markets cause bruised 401k holders in the U.S. to cut back on purchases of pricey lattes and other luxuries this fall.
If the market is done selling off, best-in-class companies such as Starbucks will regain their footing. The stock will begin to reestablish its premium valuation to the broader market as investors grow confidence again in Starbucks delivering superior sales and profits, per usual.
^SPX
data