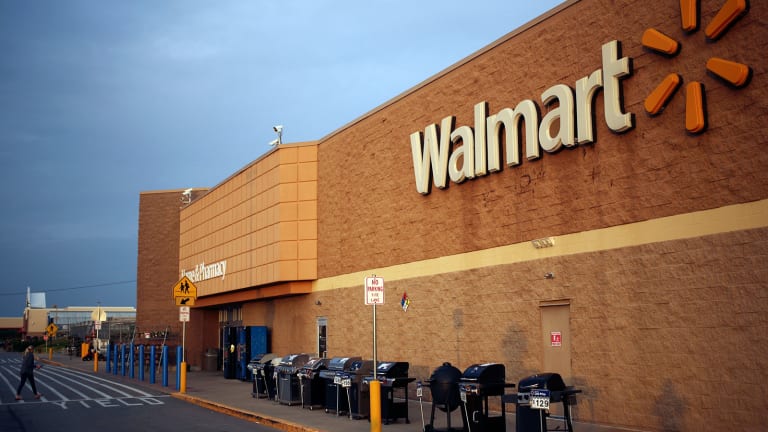 NEW YORK (TheStreet) -- Wal-Mart's (WMT) - Get Walmart Inc. Report late founder Sam Walton often preached the need for low prices and for empowered associates at the retailer's annual shareholder meetings.
Those are still major issues for the big-box retailer. But if Wal-Mart CEO Doug McMillon is wise, he'll want to address several more topics of burning interest at the shareholder meeting Friday.
One would be telling investors how Wal-Mart plans to address consumers' rising interest in affordable organic foods; competitors likeTarget (TGT) - Get Target Corporation Report and traditional supermarkets are starting to capitalize on organics. Another pressing topic is how to resuscitate Wal-Mart's flagging warehouse club membership business, Sam's Club.
All signs, though, point to Wal-Mart executives continuing to play up their efforts to improve employee wages and development at this year's annual celebration of "Mr. Sam," as the founder is known at Wal-Mart. And why not stress the bump in employee pay? Lifting pay for those making minimum wage is good PR for a company that has battled protests in front of its hulking supercenters for well over a year.
According to a report by the Associated Press, department managers at Wal-Mart of complex and service-oriented jobs in areas such as produce, electronics and auto care will start at $13 per hour and peak at $24.70 per hour, beginning in July. And starting next February, these workers will be paid at least $15 per hour. Previously, the pay range was from $10.30 to $20.09.
Managers of less-complicated departments such as clothing, consumer products and home goods will earn from $10.90 to $20.71 per hour. Previously, they made $9.90 to $19.31.
The latest news was part of Wal-Mart's decision in March to invest about $1 billion in its employees this year in the form of higher hourly wages and more training. The goal? Better customer service -- that leads to better sales.
Beyond the issue of wages, though, there are three key areas Wal-Mart needs to address at its June 5 annual meeting.
1. What is Wal-Mart's progress in selling healthier food?
Back in April 2014, Wal-Mart began its rollout of organic food under the well-known Wild Oats brand. These organic products such as canned vegetables and spices were hyped as being 25% cheaper than national brands.
Since then, Wal-Mart has been relatively quiet about its efforts to expand further into health and wellness products. It also hasn't talked much about whether it will reduce its emphasis on packaged foods such as Kraft (KRFT) macaroni and cheese. The company has also failed to update shareholders about its sales trends in organics and the number of products it now has available. 
Still, Wal-Mart's venture into organics seems to be moving forward, albeit slowly. 
"90% of our customers would like access to organic sustainable products," said Wal-Mart CFO Charles Holley at a March 6 investment bank presentation. Holley added, "The challenge for us [is] making sure that we can source -- and we should be able to do a lot of that with our size -- and source sustainable organic products to our customers."
For its part, organic producer Hain Celestial (HAIN) - Get Hain Celestial Group, Inc. Report has shed some light on where Wal-Mart is in its journey to sell healthier food.
"Wal-Mart will be adding over 50,000 new Hain PODs [points of distribution]," said Hain Celestial CEO Irwin Simon on a May 6 earnings call. According to Simon, Wal-Mart is adding new products from brands such as Sensible Portions and Dream Lattes, plus Greek Gods yogurt and Ella's Kitchen baby food.
The problem for Wal-Mart is that its rivals have been anything but quiet regarding their plans for -- and hearty sales of -- affordable organics. As a result, investors are getting the impression that Target and Kroger (KR) - Get Kroger Co. (KR) Report are pulling away in a category that will only continue to grow as products become cheaper.
According to the Organic Trade Association, sales of organic food and nonfood products in the U.S. notched another record in 2014, totaling $39.1 billion, up 11.3% from the previous year. Organic foods are hovering around a record 5% share of the total food market.
Target, which is a top 10 grocer in the U.S. in terms of annual sales, will be spending less to promote processed foods from some of the packaged food giants, according to a recent Wall Street Journal report. And Target's "Made to Matter" program establishes partnerships with companies that agree to create "better-for-you" products exclusively for Target.
After piloting products from 16 vendors in 2014 -- organic food and natural cleaning products among them -- Target will expand the program to 31 vendors this year. Target expects sales from the collaboration to reach $1 billion this year.
The competition for affordable organics is heating up. In May, organic food pioneer Whole Foods (WFM) announced that it will launch a new store concept in 2016 that sells cheaper organics. 
At Kroger and Costco (COST) - Get Costco Wholesale Corporation Report, it's also full steam ahead on organics that don't bust the budget.
Kroger's "Simple Truth" organic brand hit $1 billion in annual sales for the first time last year, a mere two years after its initial introduction. Costco's sales of organics, according to the company, have risen by a double-digit percentage the past two years to about $4 billion.
2. How is Wal-Mart going to protect its turf in affordable apparel?
Sales of apparel represented about 9% of Wal-Mart's sales in 2014. That amounted to a cool $43 billion, making Wal-Mart the biggest apparel player around.
For the world's largest retailer, selling more apparel is critical. Pants, t-shirts and the like offer higher profit margins than those found on groceries and packaged food. But Wal-Mart has to contend with the relentless push by fast fashion retailers H&M (HNNMY) , Forever 21 and Zara to bring more stores to the U.S. And Wal-Mart is about to see a ruthless overseas foe in apparel arrive on its domestic doorstep: Irish clothing retailer Primark.
Primark, which acquired seven leases to set up shop in vacated Sears Holding (SHLD)  stores last year, will begin opening stores in the U.S. shortly. The first store will open in Boston this fall. Primark operates 270 stores worldwide, mostly in the U.K. There Primark competes against Wal-Mart's Asda banner. The company stocks everything from baby and kids apparel to women's and men's clothes, housewares, accessories and beauty products, all at affordable prices.
Recent comments from Wal-Mart execs show they are on guard about the impact of Primark on the lucrative apparel business.
"Primark is a very, very good competitor," acknowledged Wal-Mart U.S. CEO Greg Foran at a May 4 presentation to investors. Foran said, "We've had teams over there looking at their business. We know they're coming. We know where they're coming and when they're coming."
Wal-Mart could be poised to lower prices even further on its apparel to compete with Primark in the U.S, eating into its profit margins. Primark's arrival could also spur Wal-Mart to take more fashion risks to maintain customer attention. The risk would be that consumers frown on Wal-Mart's more fashionable apparel, forcing profit-busting markdowns.
3. What is underway to bolster sales at Sam's Club?
To rejuvenate sales, Sam's Club execs will likely have to lower product prices on bulk goods or memberships. If not, the low sales in the first quarter may persist this year, much to the dismay of Wal-Mart investors.
Wal-Mart missed its first-quarter earnings estimates by 2 cents, in large part due to lagging performance at Sam's Club. The business, which has more than 600 stores throughout the U.S., represents about 12% of Wal-Mart's annual sales.
"Our first-quarter results were disappointing, as comp sales missed guidance, and we delivered softer net sales and profit than last year," said Sam's Club president and CEO Rosalind Brewer on a pre-recorded conference call. Brewer, who took her position in January 2012, hinted that Sam's Club continues to trail its rivals on price. "We continue to invest in price to drive value for our members," Brewer said.
The notoriously competitive Costco is likely pressuring Sam's Club on price. Costco operates 474 stores in the U.S. and Puerto Rico. Price pressure was evident in the sales performances of both warehouse chains in the first quarter. 
Costco's U.S. same-store sales, excluding the impact of lower gas prices and currency swings, increased 5% in the quarter, while Sam's Club's same-store sales, excluding the impact of lower gas prices, declined 0.5%, reversing a 0.5% increase achieved a year earlier.
Sales in what Costco calls its "food and sundries" category increased by a low- to mid-single-digit percentage, depending on the category, while at Sam's Club, sales of fresh and frozen food notched a low-single-digit percentage gain. 
It may well be time for Wal-Mart to prove to its shareholders why Sam's Club shouldn't be spun off to unlock value -- or else risk the arrival of an activist investor in an era of rising shareholder activity.
This article is commentary by an independent contributor. At the time of publication, the author held no positions in the stocks mentioned.