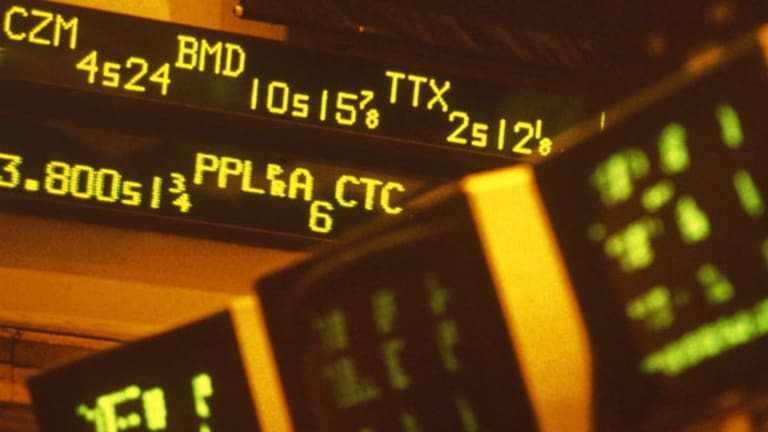 3 Breakout Stocks Trending Higher
These breakout stock candidates could have big upside potential from current levels.
WINDERMERE, Fla. (Stockpickr) -- U.S. stocks are doing the one thing right now that short-sellers on Wall Street absolutely hate: They're trending higher in the face of an onslaught of negative news.
Just think about all of the negative headlines that we've been hit with this week. First, it was the start of a war with Libya on Saturday. Then we were hit with some bearish new-home sales data on Wednesday. Then we heard even more bad news out of Portugal regarding its ongoing debt crisis. Circle back to the Middle East, and reports came out about violent demonstrations in Syria, where anti-government protesters were being gunned down.
If that wasn't bad enough, gold and silver prices continued to skyrocket, stoking even more fears among market players. Oil prices followed suit, and even the U.S. dollar did its part when it temporarily broke some longer-term support.
Despite all of this scary news, the market shrugged it off and continued to march higher. There's nothing that frustrates the bears more then when the market goes up in the face of bad news. They'll often feel cheated out of short-selling profits and scream that the market is manipulated. What the bears seem to forget is that price and trend in the market always trumps the news.
Related:
Must-See Charts: Baidu, Wal-Mart, PetroChina
This is exactly why in
I have stressed over and over how important it is to ignore the news and just trade the trend. You can't let yourself fall into what I like to call "news brainwashing," when you let information trumpeted by the media control your psychological mindset. When you form opinions based off of the news, you run the risk of making investments driven by those opinions.
This would have easily kept you out of strong stocks this week that broke out, such as
Sina
(SINA) - Get Report
,
OpenTable
(OPEN)
,
Bronco Drilling
( BRNC) and
Netflix
(NFLX) - Get Report
. Or even worse, it might have influenced you to short them.
A breakout occurs when a stock makes a move through a significant level of support or resistance, which is usually followed by heavy volume and increased volatility. Wall Street players love to see an upside breakout because it demonstrates strength in the underlying asset as the price breaks above a level of previous resistance. An upside breakout can also take a stock to new highs, which will generate a lot of interest as the stock shows up on sophisticated software that scans for this type of action.
Here's a look at a number of stocks
that look poised to break out and trade significantly higher from current levels
.
Majesco Entertainment
One stock that has already started to break out is social gaming play
Majesco Entertainment
(COOL)
, a provider of video game products primarily for the family-oriented mass-market consumer. This stock is off to a monster start in 2011, with shares up over 284%. Majesco is clearly in the sweet spot and benefiting from a big trend, with consumers scrambling to buy the company's popular
Zumba Fitness
game.
This stock was being marketed right in front of me just a few weeks ago, and I didn't even realize it, when a number of my friends on Facebook were posting status updates raving about how great of workout Zumba was. The takeaway here is to always be watching for trends, including via social media outlets, because they could lead you to a hot stock.
Majesco trades at a trailing price-to-earnings ratio of 51 and a forward price-to-earnings ratio of just 9.87. Majesco has a strong balance sheet, with $7.89 million in cash on the books and just $84,000 in total debt. This company recently raised its 2011 guidance for revenue to $100 million to $110 million from $85 to $90 million, and for earnings per share to 20 cents to 25 cents from 6 cents to 10 cents.
If you take a look at the chart for Majesco, you'll see that this stock has just started to break out above some past overhead resistance at around $2.84 a share. This breakout is coming on huge volume. On Thursday (an up day), over 5 million shares traded hands vs. the three-month average volume of around 1 million shares. That's 4 times the average trading activity as the stock breaks out to a new five-year high. That's extremely bullish action, and it's a follow-up to a high-volume gap up from just a few weeks ago. Evidently some large institutional traders are warming up to this stock.
This stock could easily be a double- or triple-bagger from current levels if the uptrend can continue. You could buy the stock now and place a stop around some near-term support levels at $2.20 or even $2 a share. Or you could place a stop around the uptrend line, which I drew in on the chart above.
Please understand that this is a very speculative stock and not the type of equity to bet the farm on, but it could be a great play for the high-risk part of your portfolio.
Powerwave Technologies
Another stock that's already started to break out is
Powerwave Technologies
(PWAV)
, a global supplier of end-to-end wireless solutions for wireless communications networks. This stock is off to a blazing start in 2011, with shares up around 83%. That's already a huge gain, and if the recent breakout can hold, then we could see much higher prices ahead.
Some of the interest in this stock of late is due to the company's showcase of its 4G network infrastructure products at the CTIA tradeshow. Now that
AT&T
(T) - Get Report
and
T-Mobile
have proposed a merger, wireless equipment providers such as PWAV are also looking more attractive as takeover plays.
If you take a look at the chart for Powerwave, you'll see that the stock has started to break out above some past overhead resistance at around $4 to $4.15 a share. This breakout is occurring on some big volume. During the last three trading sessions (all up days), volume of 7.4 million, 5.9 million and 7.6 million shares have changed hands vs. the three-month average trading volume of 2.9 million shares.
This breakout is also coming as the stock moves out of a well-defined trading range. For the past couple of months, PWAV has traded in a range of $3.20 to around $4 a share. Whenever a stock moves out of a trading range on heavy volume, it can often mean that it's setting up to trend significantly higher. If this stock can manage to trade above the next notable resistance level at $5 a share, then it could easily begin a march towards $7 to $8 a share or possibly even higher.
This is also a very speculative stock, so please manage your risk accordingly and use tight stops in case the breakout fails and you can cut your losses quickly.
It's worth noting that this stock has a reasonable short interest. As of Mar. 15, the short interest as a percentage of the float stands at around 5.6%. The bears in PWAV have also increased their bets by 29.6% to a total of 9.4 million shares sold short from the last reporting period. This reasonable short position could fuel more short covering the near future if the stock can continue to uptrend.
NN
One final stock that has started to break out is
NN
(NNBR) - Get Report
, which operates in three segments: metal bearing components, plastic and rubber components and precision metal components. This stock is off to a strong start in 2011, with shares up around 34%.
NN recently reported a very strong fourth-quarter that saw sales rise by 23% for the quarter and 41% for the full year-over-year period. NN forecasted bullish revenue as well of $405 million to $415 million for 2011, which represents growth of 12% over 2010. It also looks like traders might be piling into this stock after recent events in Japan because of its metal bearing components division, which serves Asia with precision steel balls. Steel balls are used in automotive parts, hydraulic motors and oil drilling and mining.
If you take a look at the chart for NN, you'll see that this stock has started to break out above some past overhead resistance at around $15 to $15.54 a share. This breakout is being accompanied by strong upside volume. On Thursday (an up day), volume of around 632,000 shares traded hands vs. the three-month average trading activity of 170,000 shares. That is some monster volume that occurred in concert with the price breakout. This type of trading action shouldn't be ignored, since high-volume breakouts are considered extremely bullish.
The next area that traders should watch for this stock to clear on the upside is $17 a share. If it can clear that level, then this stock doesn't have a whole lot of past resistance between it and its all-time high of just over $26 a share.
To see more breakout candidates, including
Baidu.com
(BIDU) - Get Report
,
Travelzoo
(TZOO) - Get Report
and
Alcatel-Lucent
(ALU)
, check out the
portfolio on Stockpickr.
-- Written by Roberto Pedone in Winderemere, Fla.
RELATED LINKS:
>>Spotting a Reveral: Technical Analysis Primer
>>Must-See Charts: Baidu, Wal-Mart, PetroChina
>>3 New Technical Setups With Gain Potential
Follow Stockpickr on
and become a fan on
Facebook.
Please note that small-cap stocks are subject to more risk than stocks of larger companies, including greater volatility, lower liquidity and less publicly available information, and that postings such as this one can have an effect on their stock prices.
At the time of publication, author had no positions in stocks mentioned.
Roberto Pedone, based out of Windermere, Fla., is an independent trader who focuses on stocks, options, futures, commodities and currencies. He is also an outside contributor to Beconequity.com and maintains the website Maddmoney.net, which he sold to Blue Wave Advisors in 2008. Roberto studied International Business at The Milwaukee School of Engineering, and he spent a year overseas studying business in Lubeck, Germany.