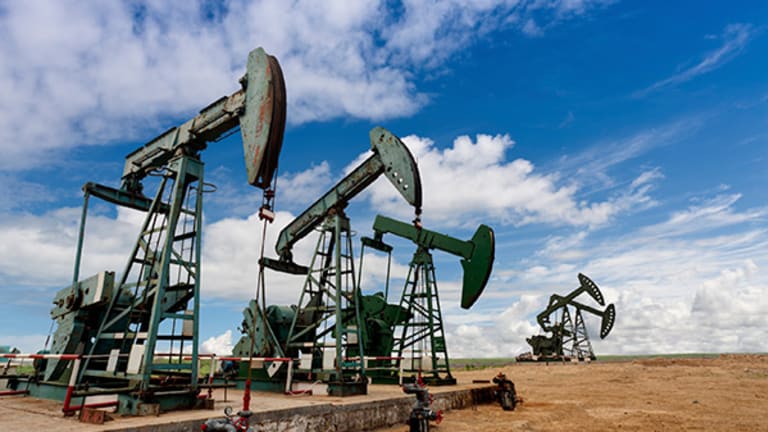 3 Beaten-Down Energy Stocks Ready to Rally: Statoil, Petrobras, CNOOC
These three huge energy plays are ready to rip higher -- and they're not the ones you're thinking of.
Energy investors aren't feeling too, well, energized in 2017.
Oil prices are down more than 15% this year -- that brings crude's rolling total performance since the summer of 2014 to a 55% decline. Not pretty. Along the way, many energy stocks have gotten hit much worse. That shouldn't come as a big surprise: Energy producers basically act like leveraged bets on commodity prices.
That's great in an up-market, but it's doubly painful when oil and gas prices plummet.
That's the bad news.
The good news is that, there's a light at the end of the tunnel for energy-sector investors. After a long stretch of lagging the rest of the market, some of the biggest national oil and gas companies are showing bullish price action in 2017.
Hint: They're probably not the big energy stocks you're thinking of.
So, to find them, we're turning to the charts for a technical look at three massive energy companies that look ready to break higher.
In case you're unfamiliar with technical analysis, here's the executive summary: Technical analysis is a way for investors to quantify qualitative factors, such as investor psychology, based on a stock's price action and trends. Once the domain of cloistered trading teams on Wall Street, technicals can help traders make consistently profitable trades and can aid fundamental investors in better planning their stock execution.
Jim Cramer and the AAP team know what's causing oil prices to decline, and they're telling their investment club members what to do about it. Get his insights or analysis with a free trial subscription to Action Alerts Plus.
So, without further ado, here's a rundown of three technical setups that are showing solid trading potential right now.
Statoil ASA
We're starting things off simple -- with shares of Norwegian energy giant Statoil SA (STO) . This $58 billion energy producer kicked off the year on a sour note: Shares shed more than 10% of their market value in the first four months of 2017. But the primary trend is changing in Statoil, and you don't need to be an expert technical trader to decipher what's going on with this price chart.
Statoil started the year in a very well-defined downtrend, dropping on every successive test of the top of its price channel. But something changed earlier this month. That's when shares definitively pushed through the top of that price channel, breaking the downtrend and signaling the potential for higher ground ahead. All price trends eventually come to an end, and when they do, they often reverse course for a sustained period -- that's what Statoil's current price trajectory is signaling this week.
Look for a test of prior highs at $19 this summer. Meanwhile, from a risk-management standpoint, consider parking a protective stop on the other side of the 50-day moving average. The 50-day acted like a proxy for resistance in Statoil on the way down, and if shares violate that level, it means the downtrend is back on.
Petrobras SA
Meanwhile, Petrobras SA (PBR) has been under pressure lately. Shares of the $64 billion Brazilian national oil company have lost more than 20% of their market value since peaking back at the end of last October. And they've spent the last few months grinding sideways.
But that sideways slump is actually setting shares up for a reversal. Here's why.
Petrobras has been forming a double bottom, a bullish reversal setup that looks just like it sounds. The double bottom is formed by a pair of swing lows that bottom out at approximately the same price level, separated by a peak that identifies the breakout level for shares. In PBR's case, that breakout comes with a push above $10.
Price momentum, measured by 14-day RSI, up at the top of Petrobras' price chart, adds some extra confidence that buying pressure is building in shares. This stock's momentum gauge made a pair of higher lows during the same time period. Once shares push through $10, it makes sense to join the buyers.
CNOOC Ltd.
Finally, we're seeing the exact same price pattern right now in shares of $52 billion Chinese energy firm CNOOC Ltd. (CEO) .
Just like Petrobras, CNOOC is currently forming a double bottom pattern after correcting hard from its October highs. For CNOOC, the big breakout level to watch is resistance up at $122.
What makes that $122 level so important for CNOOC? It all boils down to buyers and sellers. Price patterns, like this ascending triangle setup, are a good quick way to identify what's going on in the price action, but they're not the ultimate reason shares look attractive here. The "why" is driven by basic supply and demand for CEO's shares themselves.
The $122 resistance level is a price where there has been an excess of supply of shares; in other words, it's a spot where sellers have previously been more eager to step in and take gains than buyers have been to buy. That's what makes a breakout above $122 so significant. Stay tuned.
At the time of publication, author had no positions in the stocks mentioned.