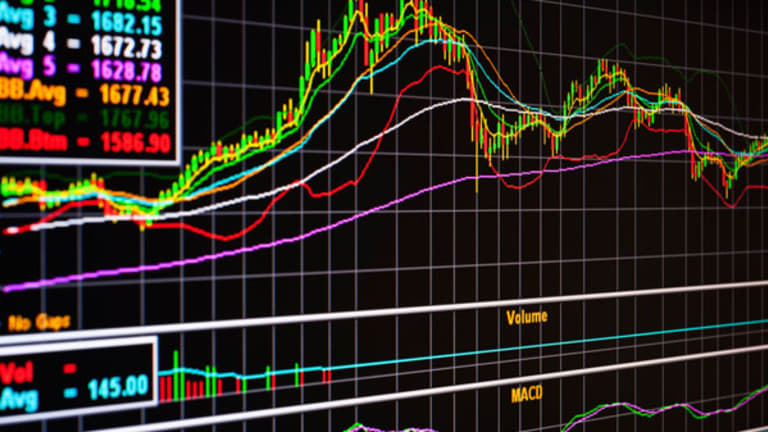 2010 Large-Cap Short-Squeeze Opportunities
These heavily shorted large-cap stocks could surge higher on any positive catalyst.
BALTIMORE (Stockpickr) -- Now that 2010 is well under way, it's time to take a fresh look at large-cap stocks with serious short-squeeze potential.
Large-cap stocks fared well in 2009; the
and
Dow Jones Industrial Average
, broad-based indices that track the largest stocks in the market, gained 27.8% and 22.5%, respectively. But with both indices down nearly 4% on the year already, investors are understandably concerned about the chances of seeing big-name stocks move higher this year.
Truth be told, much of that anxiety is misplaced; after all, stocks actually took a deeper dive during the first few months of 2009. And with most indices registering as oversold right now, the potential for big percentage moves on a short squeeze is strong.
A short squeeze -- the buying frenzy that ensues when a heavily shorted stock starts to look attractive again to investors, causing share price to skyrocket -- is just the catalyst these stocks need right now.
One of the best indicators of just how high a short-squeezed stock could go is the short interest ratio, which divides shares short by average daily trading volume in order to get a ballpark estimate of the number of days it would take for short-sellers to cover their positions. The higher the short ratio, the higher the potential profits when the shorts get squeezed.
Each week, Stockpickr creates a portfolio of stocks with high short interest ratios and the catalysts to trigger a squeeze. Here's a look at
, which focus on large-cap stocks.
Waste Management
(WM) - Get Free Report
got some high-profile face time on Sunday following the Super Bowl when it was featured in a
new TV show
that puts C-level executives in their companies' entry-level jobs. But while consumers got a look at Waste Management's business, the real news for investors comes on Feb. 16, when the $15.7 billion company releases its fourth quarter numbers to the public. Good earnings could shake out the shorts, who've currently pressed the stock to a short ratio of 11.74.
The biggest black cloud on Waste Management's radar right now is its more than $8 billion debt load. But with strong cash flows and recession-resistant sales, the company's ability to meet its obligations shouldn't fall into question. A 3.62% dividend yield makes the company an even sweeter deal for investors right now.
One fund that's taken advantage of Waste Management's performance is the
(DELDX), which holds stakes in
CVS Caremark
(CVS) - Get Free Report
and
Motorola
( MOT) in addition to Waste Management.
Mexican phone utility
Telmex
( TMX) is a major player in Mexico's fixed-line communications markets, with more than 80% of the country's customer base. But the fast adaptation of cellular phones in Mexico has lead to customer attrition levels that have pushed the company's short ratio to 10.56.
While the pressure from wireless operators has affected Telmex's business, the company has made back ground by focusing on its packaging Internet deals for customers, a higher-margin product. That strategic decision has had a palpable impact on Mexico's Internet users, since until recently relatively low numbers of computer users have left the market under-saturated.
Telmex also benefits from a strong management team, thanks in part to billionaire investor
, who owns a sizable stake in the company though his Carso Global Telecom. Carlos Slim Helu also has positions in
America Movil
(AMX) - Get Free Report
and
Altria
(MO) - Get Free Report
.
Canadian communications giant
Rogers Communications
(RCI) - Get Free Report
has had a stronger 2010 than most companies, much to the chagrin of short-sellers who have pushed the stock's short interest ratio to 38.38.
Rogers has strong product offerings in the Canadian telecom and cable markets and has done a good job of maintaining its subscriber base amid a difficult economic environment. Like many American telcos, wireless services have become the dominant contributor to the company's top line numbers, but unlike many of its counterparts to the south, Rogers enjoys a more diversified product mix.
As the Canadian wireless industry continues to expand, Rogers' long-side investors should enjoy the benefits. One of those investors is the
(MMUFX), which owns a stake in Rogers alongside shares of
EQT
(EQT) - Get Free Report
and
Time Warner Cable
(TWC)
.
For the rest of this week's short-squeeze opportunities, including
Thompson Reuters
(TRI) - Get Free Report
and
CNA Financial
(CNA) - Get Free Report
, check out the
portfolio at Stockpickr.
And to find short-squeeze plays of your own, be sure to check out the
community for insights and investment ideas.
-- Written by Jonas Elmerraji in Baltimore.
RELATED LINKS:
>>Must-See Charts: Ralcorp, Del Monte Foods
Follow Stockpickr on
and become a fan on
Facebook.
At the time of publication, author had no positions in stocks mentioned.
Jonas Elmerraji is the editor and portfolio manager of the Rhino Stock Report, a free investment advisory that returned 15% in 2008. He is a contributor to numerous financial outlets, including Forbes and Investopedia, and has been featured in Investor's Business Daily, in Consumer's Digest and on MSNBC.com.