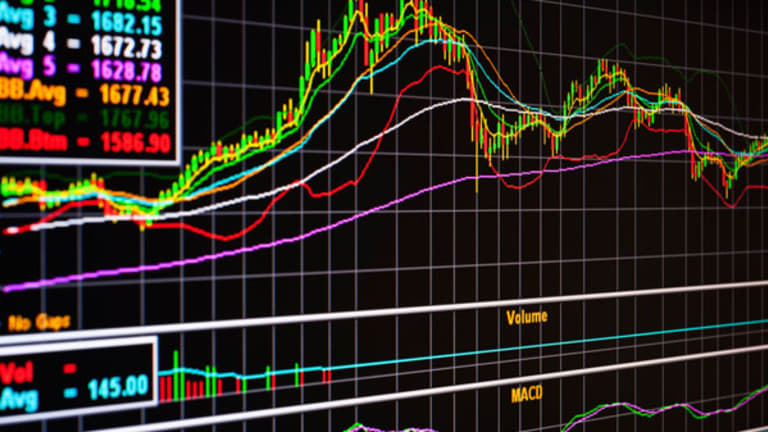 20 S&P Stocks With Huge Insider Selling
Insiders at these S&P 500 companies have been dumping stock onto the open market.
WINDERMERE, Florida (Stockpickr) -- Insider selling at S&P 500 has not abated. As they have in past weeks), corporate insiders who know the most about their businesses continue to dump stock onto the open market.
For the week ending Oct. 18, the pace of insider selling to buying at S&P 500 companies came in at 2,019 shares sold to every share purchased, an increase from the week earlier, which clocked in at 1,169 to 1.
>>Also:
Cramer's Always-a-Bull-Market-Somewhere Stocks
According to
Bloomberg.com
, insiders continue to sell stock in many big name companies, such as
Google
(GOOG) - Get Alphabet Inc. Class C Report
,
Oracle
(ORCL) - Get Oracle Corporation Report
and
Salesforce.com
(CRM) - Get salesforce.com, inc. Report
. What's interesting about all three of these companies is that insider selling isn't new -- it has been occurring for the past couple of weeks. And the selling at all three is pretty significant.
For example, during this reporting period, insiders at Google sold 83,634 shares, or around $45 million worth of stock, at an average share price of $543.07. Oracle insiders sold 6.5 million shares, or around $184 million worth of stock, at an average share price of $28.20. Those aren't numbers that should be ignored, but they also don't mean the stocks are about to drop.
>>Also:
13 Hot Stocks Poised to Double or More
For example, after those Google insiders sold their stock, the company reported a strong quarter, and shares rose to more than $600. So you can see that using insider selling isn't necessarily a good indicator for short-term trading.
I would suggest using large insider selling as an early warning sign for the longer term, not a trading signal for the short term. Again, many insiders are just taking profits, but they might be taking profits because they don't see a bright future down the road. Only time will tell if their profit-taking was the right decision for the longer term.
showed up in only three S&P 500 companies this past week:
TJX
(TJX) - Get TJX Companies Inc Report
,
Owens-Illinois
(OI) - Get O-I Glass Inc Report
and
FedEx
(FDX) - Get FedEx Corporation Report
. Once again, the insider buying is of anemic amounts. The largest buying was in TJX, and it totaled only $143,000, which is hardly worth mentioning, except that it does illustrate the large gap between the corporate buyers and sellers.
>>Who Owns TJX?:
I would completely ignore the insiders at TJX, though, since they also sold 175,460 shares, or $7.8 million worth of stock, at an average price of $44.60. TJX was the seventh highest on the list of insider selling for the most recent reporting period. Clearly, that large selling outweighs the small buying that was reported.
Here 's a look at some of the
S&P 500 stocks with the largest amount of insider selling
.
One new name to the list of insider selling for the most recent reporting period is video game maker
GameStop
(GME) - Get GameStop Corp. Class A Report
. Insiders at GameStop sold 2.5 million shares, or $47 million worth of stock, at an average share price of $18.86. What's interesting here is that insiders at GameStop aren't selling into strength -- in fact, they're selling into weakness, since shares of GameStop are down around 13% year-to-date. This could be viewed as a warning sign since the stock is faltering as insiders get out of large amounts.
Some if the GameStop insiders that sold include the chief operating officer and a number of directors. From a technical perspective, GameStop is running into some resistance at its 50-day moving average of $19.17 a share. It's also worth noting that the stock is trading below its 200-day moving average. GameStop has some support at around $17 to $18 a share. A break of those levels could set the stock up for a new wave of selling, so watch closely how the stock trades if it retests those key areas.
>>Also:
Top-Rated Leisure Goods Stocks
Two companies that also saw a lot of insider selling were
CSX
(CSX) - Get CSX Corporation Report
and
Union Pacific
(UNP) - Get Union Pacific Corporation Report
, both in the railroad space. Insiders at Union Pacific sold 76,132 shares, or $6.5 million worth of stock, at an average share price of $85.70, while insiders at CSX sold 278,398 shares, or $16.5 million worth of stock, at an average share price of $59.25.
Market players often view the railroads as a leading economic indicator. Could these insiders know that the future economic outlook isn't as strong as the overall broad markets, all at or near yearly highs, would imply?
>>Also:
In the oil sector, insiders were selling a lot of stock at oil and gas exploration production company
Murphy Oil
(MUR) - Get Murphy Oil Corporation Report
, unloading 114,580 shares, or $7.5 million worth, at an average share price of $65.05.
It's worth noting that shares of Murphy have recently broken out above some previous overhead resistance at around $64 a share. Maybe the insiders at Murphy are worried about the potential of a strengthening dollar and what implications that could have on their share price for the future. It just seems odd to me that they would dump so much stock when the stock is making a bullish technical move. Maybe they aren't chart watchers and are just locking in profits.
>>Who Owns Murphy Oil?:
To see more stocks with heavy insider selling, including
Macy's
,
Costco Wholesale
(COST) - Get Costco Wholesale Corporation Report
and
Fastenal
(FAST) - Get Fastenal Company Report
, check out the
Top 20 S&P Stocks With Big Insider Selling
portfolio on Stockpickr.
-- Written by Roberto Pedone in Winderemere, Fla.
RELATED LINKS:
>>3 Stocks Increasing Their Dividends
>>5 Tech Stocks for Your Portfolio
Follow Stockpickr on
and become a fan on
Facebook.
At the time of publication, author had no positions in stocks mentioned.
Roberto Pedone, based out of Windermere, Fla., is an independent trader who focuses on stocks, options, futures, commodities and currencies. He is also an outside contributor to Beconequity.com and maintains the website Maddmoney.net, which he sold to Blue Wave Advisors in 2008. Roberto studied International Business at The Milwaukee School of Engineering, and he spent a year overseas studying business in Lubeck, Germany.