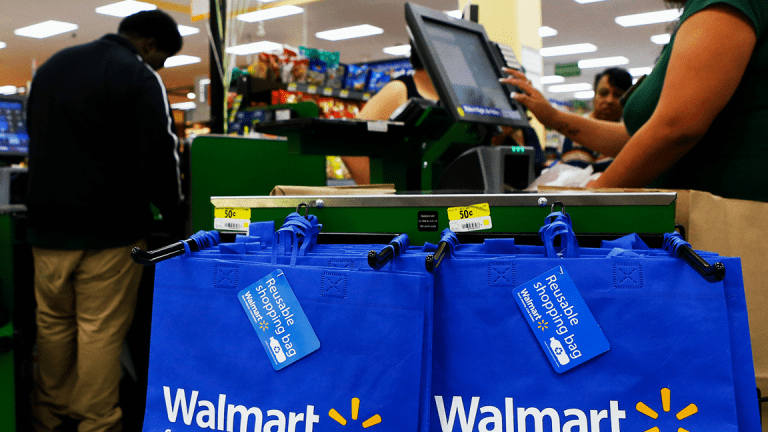 2 Ways to Trade Walmart Into Earnings
How to play this name as retailers enter a 'sweet spot.'
Personal disposable income stood at a $15.46 trillion annual rate in the second quarter, which put the debt to income ratio at 86%, down from 116% at its very worst in 2008, and the lowest ratio seen for the U.S. household in this space since 2002.
Is this improvement in the condition for the U.S. household sustainable? Probably not without a substantial increase in wages, provoked by both tight labor conditions and consumer level inflation. But regardless,  the current state of affairs should place the nation's retailers in the sweet spot. It won't last forever, but I am going to play this game.
Retailers in the Sweet Spot
Today, we'll hear from one of my holdings, Macy's (M) - Get Report , and tomorrow it will be both JC Penney (JCP) - Get Report , and Walmart (WMT) - Get Report (another name of mine) that step to the plate.  
So, what's the plan? Heck, I won't pretend to tell you what to do. But here is my plan of action going into Walmart's earnings report.
Walmart
Margins have already been in compression mode, as the likes of Action Alerts Plus holding Amazon (AMZN) - Get Report and Target (TGT) - Get Report have increased competition for sales. Tomorrow morning, we'll look for EPS of $1.22 on revenue that runs just below $126 billion. Whispers are bouncing around at a penny above consensus. That revenue should be good enough for year over year growth of 2.1%, normal (even pretty good) for this quarter for this firm.
The real story here -- other than margin compression due to rising wages, increased transportation costs, and trade wars -- will be the success, or lack thereof, for the firm's internet business. This is where the knee-jerk will come from on Thursday morning. You'll recall that back in May good news on this front triggered a bottom for this name. The shares have been on the rise ever since.
View Chart »View in New Window »
What we have here is a stock poised to hit Fibonacci resistance. Even a break there, runs the name into traffic throughout the mid-$90s. My current price target for WMT is $92. A positive reaction to earnings this week could provoke me to go as high as $95, but I would be surprised to see anything more than that. I would welcome it, but it would surprise me.
The $87 puts expiring this Friday went out at $0.45. That might be a worthy risk. If the immediacy of that expiration scares a trader off, one could still get $0.53 for the October $82.50 puts. This would provide a little more cover versus less overt risk.
Free White Paper: 7 Things All Investors Must Know in 2018. Start the second half off right with our free white paper on seven key things to watch this year. From how much cash to have on hand to the three reasons this bull market might die, our white paper features key takeaways from an all-star panel that TheStreet and Fisher Investments recently hosted in New York. Click here to register for your free online copy.
At the time of publication, Guilfoyle was long WMT equity.