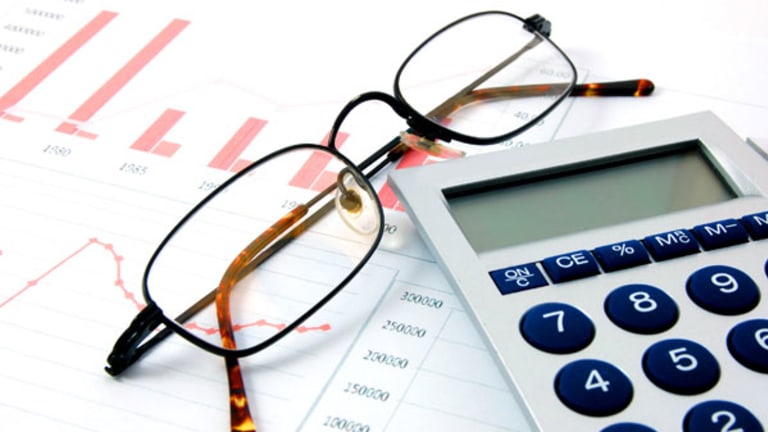 2 Pair Trades for Big Swings in the Market
The best defensive tool in a nonsensical trading market is to match long and short stocks in the same sector, ensuring a profit either way.
MINNEAPOLIS (Stockpickr) -- The stock market is moving in big swings over the last month thanks to or at least perceived to be impactful news events. We've seen stocks go up hundreds of points in a matter of minutes. We have also seen the opposite.
The big swings are tough for any investor to swallow. We can blame high frequency trading or aggressively short institutional hedge funds for the volatility. Complain as we might these two things are not likely to go away any time soon. The best defense for this seemingly nonsensical trading market is to utilize pair trades.
Don't bother trying to predict the direction of the market in this crazy environment. Instead focus on individual pair trades whereby you buy one stock long and match that trade against one stock short. A portfolio of several of these pair trades is designed to help you achieve absolute returns - a positive profit while protecting your capital.
Given the huge action in the gold and Treasury markets it would seem like there is a huge audience of investors interested in safe havens. As we have seen with gold over the last two days, I'm not so sure buying gold is a safe haven given the approximate 10% decline in gold prices. Pair trades make much more sense in my humble opinion.
Related:
5 Euro Stocks From 5 Countries
There are many ways to implement a pair trade strategy. This week my focus will be simple. I want to be long stock stories that are working and short stock stories that are not working. That may sound simplistic, but I will show you how you can do this very effectively.
We are at a tipping point with stocks. I follow closely companies reporting earnings. I am seeing a significant shift in tone and results over the last two weeks. Those businesses reporting operating results are missing expectations or at a minimum lowering guidance for the future. I would think of it as rolling over.
When that happens, stocks tend to go lower and by lower I mean down in a big way. On the flip side, there are still stories that are working. The market often misses the mark when there is broad based selling. Such discounts allow investors to buy companies that are beating estimates and raising guidance at attractive prices.
It is a really good environment to execute a pair trade strategy. Keep it simple with these
2 pair trades for big swings in the market
:
Long Hain Celestial/Short Hewlett Packard
I usually don't like paying premium prices for stocks, but in this market I am willing to do so. What I need to see is consistent profit performance and a business model that is likely to stand the test of time irrespective of what happens in the overall economy.
The Hain Celestial Group
(HAIN) - Get Hain Celestial Group, Inc. Report
fits the bill on all fronts.
Hain is a consumer goods company that makes and sells organic food and personal care products. The beauty of Hain in this environment is that its business is defensive in the sense that consumer staples will be bought rain or shine, but it is also a growth story. The organic food and product craze has plenty of room to expand. I shouldn't even use the word craze as organic products are in some ways more legitimate than processed competitors.
On Tuesday, Hain reported earnings results that beat consensus estimates from Wall Street. Excluding items the company made a profit of 35 cents per share, two cents ahead of estimates. In addition the company guided future profits in-line with current estimates, but boosted its revenue projections. This sort of performance is likely to continue going forward.
At current prices, Hain trades for 21 times next fiscal year ending June 30, 2012 estimated earnings. With profits expected to grow by 15% this valuation is a bit of a premium, but given the defensive nature combined with a growth story a premium is justified here.
Once a company is in decline, it tends to stay in decline. The fortunes of
Hewlett-Packard
(HPQ) - Get HP Inc. (HPQ) Report
have taken a turn for the worst and it is not likely to change despite drastic measures from management. Short sellers have already pounced on this company, but there is plenty of room for HP to fall. Look no further than the trading history of other technology names like
Palm
and
Research in Motion
.
Both of these names saw initial plunges that were followed by even greater losses down the road. I expect the same to occur at Hewlett Packard. I would short this story that is not working in a pair trade with Hain, a story that is working.
Long Express/Short Gap
The clothing retail space is becoming a house of horrors in this market. On Wednesday we saw big losses from stocks like
Pacific Sunwear
(PSUN)
and
American Eagle Outfitters
(AEO) - Get American Eagle Outfitters, Inc. Report
after each reported results and provided guidance for the future that was less than to be desired. Speculation of a double-dip recession has hit stocks in the group hard.The broad brush of the market sending stocks in the sector lower across the board entangles the few retailers that are performing well and likely to continue to do so. One of the stocks doing well is
Express
(EXPR) - Get Express, Inc. Report
. Shares are higher on Thursday after the company reported earnings after the market closed on Wednesday. In addition to beating analyst estimates in the current period, the company raised guidance for the future.
Despite the gains after the news shares of Express are down 21% since July 22. The selling simply does not jive with what the company is telling us and the current valuation of the stock is compelling. The average Wall Street estimate for profits for the fiscal year ending January 31, 2012 is $1.58 per share. That number grows 17% to $1.85 per share in the following year. Investors can buy Express for just 12 times current year estimated earnings.
On the short side I would sell
Gap
(GPS) - Get Gap, Inc. (GPS) Report
. Long in distress Gap appeared to avoid the fate of Pacific Sunwear and American Eagle when it reported earnings last week. Gap shares actually moved higher when it reported results that beat expectations and the company maintained guidance for the year. There is more to the story than meets the eye.
In the earnings report Gap noted that margins were declining. In addition shares of Gap had already fallen off the cliff in May when the company slashed its outlook for the year. In beating expectations in the current period, Gap was simply jumping over a lowered bar. As for the guidance, I'm not buying what management is selling. The maintained guidance does not match the changes in the economic landscape.
There is a credibility problem in my opinion. Something does not add up. You have a company that in May slashed its forecast and then in August maintains guidance. During the period from May to August, the economic outlook has changed dramatically. It is simply hard to believe that a change in economic fortunes will have no impact on a company that already noted that it was struggling.
Gap is an easy stock to short paired to the long of Express.
Watch these stocks in action in the Stockpickr portfolio
2 pair trades for big swings in the market
.
RELATED LINKS:
>>5 Income Stocks You Can Count On
>>5 Big Stocks to Trade for Gains in This Market
>>5 Shorted Bank Stocks Set to Climb
Follow Stockpickr on
and become a fan on
Facebook.
-- Written by Jamie Dlugosch in Minneapolis.
Dlugosch is the editor of Penny Stock Winners. He has over 20 years of experience in financial markets including investment banking, equity analysis and research and money management. In addition to being the Editor of Penny Stock Winners, he is also a Contributing Editor of InvestorPlace.com and founder and editor of The Rational Investor.