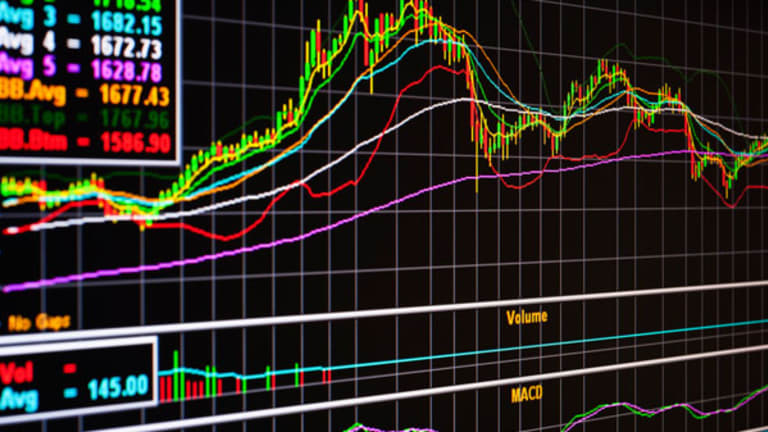 2 Pair Trades for a Global Meltdown
Pairing a long position in one stocks with a short of another can help investors capture relative outperformance and absolute returns.
MINNEAPOLIS (Stockpickr) -- Fear is an instinct that resides in the back lobe of our brains. We cannot control fear -- we can only manage it. Go to a baseball game and sit behind the plate. We know there is a net in front of us protecting us from foul balls and yet what happens when that first ball flies our way? We flinch.
After a brief respite the fear trade returned in a big way on Thursday. In a note to clients, Morgan Stanley warned that the world was dangerously close to recession. The Wall Street firm reduced forecasts for global growth, predicting average growth in developed at an anemic 1.5% this year and next.
Here comes the foul ball. What are you going to do? Will you flinch and sell stocks? The market seems to be running for the hills.
The
Dow
opened Thursday down more than 200 points and slid throughout the morning. Losses exceeded 500 points on the Dow within the first hour of trading, and the index closed down 419 points. This followed a more than 2% loss on indices across Europe.
Related:
5 Big Stocks to Trade for Gains in This Market
Today stocks are fluctuating around the flat line as investors weigh the prospects for the U.S. economy. The only safe haven appears to be gold and Treasuries. Gold is solidly above $1,800, and Treasury yields are nearing record lows.
Instead of reacting with fear, I have been suggesting that investors position portfolios for uncertainty by using
. The idea is to take a long position in a stock and pair it with a short of another stock in attempt to capture relative outperformance and absolute returns.
This week I have two pair trades that I believe provide the sort of relative outperformance needed for a successful absolute return approach. The first trade is to simply exploit yet-to-be popped inflated values. We've seen many highflying stocks of late come crashing to earth, including
Travelzoo
and
SodaStream
(SODA) - Get SodaStream International Ltd. Report
. We can short a premium-priced stock and pair it with a long of a value-priced stock.
The second pair trade is in the raw materials and commodity space. Some commodities, including oil have yet to price assuming a full-blown global recession as the stock market is doing for most stocks today. Absolute return investors can exploit that mispricing with a pair trade. On the long side I will be looking for a raw material that should do well irrespective of any global slowdown.
Here are
two pair trades to survive a global meltdown
.
Long McDonald's/Short Salesforce.com
Recent action in the market is a great testimonial for the long/short approach offered here. Certain stocks are getting crushed by the bears while others are holding up relatively well. Overstating the obvious, in this environment I want to own the stocks that are holding up relatively well.
Historically, stocks that hold their value during bear markets include defensive names and stocks that pay healthy dividends. Because these stocks tend to trade for low valuations, there isn't much froth for the bears to attack. On the flip side of low valuation are stocks that trade for premium valuations. These richly price stocks offer plenty of meat for the bears to eat.
On the long side of this pair trade I will take
McDonald's
(MCD) - Get McDonald's Corporation (MCD) Report
. The fast food restaurant's pricing is perfect for a global recession. You can eat very well at McDonald's on a low budget. In addition, the company's frontal attack on the coffee market is paying huge dividends and provides a growth story in addition to the relative safety of the business during a global meltdown.
With the Dow down 3.7% on Thursday, McDonald's was down only 2.2%. Helping to support the stock is a 2.8% dividend, but Mcdonald's low valuation allows the stock to fly under the radar, eluding the bears. Including today's pricing, McDonald's is down only 3.1% since the market closed on July 22. The company has a stable operating history, beating estimates in each of the last four quarters.
Analysts expect McDonald's to make $5.22 this year, with that number growing by double digits the following year. With shares trading or just 16 times current-year estimates, McDonald's is an attractive long for a pair trade.
I also featured Mcdonald's, one of the
highest-yielding leisure stocks
, in "
5 Recession-Proof Restaurant Stocks
."
On the short side is
Salesforce.com
(CRM) - Get salesforce.com, inc. Report
. This much-hyped stock has a valuation that defies gravity. Excitement over cloud computing has attracted momentum investors to Salesforce.com helping to keep the valuation high. Although Wall Street analysts have growth pegged at 40% from the current year, shares trade for 90 times earnings estimates for the current year ending Jan. 31, 2012.
In this market, even the most optimistic bull cannot support such a lofty level. Shares are down slightly on Friday after a big 9% plunge on Thursday. The reduction in price takes little off the lofty valuation.
There is still plenty of room for this stock to fall. The trigger may be when the company releases earnings results for the quarter ended July 31 after the market closes on Thursday. I would suggest shorting this stock in advance of the news as part of the pair trade with McDonald's.
On the other hand, Salesforce was also featured recently in "
5 Heavily Shorted Stocks That Could Surge on Earnings
."
Long Mosaic/short Transocean
Oil prices were down on Thursday but still above previous lows. If we are in the middle of a massive global slowdown in growth, oil has more room to fall. On the flip side is the market for fertilizer. We still need to eat no matter what is happening in the economy. Fertilizer improves yields on crops. As such prices for fertilizer should be stable during a recession.
For a pair trade I would buy long
Mosaic
(MOS) - Get Mosaic Company (MOS) Report
. The fertilizer company is down significantly this year thanks to the liquidation of shares by former parent company Cargill. That excess supply of stock has been difficult for the market to digest, especially during a market correction (or worse). Mosaic is down about 15% this year.
The selling has made the stock attractive for the current environment. Wall Street expects the company to make $5.81 per share in the current fiscal year ending May 31, 2012. At current prices, shares trade for 11 times current-year estimates. I would buy at these prices in a pair trade.
Mosaic is one of the
top holdings of David Tepper's Appaloosa Managemetn
, which initiating a new 2.4 million-share position in the stock in the second quarter, and it's also a new holding in
, comprising 6.1% of the total.
On the short side of this pair trade is oil driller
Transocean
(RIG) - Get Transocean Ltd. Report
. The stock is down 23% this year and falling. If oil prices collapse, so will shares of Transocean.
Over the last three quarters, the company has reported operating results that have widely missed analyst expectations. For the current year, Wall Street is looking for Transocean to make a profit of $3.73 per share.
With oil prices falling, look for earnings less than currently expected. Shares are trading at a premium 15 times current year estimated earnings. If the company continues to miss estimates shares are likely to fall further. I would be short Transocean in a pair trade with Mosaic.
Transocean is one of the
top holdings of Leon Cooperman's Omega Advisors
, which increased its position in the stock by 43.95 in the second quarter, and it also shows up in
.
To see these stocks in action, check out the
2 Pair Trades for a Global Meltdown
portfolio.
-- Written by Jamie Dlugosch in Minneapolis.
RELATED LINKS:
>>5 Stocks With Big Insider Buying
>>10 Small-Caps With Positive Earnings Trends
>>5 Ways to Trade the M&A Boom
Follow Stockpickr on
and become a fan on
Facebook.
At the time of publication, author had no positions in stocks mentioned. Jamie Dlugosch is a founder and contributor to
MainStreet Investor
and
MainStreet Accredited Investor
. Formerly, he was president and CEO of Al Frank Asset Management. He has contributed editorially to
The Rational Investor
,
The Prudent Speculator
,
Penny Stock Winners
and
InvestorPlace Media
.