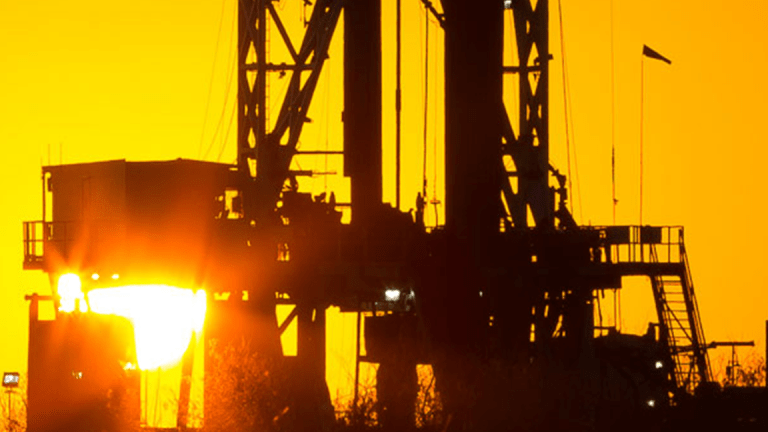 2 Oil Stocks That Could Heat Up Your Portfolio
Diamondback Energy and its sister company Viper look good at or near current prices.
Ride that oil wave, traders.
Oil is off of last week's high as I write this, but West Texas Intermediate is still trading above $70 a barrel, which is close to a three-year record. U.S. shale oil and Permian Basin plays look like possible short- to medium-term winners here, and two that I like are Diamondback Energy (FANG) - Get Diamondback Energy, Inc. Report and its sister company Viper Energy (VNOM) - Get Viper Energy Partners LP Report .
Now, I haven't dabbled in U.S. shale oil or in the permian basin since I extracted myself from Apache (APA) - Get APA Corp. Report several months ago after an epic fight in the name of capital preservation. But The Wall Street Journal ran a piece last week explaining that due to already-mentioned distribution bottlenecks, Permian-basin oil prices had fallen below $60 a barrel despite the fact that WTI futures were trading above $70.
Diamondback Energy, which had rallied last Wednesday in response to a strong earnings report, sold off hard on Thursday and Friday in response to the WSJ story. As a result, Diamondback has now traded largely sideways for 2018, and currently sells for just 12 times forward earnings.
But as you can see in this chart, FANG is approaching what should be support at $120:
Now, it looks like you might be trying to catch a falling knife here. But I say Diamondback Energy is still worth a shot if you have the money and a strong stomach.
Or how about Viper Energy? Diamondback created Viper to acquire, own and exploit properties primarily in the Permian Basin and the Eagle Ford Shale formation.
Wall Street has afforded Viper a higher valuation than its parent at 19x the stock's forward price-to-earnings ratio. But these shares came in late last week and currently trade a little above $30, making the name possibly more palatable to retail traders inclined to speculate.
Is Viper perfect? Of course not. For example, the company's levered free-cash flow is negative despite positive operating-cash flow.
However, two positives stand out to me:
Dividend Yield. The stock's 6.4% yield helps support the higher valuation. Diamondback offers a far lighter payout.
Fantastic Margins. Viper's gross profit margin runs at a fantasy-like 92.8%, while operating margin is "merely" 70%.
Of course, the immediate question when looking at Viper's chart is: "Are we too late?" Clearly, the name suffered earlier this winter with the rest of the market, but VNOM never actually lost its uptrend:
And even amid last week's market weakness, Viper outperformed its own parent. The stock's Relative Strength Index (RSI) is solid, as is its Chaikin Money Flow (CMF). However, the daily Moving Average Convergence Divergence Oscillator (MACD) looks like it might be in a tough spot.
Still, I kind of like the name, but I need it to fall to $29 a share (from Friday's $30.20 close) to buy it. The stock could fall to $25 with a break there, but I think it could ultimately see $34 by July 4th.
So, here's my preferred way of playing Viper here:
Sell (write) June 29 VNOM $29 puts. These went out Friday at $0.55.
Sell (write) an equal amount of June 25 VNOM $25 puts. These closed Friday night at $0.30.
The idea is build a position at a discount should there be weakness ahead for a name that's run higher, but remains on trend. If forced to pay $29 for Viper, your net cost basis would be $28.45 for a stock that closed on Friday at $30.20.
And if disaster strikes and you have to buy all of the shares committed to in both contracts, your the average equity price would come to $27. With your average revenue derived from put sales coming in at $0.425, your net basis would be $26.575 a share.
Does this sound like a worthy risk/reward scenario? You have to answer that for yourself. For me, I think this looks tempting enough to check on these premiums Monday.
At the time of publication, Guilfoyle had no positions in the stocks mentioned.