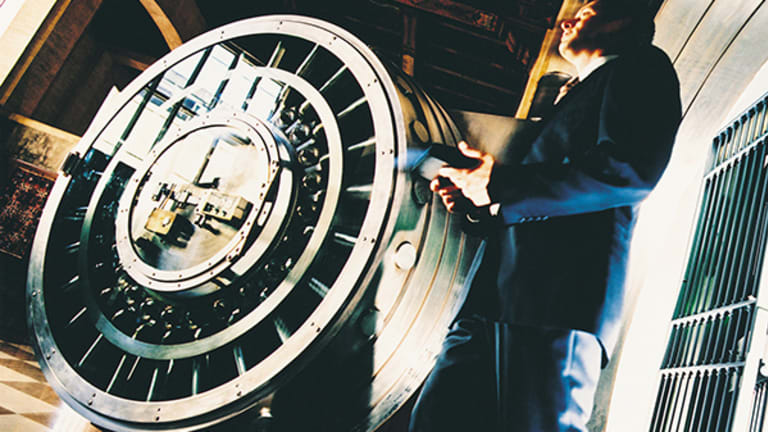 2 Bank Stocks That Are Potential Takeover Targets
With banks undergoing a bit of merger mania these days, here's a look at two institutions than may be ripe as a takeover target.
NEW YORK ( Real Money) -- Bank mergers and acquisitions were outlined by FJ Capital in a recent report, which listed the buyers, their targets and where these transactions were taking place around the United States. The report found that banks targeted for buyouts tended to be smaller in size with excess capital. Another common thread among these smaller banks included having a difficult time generating large profits because of excessive regulatory costs and a slow, grinding economic recovery.
This information was fed into a stock screener to develop a list of institutions that fit the profile of a likely takeover candidate. The list went through another filter, taking into account those banks that also have strong activist investors, or excessively smart money as shareholders. The list was sorted again, based on banks trading below book value.
In the end, it produced a sizable list of banks but, as one would expect, most of these institutions were very small. 
One bank, however, is a favorite -- Atlantic Coast Financial (ACFC) . The bank is based in Jacksonville, Fla., where strong M&A activity is underway in the Sunshine State. In 2013, it raised capital to shore up its balance sheet and has done an incredible job cleaning up its loan portfolio. Atlantic Coast's non-performing assets as a percentage of total assets has fallen to 1.16% today from nearly 6% in the first quarter of 2012.
The bank has an equity-to-assets ratio of 10.11, a number that has almost doubled in the past three years following its capital raise. Atlantic Coast reported earnings on Wednesday and the results were pretty good. Its return on assets was a paltry 0.22%, but its return on equity reached 2.14%.
Based on the latest earnings report, the stock is trading at just 85% of book value, and so it is definitely a bargain. If it gets taken over at the average multiple of run-of-the-mill banks of 135% of book value, it would be a quick gain of almost 60%.
Atlantic's shareholder list is full of smart money. FJ Capital owns shares, as does Basswood Partners. Both are bank stock specialist firms that are not shy about going activist to protect shareholder rights and improve value. Walter Schloss' nephew Paul Isaac has a stake in the bank, as part of his Arbiter Partners' fund. Burnham Financial Companies Fund also has a stake.
Eastern Virginia Bancshares (EVBS) is another bank to keep an eye on. It's located in the tidewater region of Virginia near Richmond, another market where a fair amount of takeover activity has been happening. In fact, Eastern Virginia made an acquisition itself last year, proving an entry into the suburbs of Richmond. That deal bought its assets up to around $1 billion, which means it is right at the upper limits of where 75% of the deals have been done over the last three years.
Eastern Virginia's return on equity and return on assets are both below the industry average, given the bank is facing challenges within the industry. Additionally, its equity-to-asset ratio is 11, which is easily above the 8 that has been the floor for the majority of small bank takeovers.
Hall of fame bank investors EJF Capital, FJ Capital, Castle Creek, Banc Funds, Basswood Partners, Arbiter and Michael Salzhauer are part of Eastern Virginia's list of shareholders. The stock is trading at just 76% of book value, and so a deal at the current average multiple of the book value would yield a gain of 75%.
Putting together a portfolio of banks that fit the takeover profile makes a lot of sense. If you buy these banks at 85% of book value, or less, and a takeover occurs anytime soon, you will cash in gains of about 60% or so. If it takes place a few years down the road, after the book value has grown and multiples have risen as the M&A wave advances, the returns you receive may likely be two to three times your money.
Editor's Note: This article was originally published at 1 p.m. EST on Real Money on April 30.
This article is commentary by an independent contributor. At the time of publication, the author was long on ACFC and EVBS.