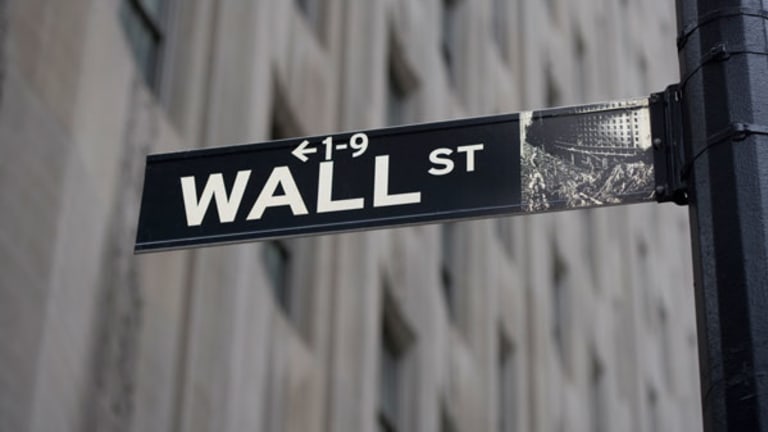 16 Stocks Picked by Prize-Winning Fund Managers
Artisan Partners' defensive strategy pays off, and it may again protect investors this year.
(To add that Cisco Systems is showing signs of a turnaround with an outlook of 7% to 8% revenue growth in its current fiscal quarter.)
BOSTON (
) -- Morningstar, the mutual fund research firm, said Artisan Partners' investment team of Scott Satterwhite, James Kieffer and George Sertl is its Domestic Stock Fund Manager of the Year for 2011.
Artisan Partners isn't a household name like Fidelity, Vanguard and BlackRock are. So it's worth breaking down the small firm's investment strategy and stock picks, especially since 2012 is expected to be another tough year for investing.
"We look for managers who nailed the past year on the heels of much lengthier success, and we measure achievement not only by observing trailing performance but also by reviewing managers' strategies in action over time," said Karen Dolan, the firm's director of fund analysis.
"Our selection process focuses not only on performance but also on how those returns were achieved," she said, as 2011's "winners stayed on track in a year of head fakes."
The Artisan Partners team shares management responsibilities for three funds that span the spectrum of market values for stocks, including the
Artisan Small-Cap Value
(ARTVX)
,
Artisan Mid-Cap Value
(ARTQX) - Get Artisan Mid Cap Value Fund Inv Report
and the large-cap
Artisan Value
(ARTLX) - Get Artisan Value Fund Inv Report
.
Other winners of Morningstar's awards were: International-Stock Fund Manager of the Year to William Browne, John Spears, Tom Shrager and Bob Wyckoff of
Tweedy Browne Global Value
(TBGVX) - Get Tweedy Browne Global Value Report
and Fixed-Income Fund Manager of the Year for 2011 to John Carlson of
Fidelity New Markets Income
(FNMIX) - Get Fidelity Advisor New Markets Income Report
.
The year turned out to be one that favored contrarian, value-oriented stock-pickers such as the Artisan Partners team.
Artisan's Satterwhite said in an interview Thursday that the secret to success is that his team's value-oriented approach results in fewer big losers than most other funds, as their strategy minimizes downside risk.
They seek companies with stocks trading at steep discounts to their estimated value. They determine value based on attributions such as a healthy and steady cash flow, sustained reinvestment practices, a strong business model and balance sheet, and a good management team.
Satterwhite said Artisan assigns a value to companies before they're bought such that it will reduce risk. "Our advantage over the index is that we have fewer really bad performers and they cost us less" in terms of dragging down performance versus each fund's benchmark index, he said.
But that approach also means fewer really big winners as well, he said. "We don't look for the super-charged engine," Satterwhite said.
The managers aren't rapid-fire traders either, as evidenced by the average three- to five-year holding period for the typical stock. But the managers may raise or lower a funds' stake, or sell out a position and then buy in again later when values look better.
Satterwhite said 2011, with the market's hyper-volatility and economic cross-currents, proved the worth of avoiding "troublesome things in your portfolio. That clearly helped us in all three strategies."
For example, he said the large-cap Value Fund benefited from holding no bank and financial stocks that have dragged down the performance of so many rivals.
Satterwhite said their value-oriented investment approach led them to a lot of information technology stocks, and that was particularly fortuitous in several instances.
The large- and mid-cap funds began buying
Apple
(AAPL) - Get Apple Inc. (AAPL) Report
shares in April, when they cost just over $300 on the news that Steve Jobs, the CEO at the time who subsequently died later in the year, was ill and succession issues were raised. Apple is trading around $417 today.
Satterwhite said Apple "has super financial strength with $80 billion in cash and from a business-quality perspective, it doesn't take a lot of capital to run Apple.
"It has high operating margins, a great hold on its markets, and great product offerings. It completely destroyed
Hewlett-Packard's
(HPQ) - Get HP Inc. (HPQ) Report
(TouchPad) tablet" device, which was meant to compete with Apple's iPad, he said.
"Back the cash out and (Apple) is still (trading) at less than 10 times earnings, and we think these earnings are sustainable," he said, which had been a big concern. "But we got over that."
Another home run that benefited from Artisan's value-oriented analysis, as well as serendipity, was
National Semiconductor
(NSM)
.
Satterwhite said the funds bought it cheaply when it was out of favor with Wall Street after a number of years of "lumpy" earnings and while it was in the midst of a product line transition that was aimed at making it a more sophisticated, higher-margin chipmaker at a time when the highly cyclical industry was in a slump.
National Semi became a longtime holding of Artisan Mid-Cap Value and was bought out by chip-making competitor
Texas Instruments
(TXN) - Get Texas Instruments Incorporated Report
, also a fund holding, in 2011, at a 78% premium.
Those two are but several of Artisan's holdings in the computer-chip business, along with
Analog Devices
(ADI) - Get Analog Devices, Inc. Report
and
Intersil
(ISIL)
.
"We like it a lot," Satterwhite said of the chip sector. "This business is driven by engineers. There's really not a lot of (manufacturing equipment) obsolescence in this business," and companies such as Texas Instruments can have tens of thousands of products to offer. "So there's pretty good profitability, they have very high margins, and we see it lasting. So we're happy to have (Texas Instruments) in the fold."
Goldman Sachs (GS) downgraded Intersil to "sell" from "neutral" on Jan. 3, and said "we expect structural challenges to lead to stock underperformance in 2012." It also reduced its12-month price target o $9 by 14%.
In the mid-cap area, other favored IT stock holdings include
Avnet
(AVT) - Get Avnet, Inc. Report
and
Arrow Electronics
(ARW) - Get Arrow Electronics, Inc. Report
, both distributors of semiconductor chips and computer components. The longtime competitors are doing better after they stopped competing on price and upgraded their products, Satterwhite said.
Certain segments of the energy business are also appealing now, said Satterwhite, including drilling-rig and oil-field services firms.
Two Artisan funds' holdings that meet that profile are:
Tidewater
(TDW) - Get Tidewater Inc Report
, which operates the world's largest fleet of off-shore oil platforms service vessels, and
Cimarex Energy
(XEC) - Get Cimarex Energy Co. Report
, an independent oil and gas exploration and production company.
"We're looking at offshore drilling companies that are operating under stress," because their earnings are low and they're making capital expenditures to build assets to meet the upswing in demand for their services from the big oil companies which are still early in the investment cycle for the industry, Satterwhite said.
Here is a synopsis of the three Artisan Partners funds, managed by the team of Satterwhite, Kiefer and Sertl:
Artisan Value
(ARTLX) - Get Artisan Value Fund Inv Report
Assets:
$551 million
2011 Performance:
up 5.5%; three-year average annual return of 16%.
Top holdings:
Apple
(AAPL) - Get Apple Inc. (AAPL) Report
;
Berkshire Hathaway
(BRK.B) - Get Berkshire Hathaway Inc. Class B Report
;
Cisco Systems
(CSCO) - Get Cisco Systems, Inc. Report
Cisco is showing signs of a turnaround in progress. In its most recent fiscal quarter it beat analysts' estimates for the second quarter in a row. And for the current quarter just started, Cisco expects revenue growth of 7% to 8% over last year. Analysts were expecting 7%.
Artisan Mid-Cap Value
(ARTQX) - Get Artisan Mid Cap Value Fund Inv Report
Assets:
$7 billion
2011 Performance:
up 6.4%; three-year annualized return of 18.3%
Top holdings:
Alleghany
(Y) - Get Alleghany Corporation Report
;
Avnet
(AVT) - Get Avnet, Inc. Report
,
Cigna
(CI) - Get Cigna Corporation Report
Artisan Small-Cap Value
(ARTVX)
Assets:
$3 billion
2011 Performance:
down 3%; three-year annualized return of 16%.
Top holdings:
Rent-a-Center
(RCII) - Get Rent-A-Center Inc Report
;
FTI Consulting
(FTI) - Get TechnipFMC Plc Report
;
Diebold
(DBD) - Get Diebold Nixdorf Incorporated Report
.
>>To see these stocks in action, visit the
16 Stocks Picked by Prize-Winning Fund Managers
portfolio on Stockpickr.
Disclosure: TheStreet's editorial policy prohibits staff editors and reporters from holding positions in any individual stocks.