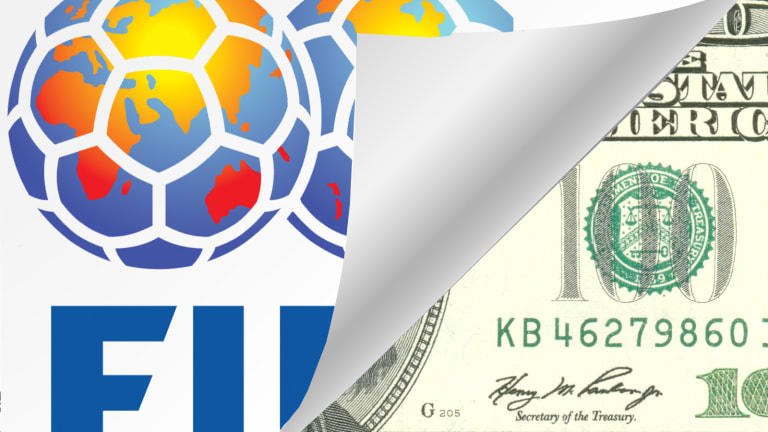 $150 Million in Bribes Over 24 Years, World Soccer Officials Indicted
The FBI, attorney general and Justice Department comment on 14 FIFA officials and executives' alleged racketeering and corruption involving more than $150 million in bribes and kickbacks.
NEW YORK (TheStreet) -- Nine officials and five corporate executives at FIFA, football's (soccer) governing body, have been indicted for allegations of racketeering, money laundering and corruption involving more than $150 million in bribes and kickbacks. Among the 14 defendants are Jeffrey Webb and Jack Warner, the current and former presidents of the Confederation of North, Central American and Caribbean Association Football.
The Justice Department stated, FIFA officials received bribes and kickbacks in connection with the selection of the host country for the 2010 World Cup and 2011 FIFA presidential election, among other schemes. The indictment charges the defendants with offenses that span 24 years.
FBI director James Comey said in a statement, "As charged in the indictment, the defendants fostered a culture of corruption and greed that created an uneven playing field for the biggest sport in the world. Undisclosed and illegal payments, kickbacks and bribes became a way of doing business at FIFA."
Seven defendants were arrested at a hotel in Zurich early Wednesday morning. Four individuals and two corporate defendants have already plead guilty. Swiss bank accounts for seven FIFA officials have also been frozen. The arrests come just two days before FIFA's presidential elections, during which current President Sepp Blatter is expected to re-elected.
Attorney General Loretta E. Lynch said, "The indictment alleges corruption that is rampant, systemic and deep-rooted both abroad and here in the United States. It spans at least two generations of soccer officials who, as alleged, have abused their positions of trust to acquire millions of dollars in bribes and kickbacks. And it has profoundly harmed a multitude of victims, from the youth leagues and developing countries that should benefit from the revenue generated by the commercial rights these organizations hold, to the fans at home and throughout the world whose support for the game makes those rights valuable."