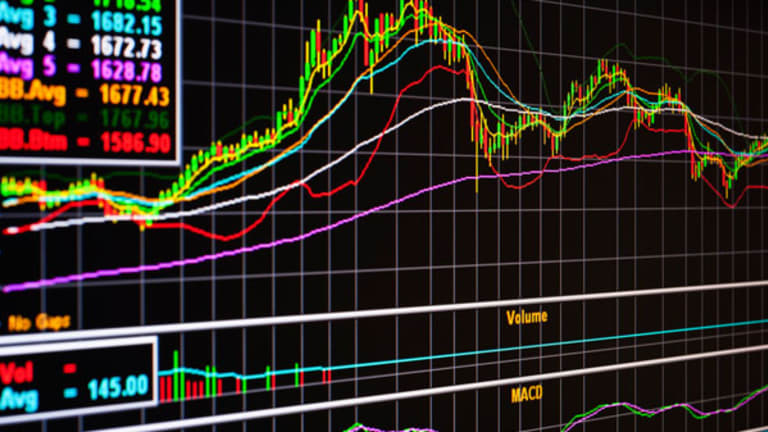 14 Deal-Ready Stocks for the M&A Boom
Which companies might be acquired in 2012? Read on.
NEW YORK (Stockpickr) -- As we spelled out in the first part of this two-part look at a possible surge in deal-making activity, the stars have never been more in alignment for an upturn in M&A activity. The key question for investors: How to play the trend? We noted that Lazard (LAZ) - Get Report, Evercore Partners (EVR) - Get Report and Greenhill Partners (GHL) - Get Report serve as advisors in deal-making, and typically see their shares rise smartly as M&A activity heats up. Who else should investors be focusing on?
Frankly, it doesn't pay to speculate too much on which companies will be doing the buying. These acquirers typically get little initial credit among investors and can even see their shares drop on an announcement. (That can create a solid opportunity as investors discount the eventual benefits that such deals are likely to bring.)
>>5 Bargain Bin Stocks You Need to Buy
Why do investors react negatively? Because they fear "acquisition indigestion." Deal-making entails risk. It can cause management to lose focus as overlapping teams create a bit of friction. And even though companies initially tout the cross-selling opportunities that a deal can bring, investors prefer to take a wait-and-see stance to ensure that such synergies really take place.
So it's the companies that might get acquired that should be in focus for you. Make no mistake: It's foolish to buy a stock just because you think it might get acquired. Most rumored deals never come to pass, and you may be left holding the bag when buyout hopes fade.
Instead, it's wisest to focus on buyout candidates that are already attractively priced on their own merits. If a buyout doesn't happen, you can still do well, and if a buyout does happen, then you can score quick gains: A typical buyout offer is made at 20% to 40% above the current price to help grease the wheels for a company that may be reluctant to sell.
The Ideal Backdrop
You're most likely to see M&A activity in industries and sectors where growth has slowed to a crawl. Take the defense sector as an example. Projected budget cuts will make it much harder for the nation's top defense contractors to boost sales and profits.
Lockheed Martin
(LMT) - Get Report
and
Raytheon
(RTN) - Get Report
are both expect to post a modest drop in sales in 2012 and again in 2013.
To keep their dance card full, they could look to acquire a company such as
Aerovironment
(AVAV) - Get Report
, which has become a leader in unmanned aerial vehicles (drones) that dot the skies in the Middle East and elsewhere. Or they might look to acquire a company such as
iRobot
(IRBT) - Get Report
, which also has solid government contracts for its products that can be piloted in a remote fashion in hostile environments. Both Aerovironment and iRobot are trading far from their 52-week highs, creating relative bargains for potential acquirers.
>>5 Stocks Setting Up to Break Out
Of course, major drug companies such as
Merck
(MRK) - Get Report
and
Pfizer
(PFE) - Get Report
appear addicted to acquisitions. As their key drugs lose patent protection, these firms run the risk of seeing sales and profit fall sharply. They already have large and well-established sales forces, and a lack of products leaves them with nothing to do.
Sometimes you'll find the big drug companies acquire a very large player in order to reap major cost-savings. That's why some analysts think
AstraZeneca
(AZN) - Get Report
may be in play. That company has ample fat to be cut and a fairly promising drug pipeline that could bring new paths to growth. On a slightly smaller scale, analysts at Goldman Sachs suggest that
Edwards Lifesciences
(EW) - Get Report
, with a strong cardiovascular franchise, makes an attractive acquisition candidate.
These drug companies also pursue smaller firms that have promising drugs undergoing clinical testing. Many of the small firms don't even bother to build a salesforce anymore, and instead partner up with an established drug firm -- or sell itself outright -- when it comes time for the drug to hit the market. There's a whole cottage industry of analysis that focuses on the biotech M&A theme, and you can look to
for a solid source of ideas in this area. Some investors tend to avoid specific biotech stocks, as they also bring considerable risk, and for them, simply buying a fund that holds promising biotech stocks -- the
iShares Nasdaq Biotechnology Index Fund
(IBB) - Get Report
or the First Trust
Amex Biotech Index fund
(FBT) - Get Report
-- may be the way to go.
Energy: The Theme Continues
As noted in the
first part of this look at M&A
, the energy sector has seen a heavy amount of deal-making over the last few years as companies such as
ExxonMobil
(XOM) - Get Report
and France's
Total
(TOT) - Get Report
expand their regional footprints. The industry is a matchmaker's delight: Major players have huge piles of cash lying around while smaller cash-strapped players are sitting on valuable acreage but can't exploit their energy fields due to decade-low natural gas prices.
Who might be in play in coming quarters? Names to check out include
Sandridge Energy
(SD) - Get Report
,
Exco Resources
(XCO)
,
Forest Oil
(FST)
and
Quicksilver Resources
(KWK)
. All are valued at less than $3 billion, which makes them available for just a few quarters cash flow form the industry's bigger players.
>>7 Energy Stocks That Investors Have All Wrong
Technology: A Decade Later
After the end of the dot.com boom, a number of smaller firms were gobbled up as technology niches were saturated with too many players chasing too few customers. These days, a different dynamic is in place. Companies such as
Cisco
(CSCO) - Get Report
,
Dell
(DELL) - Get Report
,
Google
(GOOG) - Get Report
and
Microsoft
(MSFT) - Get Report
have stunning amounts of cash. But with interest rates so low, that cash gets them little return. Sure they're buying back stock and hiking dividends, but still can't spend money as fast as they make it. That's why they continue to seek out acquisitions that will flesh out their suite of products.
Assuming the big tech firms seek out attractive growth properties that are valued at less than $3 billion, they might look at
Broadsoft
(BSFT)
,
Aruba Networks
( ARBA),
Fusion-io
(FIO)
or
Jive Software
(JIVE)
.
>>6 Tech Stocks That Rate Better Than Apple
The companies mentioned in this analysis are merely examples of the types of companies that might get acquired and shouldn't be seen as likely buyout candidates. The key for investors is to analyze the major potential acquirers to see what gaps they have in their platform.
For example, are there areas in which
Hewlett-Packard
(HPQ) - Get Report
can't compete with rivals such as
IBM
(IBM) - Get Report
or Dell? Are there major drug companies that are about to lose major drugs in such areas as oncology and would like to fill those holes? These are the decisions that investment bankers are thinking about as they make their pitches to clients.
Additionally, you can find ideal M&A candidates for private equity buyers by focusing on companies that are trading at very low valuations in relation to their cash flow. Struggling companies such as
Best Buy
(BBY) - Get Report
or
RadioShack
(RSH)
are often spoken of as ideal candidates as acquirers can finance deals using their targets' very own cash flow to pay for them.
For the first part of this article, visit "
."
RELATED LINKS:
>>5 Rocket Stocks Worth Buying This Week
>>5 Stocks Poised to Pop on Earnings
>>7 Hot Stocks on Traders' Radars
Follow Stockpickr on
and become a fan on
Facebook.
Stockpickr is a wholly owned subsidiary of TheStreet.com.