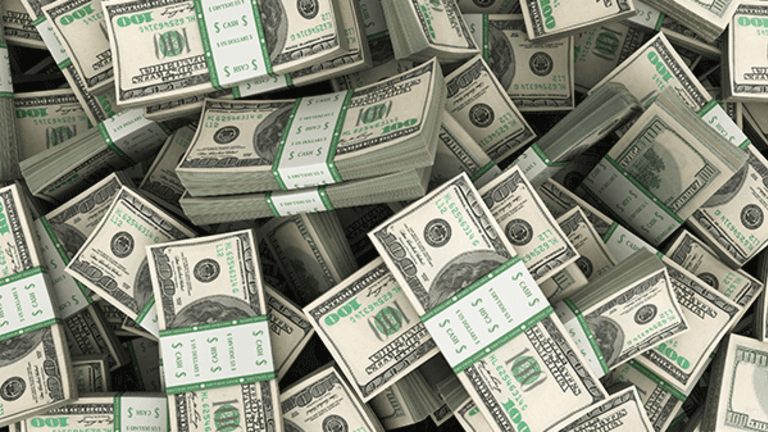 16 Stocks to Own as the U.S. Economy's Expansion Turns 8 Years Old
From Amazon to Walt Disney Co., I hold these names or want to buy them on dips.
From Amazon to Walt Disney Co., I hold these names or want to buy them on dips.
Our nation's economy has now completed eight years of uninterrupted expansion -- the third longest such streak since we started keeping track of such things way back in 1854. But while this expansion -- which officially began eight years ago this month -- might be long in the tooth chronologically, it's arguably young at heart due to a lack of much progress actually made.
The absolutely longest expansion on record wasn't all that long ago, lasting from March 1991 until March 2001 for a 10-year run. But that was far more robust than the expansion we have today, with growth averaging more than 3.8% annually between March 1991 and March 2001. This time around, the U.S. economy has grown less than 2.1% annually on average since the Great Recession officially ended eight years ago.
Now, recessions are classically defined as two or more consecutive quarters of negative economic growth. (When I was a kid, we simply called that a "contraction.")
However, I'm told that the economy no longer needs to hit the two-quarter requirement for the National Bureau of Economic Research to officially call a recession. Let's hope we don't find out, but you've got to remember that a recession is part of the normal business cycle.
Of course, the 2007-09 Great Recession wasn't part of the normal cycle, and it nearly turned into a full-blown depression but for the extreme policy measures (and at the time experimental ones) that U.S. officials took.
In fact, the Great Recession's poor conditions really haven't improved a whole lot in large swaths of our country, and I'm sure individuals still living in poverty today aren't super-excited about our current expansion's eighth birthday. Some 13.5% of Americans were living in poverty as of 2015, and that number grows to 17.9% if you include those making just 125% of the official U.S. poverty rate ($24,000 for a family of four).
My point is that we're really not that far removed from the Great Recession. This economy has often shown signs of reaching breakaway speed, but then seems to always fall back to something less. For example, the U.S. government recently upwardly revised first-quarter gross domestic product to a seasonally adjusted 1.2% quarter-over-quarter gain, which isn't very robust growth.
May also brought macroeconomic disappointment across the manufacturing and housing sectors, both of which had previously shown strength. Labor-force participation likewise remains well below pre-crisis norms, as does capacity utilization. To me, this is the same as saying: "Well, we tried. Maybe this is really the U.S. economy's full potential in the modern era."
But at the same time, selling the U.S. economy short is misguided. It's true that the "golden ring" of ambitious federal policy moves seems a long way off. Political risk is always one or two steps away from forcing the Trump administration's agenda off of the rails. But that hasn't hurt the U.S. stock market so far, thanks to good corporate execution, persistently low interest rates and improved strength in global economies.
Of course, we could easily see two quarters of economic contraction if a lack of improving conditions for the U.S. lower and middle classes puts the squeeze on corporate earnings. Or if foreign economies falter. Or if (and this is a big one) the Federal Reserve raises rates or drains its balance sheet more aggressively than appropriate.
Don't get all nervous -- that's all just conjecture. But I'm simply alerting you to the dangers our economy faces. You have to defend your family's standard of living; the government can't do that for you (and you don't want it to).
When the next recession eventually hits, unemployment will head back up -- although not as much as before because many of the unemployed are no longer counted as such. There will also be downward pressure on wages (if you can believe it), and also on interest rates. That might explain why the Fed is charging headlong toward "normalizing" interest rates now, when conditions have yet to truly justify it.
As for market impacts, a recession will be all about yields, dividends and gold. And as for stocks, it will once again be: "Defense wins championships."
How I'm Playing Things
Fortunately, I'm not calling for a recession any time soon. Still, the current expansion's inevitable end is one of those things that always remains in the back of my mind -- and that I prepare for both mentally and fiscally.
For now, I'm still enjoying a most-victorious earnings season for our beloved stock market. My latest moves:
I wrote last month that I reduced my stake in Walt Disney Co. (DIS) - Get Report , but now that the stock has lost 10 points (closing at $107.94 Wednesday's close), I've repurchased most of what of what I sold. My target price for this swing trade is $112, while I'll make a more-significant sale if DIS hits $116.
I still like Wal-Mart Stores (WMT) - Get Report . Although I took profits after the company's recent positive earnings report, I'll buy the name back on any dip below $76. (The stock closed Wednesday at $78.60.)
I also took profits on Amazon (AMZN) - Get Report , but a bit more prematurely than perhaps I should have. This company is a dominant force across many fronts, so I'll start accumulating it again on any dip that takes the name south of $950 vs. Wednesday's finish at $994.62. And I will never, ever short this name.
Airline stocks had a nice month in May, and I came in long on SouthwestAirlines (LUV) - Get Report and Delta Air Lines (DAL) - Get Report . I believe that lower overhead and cheaper oil prices will eventually put an even-better bid under these stocks, so I consider them part of my core holdings.
I'm still long Citigroup (C) - Get Report and KeyCorp (KEY) - Get Report , although somewhat un-enthusiastically. Citi did have a nice month in May, and I still believe the KEY's story, but that position wasn't very helpful to my portfolio in May.
Go ahead and spend your money on the high-flying, well-known names in this aerospace/defense space. I'm long Kratos (KTOS) - Get Report and loving it -- KTOS has been a real bright spot for my portfolio.
I also like Stocks Under $10 portfolio name SiriusXM Radio (SIRI) - Get Report and used weakness in auto sales to establish an inexpensive entry point for that stock. 
I'm long both Apache (APA) - Get Report and Schlumberger (SLB) - Get Report in the oil patch. Both companies are well run, and SLB is a best-in-class oil-services company that I think might do better in the second half vs. the first given the likelihood of higher non-Organization of Petroleum Exporting Countries production. Both names are also trading at or near support levels where I would normally add on weakness. But I no longer trust the oil patch to behave rationally, so I've sold June and July puts on both names at lower strike prices to produce revenue and lower my effective entry cost.
I wrote last month that I wanted to buy McDonald's (MCD) - Get Report , Caterpillar (CAT) - Get Report , and Hasbro (HAS) - Get Report if I could get them on a dip. Well, CAT has worked like a charm since then. I bought some shares and later sold half at my target price, hanging onto the rest just in case China really does its "One Belt/One Road" program. As for the other two names, my bids have gone unmet so far.
More Suggestions
How should you prepare for the next recession, and how should you play the markets in June? Check out our special June Trading Strategies report for answers, including our columnists' take on:
Editors' pick: Originally published Jube 1.
At the time of publication, Guilfoyle was long APA, AXAS, C, CAT, DAL, DIS, KEY, KTOS, LUV, SIRI, SLB and SN, although positions may change at any time.