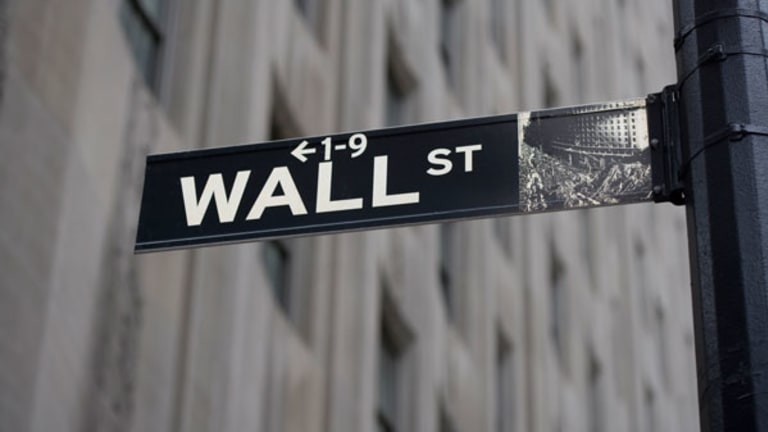 10 Top S&P 500 Stocks for 2012
As we head into a fresh new year with a clean slate, here are 10 top S&P 500 stocks for 2012, one from each sector.
As we head into a fresh new year with a clean slate, here are 10 top S&P 500 stocks for 2012, one from each sector.
MILLBURN, N.J. (Stockpickr) -- After a year that was accentuated -- or shall I say pockmarked -- by a continual flow of exogenous events such as natural disasters, sovereign debt and budgetary crises and political changes in the Arab world, resulting in a flat S&P 500 index, we head into a fresh new year with a clean slate. 2012 will bring with it a whole new set of economic data points, political dynamics and earnings reports.
In this article, I want to focus on a portfolio of stock picks from the S&P 500. Rather than picking a top 10 for the entire index, I want to pick a
top stock from each of the 10 S&P 500 sectors
. This will provide sector diversity while still allowing me to cherry pick the best for 2012.
>>5 Rocket Stocks to Buy for 2012
Consumer Discretionary
At the end of September, the Economic Cycle Research Institute, in a well-coordinated and splashy media blitz, declared that the U.S. was tipping back into a recession. As economic data points proved to the contrary, the ECRI quietly did a double take and qualified its call for a recession.
I am sorry to say that the ECRI for the first time in its history will have gone down looking at a third strike and will have mistakenly called for a recession. The economy is improving in the U.S., albeit slowly. It also appears that the impact of the European financial crisis will be minimal upon the U.S.
One theme that I believe will come back to life in the U.S. is household creation and housing. There is evidence that demand for multifamily and single homes has begun to rebound. While I would not be a buyer of the housing stocks, I am looking at the consumer discretionary stocks that rely on housing. (For another take on housing stocks, see today's "
3 Housing Stocks for a 2012 Rebound
.")
The stock that best fits this thesis is
Bed Bath & Beyond
(BBBY) - Get Report
. After the housing-led recession resulted in earnings declines for the company in fiscal 2008 and 2009 (the company's fiscal year ends in April), the company came roaring back in fiscal 2010 and 2011. Earnings are expected to rise 27% for fiscal 2012 and 14% in fiscal 2013.
I believe that the 2013 estimates are too low because of comments made by management in its recent conference call. Bed Bath & Beyond is a company that could rise 15% to 20% in 2012.
Bed Bath & Beyond, which showed up on a December list from Jim Cramer of
, was also featured recently in "
7 Hot Stocks on Traders' Radars
."
Consumer Staples
There is a special situation in the consumer staples sector that offers a unique opportunity in 2012. Just last year,
Kraft Foods
( KFT) purchased Cadbury, the U.K.-based confectionary company. At the time, Kraft Foods was forced to pay up for Cadbury, and I criticized CEO Irene Rosenfeld for the expensive price tag and the huge amount of debt -- about $9.5 billion -- that Kraft Foods would have to issue to finance that acquisition.
Earlier this year, Kraft Foods, in a seeming about-face announcement, apparently bowing to pressure from activist investors, disclosed that the company would split into two companies. Sometime in 2012, Kraft Foods will split itself into separate grocery and snack companies.
Recall that Kraft Foods was spun off from
Altria
(MO) - Get Report
in 2007. That spinoff helped to unlock the value of Altria but not Kraft Foods. The reason was that at the time Kraft Foods' food/grocery business was not all that attractive. To some extent, that is still the case from a growth perspective. However, the new snack business will marry Cadbury with other popular and attractive Kraft Foods snacks, such as Oreo cookies and Trident gum.
The split will separate low-growth grocery brands from the high-growth snack brands. This will unlock the value of the snack business. Rosenfeld has decided to take over as CEO of the global snacks company, which sends an important message to investors.
So, as a standalone company, Kraft Foods offer a compelling risk investment for 2012. However, once the spinoff takes place, I believe that the sum of the parts will be greater than the whole as it now exists.
Here is my strategy:
1. Purchase Kraft Foods now to capture the moderate growth and dividend.
2. Hold Kraft Foods through the split.
3. Sell the low-growth grocery business and maintain an investment position in the snack company after the spilt. It is my expectations that the snack company will generate returns of at least 20% in the future. However, expect that the snack company will assume the lion's share of debt from Kraft Foods, one of the
top-yiedling food and beverage stocks
, and not pay as robust a dividend from the outset of its existence as a separate company.
Kraft also shows up on recent lists of
and
Credit Suisse's 14 Ultimate Defense Stock Picks
and was featured recently in "
."
Energy
Last year,
Cabot Oil & Gas
(COG) - Get Report
was one of the
best-performing stocks in the S&P 500
, doubling its price by the end of the year. I would not be inclined to believe that Cabot Oil & Gas will repeat that feat in 2012. However, there are opportunities in the energy sector. (For another take on Cabot, check out
20 Winning Stocks Set to Post New Highs in 2012
.)
For 2012, I am going contrarian and select
Peabody Energy
(BTU) - Get Report
. Peabody Energy is in the business of mining low-sulfur coal. Shareholders watched as the company's stock price was nearly cut in half during 2011 despite an expected 18% rise in revenue and 31% surge in earnings per share.
The Obama administration has not been coal-friendly. Rather, it has seemingly been on a mission to bankrupt the industry. A recent U.S. Court of Appeals ruling delayed an EPA pollution rule that if left in place would have worked to Peabody's detriment. A more energy- and job-friendly Republican administration, which I expect to win the 2012 election, will establish a favorable environment for the coal companies to operate in.
Peabody also shows up on a recent list of
19 S&P 500 Laggards That Could Be Leaders in 2012
.
Financials
Had it not been for the financial sector, the S&P 500 would have posted a positive performance for 2011. The banking sector is a global investment leper. While it would be wise to roll the dice on a U.S. bank, the risk is still quite large given the uncertainty in Europe. Instead, I chose to head to the insurance business. My pick here is
Lincoln National
(LNC) - Get Report
.
Lincoln National specializes in the sale of life insurance, non-group medical and dental insurance, annuities and retirement planning products. The stock is absolutely hated along with the banks, primarily because of its exposure to global financial markets. However, most of that exposure is indirect, impacting the company's clients rather than the company. The stock declined by 30% in 2011 despite expectations for earnings to rise by 28%. Perhaps the reason is that analysts expect an earnings decline of 6% in 2012. The company has consistently beaten Wall Street analysts' earnings expectations for four straight quarters, and I expect that analysts will be too conservative in 2012.
The stock is selling at a huge discount to book value. While one may question the book value of money center banks given their exposure to Greece, Europe, consumers and mortgages, when it comes to insurance companies, we should place more value on the price-to-book ratio, which stands at about 0.40 for Lincoln National. Compare that to
MetLife
(MET) - Get Report
, which sells at 0.58 to book, and
Prudential
(PRU) - Get Report
, which sells at 0.66 times book.
Lincoln shows up on recent lists of
19 S&P 500 Laggards That Could Be Leaders in 2012
and
Merrill Lynch's 10 Favorite Stocks for 2012
.
Health Care
This is another sector where I can eliminate more stocks than I can find to invest in. People have been saying that
Merck
(MRK) - Get Report
is on the comeback trail and had a good year in 2011. I guess that is relative because shares of Merck rose for the only fourth time in the past 12 years, but they did manage to deliver a total return of 9% for the year.
I am not going to bite on Merck for 2012 (though some have -- the stock does show up on a list of
and is one of
Credit Suisse's 14 Ultimate Defensive Stock Picks
). Rather, I am going to select
Watson Pharmaceuticals
(WPI)
, a generic drug manufacturer.
Watson launched a generic version of
Pfizer's
(PFE) - Get Report
blockbuster statin drug, Lipitor, at the end of 2011. The price of the company's stock fell after the release of that news. Earnings are expected to rise 35% in 2011 and 26% in 2012 to $5.83 per share. The stock is selling at about 13 times trailing earnings. I expect that multiple to return to a more historical level of about 14 to 15 and hence expect the stock to rise to at least $80 in 2012.
I'm not alone, either. Watson shows up on a recent list of
10 Mid-Cap Stocks Analysts Love
.
Industrials
I think that there are plenty of opportunities in this sector. The one I am going to focus in on is
Cummins
(CMI) - Get Report
, a manufacturer of engines and power generation systems. This company is in an industrial/transportation subsector that remains in demand around the globe, especially in the U.S. and emerging economies.
In 2011, the stock price of Cummins declined 20% despite a surge in expected earnings per share of 68%. This resulted in a tremendous contraction of the price-to-earnings multiple, from 21 to about 11. This ratio has been quite volatile for the company's stock, hitting a low of 7 for fiscal 2008 before rising to 21 for fiscal 2010.
I expect that Cummins will earn $10 per share in 2012 and will see its stock price rise to at least $110 and perhaps more if we get the expected expansion in S&P 500 price earnings multiple that I expect in 2012.
Cummins shows up on a recent list of
21 Stock Picks That Experts Agree On
.
Information Technology
Forget the cloud. Don't get caught up with social networking. With all my apologies to
Apple
(AAPL) - Get Report
, 2012 will be the year for
Google
(GOOG) - Get Report
in IT.
The stock ended 2011 on a high note. The company is firing on all cylinders, exhibiting excellent growth in all of its businesses: search, advertising and mobile devices, Android. The company will successfully monetize its acquisition of patents from
Motorola Mobility
(MMI) once that deal is approved and completed.
Yahoo!
(YHOO) is in disarray.
Furthermore, Google appears to have its expenses under control and sports a great balance sheet. I expect the company to earn $45 per share and am willing to price the stock at a multiple of 18 to 20 on those earnings, targeting a year end price of $810 to $900.
Google, which shows up on a recent list of
10 Best Revenue Growth Stocks for 2012
, was featured recently in "
5 Tech Sector Stocks Funds Love
."
Materials
I still like the fertilizer sector. Normally I would select
Mosaic
(MOS) - Get Report
, but I am going to cheat a little bit here and stray from the S&P 500 but stick with the theme. I am going to select
Potash
(POT)
, which is technically a Canadian company.
Potash's stock was a disappointment in 2011, declining 20%. This occurred despite a surge in earnings by over 80% and an increase in sales of over 30%. Through November, spot prices of potash rose by 35% year over year, but since then it has begun to flatten out. The concern going forward is that demand for potash in Asia will be sluggish in the beginning of 2012. Still, revenue for Potash is expected to rise in the low double-digit percentages, and earnings for the company are expected to rise in the mid-teen percentages.
As with other agricultural commodities, Potash can be quite volatile. Many investors are twice shy from the dramatic drop in the spot price of potash a few years ago. The price of potash and other fertilizers rely on farming conditions and demand around the globe. Still, with the need to feed the ever expanding world population, the demand for potash is not going away. Rather, I am expecting a return to normality.
2010 was a dramatic and traumatic year for Potash. The company's stock price surged in reaction to an unsolicited takeover by
BHP Billiton
(BHP). Potash, with the help of Canadian regulators, was able to fend off BHP Billiton's aggressive overtures. In response, Potash executed a $2 billion stock repurchase. Thus, 2011 was a year in which Potash stock mean reverted.
2012 should be a year in which the valuation of the stock is normalized. The stock should be fairly valued at 13 times earnings, which would imply a $55 price target for the end of 2012.
Potash (along with Mosaic) shows up on a recent list of
7 Fertilizer Stocks Hedge Funds Love
.
Telecommunications
There are slim pickings in the telecom sector, the smallest of the 10 S&P 500 sectors. I think this is one sector where you just have to play it safe. My call for the sector would be
Verizon
(VZ) - Get Report
.
The company continues to benefit from the technological mobilization of the U.S. I expect the stock price to rise by 10% and the dividend to return another 5% to investors in 2012.
Verizon, one of TheStreet Ratings'
, shows up on a recent list of
and was one of
Hedge Funds' Best Picks for 2012
, according to Robert Holmes.
Utilities
This is another safety sector. I could pick any one of several companies in this sector. In fact, I personally own through dividend reinvestment plans several of the larger-capitalization utility companies.
I am going to make my decision based on price stability and dividend yield. Hence,
Southern Company
(SO) - Get Report
, one of TheStreet Ratings'
top-rated electric utility stocks
, is my go-to stock in the utility sector for 2012.
Southern also shows up on recent lists of
and
20 Winning Stocks Set to Post New Highs in 2012
.
To see these 10 stocks in action, check out the
portfolio on Stockpickr.
-- Written by Scott Rothbort in Millburn, N.J.
RELATED LINKS:
>>7 Relative Strength Stocks for 2012
>>5 Big Surprise Winner Stocks of 2011
>>5 Big Surprise Loser Stocks of 2011
Follow Stockpickr on
and become a fan on
Facebook.
At the time of publication, Rothbort was long BBY, KFT, LNC, MRK (legacy positions in two client accounts), CMKI, GOOG, POT, VZ and SO stock, and long AAPL stock and calls, although positions can change at any time.
Scott Rothbort has over 25 years of experience in the financial services industry. He is the Founder and President of
, a registered investment advisor specializing in customized separate account management for high net worth individuals. In addition, he is the founder of
, an educational social networking site; and, publisher of
The LakeView Restaurant & Food Chain Report
. Rothbort is also a Term Professor of Finance at Seton Hall University's Stillman School of Business, where he teaches courses in finance and economics. He is the Chief Market Strategist for The Stillman School of Business and the co-supervisor of the Center for Securities Trading and Analysis.
Mr. Rothbort is a regular contributor to
TheStreet.com's RealMoney Silver
website and has frequently appeared as a professional guest on
Bloomberg Radio
,
Bloomberg Television
,
Fox Business Network
,
CNBC Television
,
TheStreet.com TV
and local television. As an expert in the field of derivatives and exchange-traded funds (ETFs), he frequently speaks at industry conferences. He is an ETF advisory board member for the Information Management Network, a global organizer of institutional finance and investment conferences. In addition, he is widely quoted in interviews in the printed press and on the internet.
Mr. Rothbort founded LakeView Asset Management in 2002. Prior to that, since 1991, he worked at Merrill Lynch, where he held a wide variety of senior-level management positions, including Business Director for the Global Equity Derivative Department, Global Director for Equity Swaps Trading and Risk Management, and Director for secured funding and collateral management for the Global Capital Markets Group and Corporate Treasury. Prior to working at Merrill Lynch, within the financial services industry, he worked for County Nat West Securities and Morgan Stanley, where he had international assignments in Tokyo, Hong Kong and London. He began his career working at Price Waterhouse from 1982 to 1984.
Mr. Rothbort received an M.B.A., majoring in Finance and International Business from the Stern School of Business, New York University, in 1992, and a B.Sc. in Economics, majoring in Accounting, from the Wharton School of Business, University of Pennsylvania, in 1982. He is also a graduate of the prestigious Stuyvesant High School in New York City. Mr. Rothbort is married to Layni Horowitz Rothbort, a real estate attorney, and together they have five children.