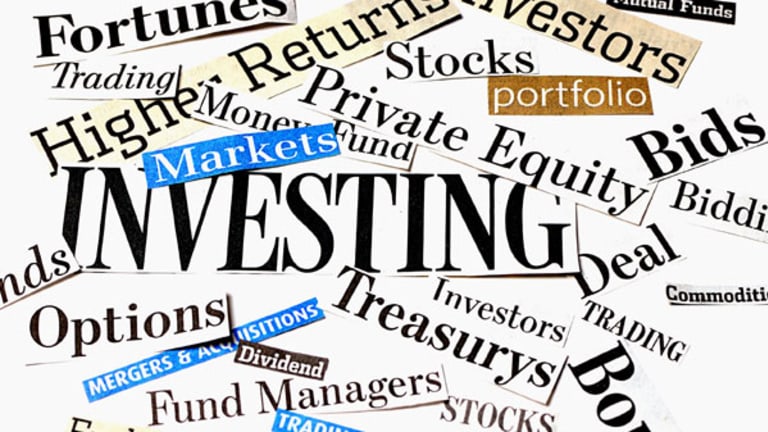 10 Stocks With Huge Rebound Potential
These heavily shorted and beaten-down stocks are candidates for big spikes in the coming weeks.
WINDERMERE, Fla. (Stockpickr) -- The U.S. stock market has been in a state of destruction recently. The Dow Jones Industrial Average has dropped for an amazing six consecutive weeks for first time since 2002. During May, the S&P 500 witnessed its first down month since August of 2010. Adding insult to injury, May also registered as the first month since December of 2010 that stock mutual funds saw net outflows of cash.
According to Strategic Insight, investors withdrew $2.7 billion more than they deposited into stock-based mutual funds during May, which broke the four-month streak of net deposits that started in January. So who were the winners in the investment world? Bond funds and funds that purchase foreign based stocks saw the most net deposits, as investors dumped U.S. equities with little regard.
I think it's safe to assume that market players have been dumping stocks
ahead of the end of the Federal Reserve's quantitative easing program, also dubbed as QE2
. Savvy traders at mutual and hedge funds know that once Chairman Ben Bernanke is done with his permanent open market operations, or POMO, then the markets will quickly lose a system that was awash in liquidity. Those same traders now fear that the Fed has run out of bullets or creative options to keep stocks trending higher, in the face of a weaker economy.
Related:
Of course, we don't know if there will be a QE3 yet, since the Fed said Wednesday that it will let the massive bond-buying program expire in just days. That isn't keeping market gurus from speculating that QE3 is almost a foregone conclusion. Bond king Bill Gross was making the rounds Wednesday saying that at the next Jackson Hole meeting, Bernanke will likely hint at a third round of bond purchases, or QE3.
As I always like to say, don't worry so much about the headlines and obsessions of the financial media. Just worry about the trend that's clear and present, and more important, focus on how stocks react to the news. That said, I think it's prudent to start stalking the market for stocks that have the potential to rebound huge if we see some follow through off of Tuesday's bounce. It's even more important to search for stocks that are heavily shorted or that have been beaten down big and might be candidates for big spikes in the coming weeks.
Here's a look at a number of
stocks that have the potential to rebound
, including some with short-squeeze potential.
Blue Nile
One heavily shorted stock that's been beaten down big during the recent market malaise is
Blue Nile
(NILE)
, which with its subsidiaries operates as an online retailer of diamonds and fine jewelry worldwide. In the past three months, this stock has dropped over 16%, and so far in 2011, it's down over 24%.
Blue Nile has a market cap of $630 million and an enterprise value of $568 million. The stock isn't cheap, trading at 45 times trailing earnings and 34 times forward earnings. Blue Nile is cash-rich, with $79 million in cash on its balance sheet and very little debt.
One of the biggest reasons that I love Blue Nile as a heavily shorted rebound play is that one of the greatest traders in the world recently accumulated a big stake in the stock.
hedge fund disclosed on May 12 a 6.7% stake in NILE, or a position of 981,348 shares. Cohen is a master of getting in early on stocks that have the potential for large short squeezes. He did just that not so long ago in
OpenTable
(OPEN)
and
Netflix
(NFLX)
before both of those stocks ripped the heads of the short-sellers.
From a technical standpoint, shares of Blue Nile have dropped big recently from $59 to a low of $43.30 a share. I now want to watch for the stock to find some buying support between $43 and its double-bottom support zone at around $41 a share. These are the levels I am watching for this stock to possible form a bottom and end its downtrend. If the stock were to break below $40.70, I would take off of my short squeeze radar for now.
Blue Nile, one of TheStreet Ratings'
top-rated Internet catalog and retail stocks
, is a favorite target of the short-sellers. The current short interest as a percentage of the float for NILE is an extremlet5y large 35%. This stock doesn't have a big float either, with only 14.44 million shares available for trading. If you see NILE end its downtrend around those prices I mentioned, then look to get in with Cohen and ride the short squeeze higher.
>>Practice your stock trading strategies and win cash in our stock game.
SodaStream International
Another beaten-down stock with a huge short interest is
SodaStream International
(SODA)
, which, along with its subsidiaries, is engaged in developing, manufacturing and marketing home beverage carbonation systems and related products. This stock is actually up in the last three months by 26%, and for the full year it's up by over 66%. That said, over the past couple of weeks, SodaStream has dropped from its
of $63.20 to its current price of close to $52 a share.
This company has a market cap of $1.05 billion and an enterprise value of $987 million. It's a high-growth stock that trades at a premium multiple of 53 times trailing earnings and 39 times forward earnings. SodaStream is forecasted to growth its earnings over the next five years at over 33%, which again is why this stock fetches such a high multiple.
Lots of traders are concerned that SodaStream could turn into a
, but when the company is seeing its revenue and adjusted earnings grow by 50% and 141%, respectively, in its latest quarter, it's hard to slap that kind of label on the stock so quickly. As long as SodaStream can continue to penetrate the home market with cheap soda-making machines, then you're going to see sales continue to skyrocket.
Over the last two quarters, SodaStream has sold 1.3 million of its popular home soda-making starter kids. The company estimates that it has 4.5 million active customers who use its product. That tells me that SODA is still very early into its grow story when you consider how much more penetration into the U.S. market -- 307 million people -- is possible.
From a technical standpoint, SODA has pulled back in the last few weeks very close to its 50-day
of $50.02. I would look to buy this stock any weakness as long as it holds above that 50-day and you don't see any expansion of volume selling through that level. Add to this position aggressively if SODA takes out some near-term
at $55 a share.
The current short interest as a percentage of the float for SODA is a huge 45.4%. The bears have also been increasing their bets from the last reporting period by 14.5%, or by around 506,866 shares. If this company continues to execute on their growth strategy, then the short-sellers here are in for a world of hurt. This one you have to watch in case we see a market rebound, because it will soar if we do.
North American Palladium
Another beaten-down stock with a notable short interest that has the potential to rebound sharply is
North American Palladium
(PAL)
, a diversified precious metals company that owns two mines and various mineral properties. The company is in the business of exploring and mining palladium, platinum, gold and certain base metals. This stock has been crushed in the past three months, with shares down over 37%, and for the year, PAL is off by a whopping 44%
Palladium is rare metal that's used in everything from catalytic converts to jewelry to dentistry to the production of surgical instruments. There's currently a huge shortage of palladium. In fact, it's the biggest shortage in three decades, so any decent rebound in industrial usage post-Greece could help to boost prices in the coming months.
From a technical standpoint, this stock topped out earlier this year after it formed a double-top chart pattern at around $7.93 a share. Since that topping action, shares have fallen all the way down to its current price of $3.85 a share. Over the past couple of weeks, the stock has been making higher lows, which is bullish price action, and buying support has come in around $3.30 to $3.60 a share. I would look to buy this stock on any weakness and add to the position if you see it take out some near-term resistance at $3.89 and 4.18 a share on a closing basis. If PAL moves above those levels, then I think this has the potential run back toward $6 in very short order.
The current short position on PAL isn't huge, but it's big enough to spark a sizable short-covering rally that squeezes the bears. As of May 31, the short interest as a percentage of the float for PAL is 5.5%. That means that over 7.87 million shares are currently sold short, and the bears have banked huge gains during the recent slide. If I were those bears, I would look to cover down here since it looks like the stock has stopped trending lower.
North American Palladium shows up on a recent list of
.
Goldman Sachs Group
If you're looking for a financial stock that could have big rebound potential, then check out
Goldman Sachs Group
(GS)
, a global investment banking, securities and investment management company providing a range of financial services to a client base that includes corporations, financial institutions, governments and high-net-worth individuals. Over the last three months, this stock has dropped 16%, and so far in 2011 shares, are down over 33%.
Since February, shares of Goldman Sachs have dropped from their 52-week high of $174.97 a share to the current price of around $134 a share. A lot of the weakness in the stock of late is due to fears that the Dodd-Frank Bill will cripple their business. Plus, a potential criminal indictment by the U.S. government could be brought against Goldman, which would cause customers to run from the Wall Street king faster than you could say "guilty." I would put the odds of Goldman being indicted at about 1%. At worst they will end up having to pay another fine and admit no wrong doing.
From a technical standpoint, shares of Goldman have might finally be finding some buying support at around $133.60 to $131.50 a share. I say finally because the stock has pretty much been in a free fall for the entire year. The stock has been basing around those levels for the past month-and-a-half, so traders need to watch how it plays out here in the next couple of weeks. It might not be a bad idea to load up on GS on any weakness.
Goldman isn't a heavily shorted stock, but if the recent lows at $131.50 can hold, then look for this stock to bounce big. It's a hated name, and traders will circle back to pick up shares on the cheap if the market wants to rebound.
Goldman, one of
Bruce Berkowitz's top holdings
, shows up on a recent list of the
.
China-Based Beaten-Down Stocks
Finally, it's a smart move for investors to start hunting around the China-based equities for short-squeeze and rebound opportunities since so many of these names have been absolutely annihilated over the past couple of weeks. Some stocks I would consider here are
Sina
(SINA)
,
Baidu.com
(BIDU)
,
Sohu.com
(SOHU)
,
Yoku.com
(YOKU)
,
Changeyou.com
(CYOU)
and
E-Commerce China Dangdang
(DANG)
.
Sina and Sohu.com are two of the more heavily shorted China names, at 8.6% and 10.5%, respectively. That said, I think all of these could rebound sharply since almost every China-based stock is hated by the market right now. Understand that this is a trading call and not a call to invest in these longer-term, since China still holds a lot of risk at current levels.
To see more beaten-down and heavily shorted rebound plays, including
A123 Systems
( AONE),
Tellabs
( TLAB) and
Clean Energy Fuels
(CLNE)
, check out the
portfolio on Stockpickr.
-- Written by Roberto Pedone in Winderemere, Fla.
RELATED LINKS:
>>5 Dow Stocks at Discont Prices
>>5 Stocks Worth Buying in This Shaky Market
Follow Stockpickr on
and become a fan on
Facebook.
At the time of publication, author had no positions in stocks mentioned.
Roberto Pedone, based out of Windermere, Fla., is an independent trader who focuses on stocks, options, futures, commodities and currencies. He is also an outside contributor to Beconequity.com and maintains the website Maddmoney.net, which he sold to Blue Wave Advisors in 2008. Roberto studied International Business at The Milwaukee School of Engineering, and he spent a year overseas studying business in Lubeck, Germany.