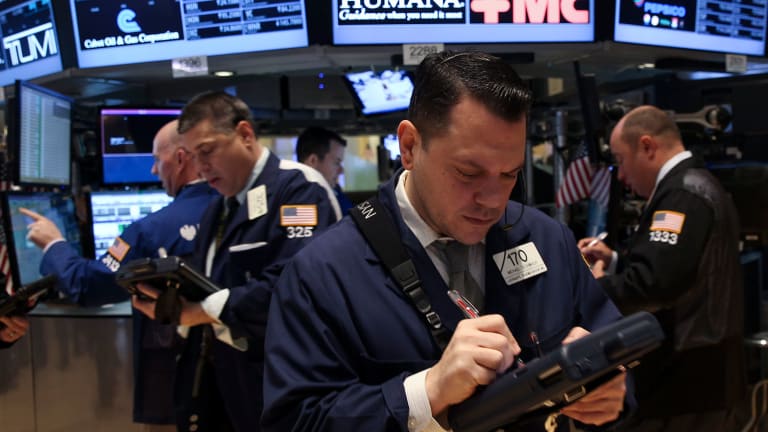 10 Signs That Stocks Are Way Overpriced
The S&P 500 is a better short now than it was at its May 21 high.
The S&P 500 is a better short now than it was at its May 21 high.
NEW YORK (Real Money Pro) -- The S&P 500 closed at 1996 Wednesday -- down about 6% from its May 21 all-time high of 2130, but up 7% from its Aug. 25 low of 1867 and 6% from its Sept. 28 low of 1881.
I believe that means the market might be a better short now than it was when the S&P 500 hit its all-time high on May 21. Here are the top 10 reasons why:
Reason No. 1: Growth vs. Deflation
Economic growth is worsening and deflationary fears have increased since May. There are rising signposts of numerous economic peaks -- in housing, autos, etc. (just look at the Purchasing Manager Index reports).
Global economic growth, believed to be on a self-sustaining and "escape-velocity" track five months ago, is clearly moving at a worsening glide path as Brazil, China and others falter. The International Monetary Fund, leading economists and others have downgraded global growth prospects since May. Meanwhile, deflationary fears have risen.
Reason No. 2: Weak Profits
The S&P 500 earnings picture has eroded since the spring and we're likely entering a "profits recession."
Profit margins, the most mean-reverting economic series, have finally succumbed to gravity. As Schwab's Liz Ann Sonders has pointed out: "From an all-time high of over 9% reached in 2014, S&P 500 profit margins have dropped by 60 basis points over the past year and now sit at 8.5%."
The consensus estimate for 2015 S&P earnings has fallen by about 7% to 8% percent since May to $110 a share -- and that's after an approximately 10% drop in the consensus from mid-2014's forecast of $133 a share. Profits for the banking industry (reduced net interest income), commodities-based firms (lower commodities prices) and cyclicals and industrials (diminished growth prospects) profits have all been revised lower over the last three months.
And I reject the notion that profits and profit margins are slightly better when "adjusted" by subtracting the moribund energy sector. When oil was $100 a barrel, was the argument made that S&P 500 earnings were worse than it appeared and we should take out inflated energy-company profits?
Reason No. 3: Excessive Valuations
As a result of slowing economic and earnings growth, valuations are no lower now than in May. With analysts constantly lowering consensus 2015 S&P earnings estimates, price-to-earnings multiples are virtually ay the same level they were five months ago despite the market's swoon.
If I'm correct about the worsening profit picture, analysts will ratchet down consensus 2016 forecasts (as was the case for consensus 2015) -- serving to raise prospective valuations even further.
Reason No. 4: Weak Investor Sentiment Doesn't Matter
It's true that investor sentiment is far worse than it was at the May top. But sentiment tends to stay weak during corrections and bear markets and isn't a particularly good timing tool. (Remember that in the 2009-14 bull market, investor sentiment generally remained buoyed throughout.)
Reason No. 5: ZIRP Is DOA
The tailwind of monetary largesse is over and the Federal Reserve's era of the Zero Interest Rate Policy (ZIRP) is coming to a close.
Most experts now recognize the Fed's ZIRP and quantitative-easing efforts as having limited economic value-add. Overseas, the European Central Bank and the Bank of Japan likewise said "no" to more QE, at least for now.
Increasingly, markets recognize that governments must replace monetary policy with more-timely fiscal policy in a world of structural challenges to economic growth. But in the America, fiscal inertia remains my baseline expectation with a presidential election lying ahead.
Reason No. 6: Loss of Confidence in the Fed
As I've previously written, I think the Fed has screwed up and distorted our economy and markets. Many are recognizing that the world's central bankers are disadvantaging savers, causing cash hoarding, reducing personal consumption expenditures and retarding the growth in plant and equipment spending.
The "bubble" in confidence that the Fed can take us on its shoulders into the Promised Land of self-sustaining economic growth is bursting. It's the biggest bubble of all.
Reason No. 7: Deteriorating Technicals
As I recently wrote in Something is Rotten in the Borough of the Bronx, numerous technical flaws exist -- highlighted by the fact that 50% of New York Stock Exchange-listed firms are still in downtrends/bear markets.
The averages are also still well below their 2015 highs, peaking out about 140 trading days ago. Moreover, there still exists numerous index "lower highs and lower lows."
Finally, as mentioned yesterday, the laggards are now market leaders and the former leaders are now market laggards. As legendary technical analyst Bob Farrell teaches us, a market leadership change often presages broader weakness.
Reason No. 8: Hobbled Hedge Funds
Peak Hedge Funds? Redemptions in long/short strategy funds are growing (and were part of contributing factors to the late August low) amid poor investment performance.
Peak Activism? Many activists -- i.e., Nelson Peltz in DuPont (DD) - Get Report and Bill Ackman in Valeant Pharmaceuticals (VRX) -- are "caught" in large, losing and relatively illiquid positions. I see the hedge-fund community in gross terms as "deleveraging" (a polite way of saying "selling") in the months ahead.
Reason No. 9: Retail Investors are MIA
The retail investor is not likely to return to the markets any time soon.
As I wrote yesterday: "While the wild and extreme intraday swings in the market and in individual stocks provide outstanding opportunities for quick and facile traders, is there anyone out there who thinks the average Joe feels confident today in putting his hard-earned money into this market?"
With peak buybacks, peak activism and limited individual-investor inflows, the supply-vs.-demand relationship for stocks is worse today than it was in May.
Reason No. 10: Junk-Bond Woes
High-yield markets have been schmeissed and have been in a free fall since May. Spreads have meaningfully widened since then, with little narrowing at all in recent days. This has adverse implications for both activist investors and corporate share buybacks (i.e., "financial engineering").
At the time of publication, Kass was short SPY, although positions may change at any time.