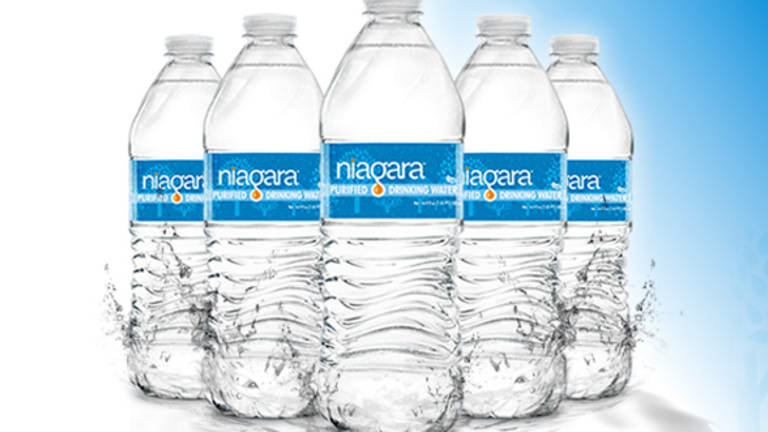 10 Recent Food Recalls You Should Know About
Niagara Bottling's recall of its bottled water products is this year's latest food scare, but food safety experts say consumers shouldn't be unduly worried.
Niagara Bottling's recall of its bottled water products is this year's latest food scare, but food safety experts say consumers shouldn't be unduly worried.
NEW YORK (TheStreet) -- This week's news that bottled water maker Niagara Bottling had recalled 14 brands of its water after its source spring tested positive for E.coli bacteria, combined with a few other recent high-profile food scares, may make consumers wonder if America's food supply has suddenly become less safe.
But experts say consumers shouldn't be unduly worried, since many of the recent incidents have been voluntary recalls as opposed to mandated actions occurring after consumers got sick.  
"You have to separate recalls that are proactive and ones that are associated with illnesses and contamination, so I wouldn't say that food is less safe, or any less safer," said North Carolina State University assistant professor Benjamin Chapman.
Chapman said proactive recalls, like Niagara's, should reassure customers because that indicates companies are actively monitoring their products for contaminations.
Echoing Chapman's remarks, Michigan State professor and food safety specialist Felicia Wu said food scares are not as much of a growing of a trend as they might appear.
Wu said government agencies have gotten better at detecting potential risks, and that increased media coverage may be bringing more attention to food scares than in the past. Wu said consumers should always be mindful of recalls but they do not have to give up a product entirely as a result.
"As my colleagues say, 'There's never a time that your food is safer than after a recall,'" she said. "I would heed the warning from Niagara and not drink this particular water, but do I think we shouldn't drink bottled water? No."
Some fears are justified, however. FoodNet, which is part of the Centers for Disease Control and Prevention, reported more than 19,500 food-related infections and more than 70 deaths in 2014.
Here's a list of 10 recent recalls that have caused consumer concern:


1. Niagara Water

After one of its spring sources tested positive for E.coli bacteria, Niagara Bottling voluntarily recalled an undisclosed amount of water bottles produced at two of its Pennsylvania plants from June 10-18.
Fourteen different brands of water were pulled off shelves in the recall because Niagara produces water under different brands and for private labels. The brands consisted of the following store and generic labels: Acadia, Acme, Big Y, Best Yet, 7-Eleven, Niagara, Nature's Place, Pricerite, Superchill, Morning Fresh, Shaws, Shoprite, Western Beef Blue and Wegman's.
Niagara said it knew of no reported illnesses, and it only implemented the recall out of an "abundance of caution." The company said customers should boil all water before drinking out of precaution.
2. Wish-Bone Ranch Salad Dressing
Pinnacle Foods Group (PF) voluntarily recalled over 8,600 cases of its Wish-Bone Ranch Salad Dressing on June 23 after accidentally putting Wish-Bone Blue Cheese Dressing in ranch dressing bottles.
While the blue cheese dressing itself is safe, it contains eggs, making it potentially lethal for those with an egg allergy. No illnesses associated with the mistake were reported.
3. Good Seed Soybean and Mung Bean Sprouts
Good Seed voluntarily recalled all packages of its soybean sprouts and mung bean sprouts due to potential Listeria contamination on June 23. The Springfield, Virginia-based company announced a similar recall in May for a potential Listeria contamination in its soybean and mung bean sprouts.
The latest recall included six different products that were distributed in retail stores in Virginia, Maryland and New Jersey.
Last summer, 19 people were infected with E. coli across the western-part of the United States after eating raw clover sprouts produced by Evergreen Fresh Sprouts.
4. Tyson Ground Beef
Tyson Fresh Meats, a subsidiary of Tyson Foods (TSN) - Get Report, voluntarily recalled about 16,000 pounds of 80% lean ground beef in 5-pound packages for possible E. coli contamination on June 3.
The potentially contaminated products were distributed in New York State, and no reported illnesses were associated with the recall.
In June 2014, 12 people were infected with E. coli after eating ground beef packaged by the Wolverine Packing Company. The recall included approximately 1.8 million pounds of ground beef.
5. Fisher brand chopped walnuts
On May 1, John B. Sanfilippo & Son voluntarily recalled Fisher brand chopped walnuts packaged in 10 ounce plastic bags for possible Salmonella contamination.
The recall included products with the best by date of March 23, 2016. The potentially contaminated nuts were available throughout the United States and in Puerto Rico.
6. Blue Bell Frozen Products
Brenham, Texas-based Blue Bell Creameries took the extraordinary step of recalling not just one product line, but all of its frozen treats in April, fearing they contained Listeria. According to the CDC, three people in Kansas have died in the past year due to the contaminated Blue Bell products, while 10 people in four other states have fallen ill. 
In a press release, Blue Bell CEO and president Paul Kruse said the company was "heartbroken about the situation" and that pulling the products was the "right thing" to do."
Federal investigators later found that one Blue Bell Creameries plant had tested positive for Listeria 16 times since 2013. That hasn't stopped company's customers from clamoring for the return of Blue Bell's products.
7. Sabra Original Hummus
A routine test by a Michigan government agency turned up Listeria in Colonial Heights, Virginia-based Sabra Dipping'sclassic hummus this April. The company, which is 50% owned by Pepsi (PEP) - Get Report, voluntarily pulled 30,000 cases of the product from store shelves.
8. Amy's Kitchen
Organic food maker Amy's Kitchen, based in Petaluma, California, volunteered in March to yank approximately 73,897 of its frozen products -- everything from vegetable lasagna to spinach pizza to gluten free tofu scramble -- after one of its suppliers recalled organic spinach possibly contaminated with Listeria. Amy's said it was not aware of any illnesses linked to the recalled products.
9. Kraft Macaroni & Cheese Dinner
Some 242,000 boxed frozen dinners were swept from frozen food aisles in March when Kraft Foods Group (KRFT) discovered pieces of metal in its iconic macaroni and cheese. The company received at least 8 complaints from consumers, but reported no injuries. It's not Kraft's first big recall in recent memory. In May 2014, 96,000 pounds of "Classic Cheese Dogs" that had been mislabeled as simply "Classic Wieners" were recalled -- the mistake could have caused problems for consumers with dairy allergies. 
10. Trader Joe's Raw California Walnuts
An outside company contracted by the U.S. Food and Drug Admininstration found in March that certain packages of store-brand raw walnuts from Trader Joe's Companymight be contaminated with Salmonella. Out of "an abundance of caution," the supermarket chain, which is owned by German company ALDI, took the products out of stores. Trader Joe's has had its share of recalls; the next month, it pulled sweet apple chicken sausages on a supplier's reports that they might contain "small plastic pieces."