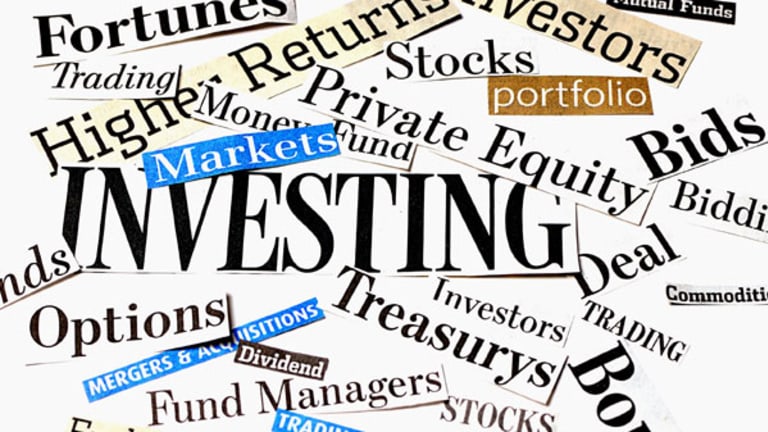 10 Low-Risk Dividend Stocks for a Volatile Market
Low-volatility stocks offer less risk and growth potential to investors while usually paying above-market dividends.
Low-volatility stocks offer less risk and growth potential to investors while usually paying above-market dividends.
MILLBURN, N.J. (Stockpickr) -- Last September, when we were in the midst of an earlier round of European sovereign and bank debt panic, I introduced a portfolio of 10 Low-Volatility Stocks for a Rising Volatility Environment, which included such stocks as Procter & Gamble (PG) - Get Report and Wal-Mart (WMT) - Get Report.
The two criteria for inclusion in the portfolio were one-year historical volatility less than that of the
S&P 500
and current dividend yields in excess of that of the S&P 500.
>>5 Blue-Chip Stocks Ready to Boost Dividends
Once again, we are in the middle of a European centric credit crisis. The global stock markets have fallen, and volatilities have surged for the S&P 500 to levels not experienced since the fourth quarter of last year.
With that in mind, I have selected
that meet the same criteria. (As of the day I ran the search, the one-year realized volatility for the S&P 500 was 23.4%, and the index' dividend yield was 2.1%.)
>>ACTIVE STOCK TRADERS: Check out Stockpickr's special offer for Real Money, headlined by Jim Cramer, now!
Vector Group
Vector Group
(VGR) - Get Report
operates two very disparate businesses. First is the tobacco business, through both the Liggett Group and Vector Tobacco. Vector's cigarette businesses are the fifth leading producer of cigarettes in the U.S. Furthermore, the company was the first to settle with the US Government on tobacco litigation.
The other business is New Valley, a real estate business that also owns a 50% interest in Douglas Elliman Realty, the largest real estate brokerage company in New York City.
Lockheed Martin
Lockheed Martin
(LMT) - Get Report
, which I also included in a portfolio of
7 Dividend Stocks Promising Growth and Protection
earlier this year, is a U.S.-based defense contractor. In 2011, earnings per share and sales rose between 1% and 2%. 2012 is likely to be much the same for Lockheed Martin, due to the fiscal challenges of world governments.
Despite all of that, the company has managed to maintain a strong balance sheet and grow its dividends by about 22% a year for the past five years. After two years of slow growth and fiscal restraint, aging defense equipment and new technologies will spur on more growth in 2013 and beyond.
Lockheed Martin also shows up on a recent list of
9 High-Yield Stocks to Consider in Lieu of Bonds
.
National Retail Properties
National Retail Properties
(NNN) - Get Report
is a real estate investment trust that specializes in single-tenant retail properties. The company owns a portfolio of nearly 1,500 freestanding properties, with a total of approximately 17.0 million square feet across 47 states. According to the company, National Retail Properties has increased its dividend for 22 consecutive years and has returned on average 12.5% to shareholders over the past 15 years.
HJ Heinz
HJ Heinz
(HNZ)
is a Pittsburgh-based food producer, most known for its Heinz 57 brand of ketchup. The company has a large portfolio of products and brands, including Ore-Ida Potatoes, Smart Ones and TGI Friday's. The company operates for sales to consumers and foodservice establishments throughout the world.
Heinz was also featured recently in "
7 Stocks Shoveling More Cash to Investors
."
PPL
PPL
(PPL) - Get Report
is an energy generation and marketing company in the U.S. and United Kingdom. The company is based in Pennsylvania and services markets from Montana to Wales. PPL controls or owns about 19,000 megawatts of generating capacity and delivers electricity and natural gas to 10 million customers worldwide. Its businesses are stable and cash-generating in nature.
Allete
Allete
(ALE) - Get Report
is an energy provider to 144,000 customers in the upper Midwest states of the U.S. through its Minnesota Power electric utility company. The company has also expanded into renewable energy via a wind unit, coal mining, natural gas and other clean energy ventures.
Bristol-Myers Squibb
Bristol-Myers Squibb
(BMY) - Get Report
is one of the world's largest biopharmaceuticals in the world, manufacturing such popular and well-known pharmaceutical products as Abilify, Coumadin and Plavix. The company has also invested heavily in research and development into its pipeline of products, which focuses in many medical disciplines such as oncology, virology, neuroscience and cardiovascular disease.
Dr Pepper Snapple
Dr Pepper Snapple
(DPS)
, one of the world's largest beverage companies, produces and markets a wide variety of carbonated and non-carbonated beverages worldwide. The company's brands include Dr Pepper, Snapple, Nantucket Nectar, A&W Root Bear, Schweppes and Yoo-Hoo. The company is growing at a faster rate than
PepsiCo
(PEP) - Get Report
and pays a dividend yield in excess of both PepsiCo and
Coca-Cola
(KO) - Get Report
.
Hershey
Hershey
(HSY) - Get Report
is world-known for its brand of chocolates and candies, including Hershey Kisses, Resse's Peanut Butter Cups, Twizzler and York Peppermint Patties. The company is becoming increasing savvy by introducing gluten-free products, which is a growing market.
For a staid food company, with an above-average dividend, Hershey has a surprisingly low double-digits earnings growth rate. Hershey is also a member of the
7 Dividend Stocks Promising Growth and Protection
porfolio.
Weis Markets
Weis Markets
(WMK) - Get Report
may not be a household name, but this $1.2 billion market cap company has been around since 1912 and is celebrating its 100th anniversary. The company operates supermarkets in Pennsylvania, Maryland, New Jersey, New York and West Virginia. Weis steadily and consistently grows revenues in the low single-digit percentages and earnings per share in the high single- to low double-digit percentages.
To see these stocks in action, visit the
10 More Low-Volatility Stocks for a Rising Volatility Environment
portfolio.
-- Written by Scott Rothbort in Millburn, N.J.
RELATED LINKS:
>>5 Stocks Poised to Pop on Earnings
>>5 Rocket Stocks to Buy as Spain Gets Bailed Out
>>5 Breakout Stocks to Buy on a Bounce
Follow Stockpickr on
and become a fan on
Facebook.
At the time of publication, Rothbort had no positions, although positions can change at any time.
Scott Rothbort has over 25 years of experience in the financial services industry. He is the Founder and President of
, a registered investment advisor specializing in customized separate account management for high net worth individuals. In addition, he is the founder of
, an educational social networking site; and, publisher of
The LakeView Restaurant & Food Chain Report
. Rothbort is also a Term Professor of Finance at Seton Hall University's Stillman School of Business, where he teaches courses in finance and economics. He is the Chief Market Strategist for The Stillman School of Business and the co-supervisor of the Center for Securities Trading and Analysis.
Mr. Rothbort is a regular contributor to
TheStreet.com's RealMoney Silver
website and has frequently appeared as a professional guest on
Bloomberg Radio
,
Bloomberg Television
,
Fox Business Network
,
CNBC Television
,
TheStreet.com TV
and local television. As an expert in the field of derivatives and exchange-traded funds (ETFs), he frequently speaks at industry conferences. He is an ETF advisory board member for the Information Management Network, a global organizer of institutional finance and investment conferences. In addition, he is widely quoted in interviews in the printed press and on the internet.
Mr. Rothbort founded LakeView Asset Management in 2002. Prior to that, since 1991, he worked at Merrill Lynch, where he held a wide variety of senior-level management positions, including Business Director for the Global Equity Derivative Department, Global Director for Equity Swaps Trading and Risk Management, and Director for secured funding and collateral management for the Global Capital Markets Group and Corporate Treasury. Prior to working at Merrill Lynch, within the financial services industry, he worked for County Nat West Securities and Morgan Stanley, where he had international assignments in Tokyo, Hong Kong and London. He began his career working at Price Waterhouse from 1982 to 1984.
Mr. Rothbort received an M.B.A., majoring in Finance and International Business from the Stern School of Business, New York University, in 1992, and a B.Sc. in Economics, majoring in Accounting, from the Wharton School of Business, University of Pennsylvania, in 1982. He is also a graduate of the prestigious Stuyvesant High School in New York City. Mr. Rothbort is married to Layni Horowitz Rothbort, a real estate attorney, and together they have five children.