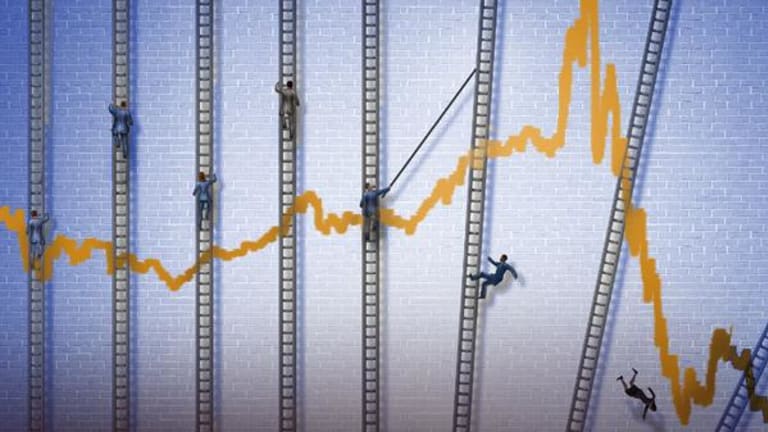 10 Investments That Could Still Do Well Even If Stocks and Bonds Gets Whacked Later This Year
From cash to closed-end funds, here's where to put your money.
I'm extremely cautious as we start the second half of the year. I think both bonds and stocks will get hit together, so that leaves us limited places to hide out -- but there are around a dozen kinds of assets that I nonetheless like.
But before we discuss go, here are the reasons why I'm worried:
Trump's Stalled Economic Agenda
I won't spend much time on President Trump's agenda, as anything related to politics is fraught with disagreement.
All I'll say is that his plans would have helped the U.S. economy if even half of them got implemented, but the consensus is that Trump's agenda is stalling. It's also impossible to dispute the fact that Trump has made filled far fewer key positions than is typical or necessary by this time in a president's term.
False Liquidity
This is how I see liquidity:
It often seems like there's plenty of liquidity in the markets as computers and humans vie for factions of pennies on stocks. But then a big order comes, and just like a big shark causes the little fish to scatter, a large order quickly drives prices in a straight line up or down. Only after the market establishes this new price point does the liquidity return.
In other words, the market seems on the surface to function just fine as long as there aren't too many large orders. But when a stock like Apple AAPL can have multiple 2% drops in just minutes (as happened on June 9), you have to be cautious and respect stocks' downside potential.
Passive Investing vs. 'Docile Investing'
We all feel superior when passive flows find their way to the stocks or bonds that we own. Suddenly, our holdings see an influx of buying that lets us enjoy gains and feel smart.
The problem I've found is that this creates its own type of complacency, as investors in many cases seem to confuse passive investing with "docile investing."
Passive investing -- particularly so-called "factor investing" -- isn't docile by any stretch of the imagination. It rotates in and out of sector, and being on the wrong side of those moves can be as painful as being on the right side is enjoyable.
Personally, I spend a lot of time trying to anticipate the market's next passive rotation. For instance, I came into the end of June believing that what I call a "Homebrew Risk Parity" strategy (using long-dated bonds as a hedge for equity exposure) had become very crowded, and that seems to be playing out.
The Sovereign-Debt Market
I believe the sovereign-debt market holds to key on how to play the second half.
These days, you hear a lot of people saying that rising U.S. Treasury yields are good because they signal economic growth. What a load of malarkey! Rising Treasury yields are typically bad for stocks, even if that's not the case right now.
It's true that Treasury yields have remained very low until recently, but that's because:
Central banks have been buying up sovereign debt across the globe.
No other hedge worked better than owning longer-dated assets.
Yes, there are other factors, like low inflation and weak U.S. economic data that continue to disappoint relative to expectations. But stock markets have ignored those issues.
Instead, yields are going higher because:
Central banks have shifted to a hawkish mentality, so balance-sheet growth is likely to slow.
We're seeing signs of inflation or wage pressures without any apparent change in growth.
Investments are hitting stop-loss points, as going long on Treasuries isn't working and correlations are shifting. This is causing risk managers to curtail new bond purchases, and has even forced some selling.
Add it all and I think we'll soon see higher bond yields, which will pressure stocks.
How to Trade All of This

Frankly, all of the above makes me want to be sitting on a big pile of cash. That way, my main concern when the market finally tumbles and there's panic in the air will be whether my buy orders get filled.
And remember, I think both bonds and stocks will be hit together, giving us few safe havens to wait in. At some point, either bonds or stocks (or both) will become a compelling buy. Or maybe just the right type of bond will do so. But from a fixed-income-trading perspective where capital preservation is key, cash is king right now.
For a more aggressive approach, look to buying puts on indices. I've also eyed puts on the iShares Select Dividend ETF (DVY) - Get iShares Select Dividend ETF Report , the Financial Select Sector SPDR ETF (XLF) - Get Financial Select Sector SPDR Report and the Utilities Select Sector SPDR ETF (XLU) - Get Utilities Select Sector SPDR Fund Report .
I think dividend stocks will get doubly hit by higher yields and investor realization that dividend stocks still are stocks and have more downside risk than I believe markets have priced in.
As for XLF, I think the era of bank dividends and buybacks is over. However, the yield curve is not yet the banks' friend, as the spread between the two- and 10-year U.S. Treasuries remains narrow.
At the same time, I don't expect any Trump-inspired industry deregulation to be market moving, as least for big banks. Lastly, I think that fixed-income rates and currencies -- which are usually key revenue generators for banks -- will disappoint for the second quarter and then record a weak third quarter.
Other investments that I like for 2017's second half:
For stocks, look for out-of-favor sectors that passive investors will rotate into next. I think there's some value in companies whose high-yield bonds have rallied while their stocks have languished. That could be one factor that should attract your attention.
Start making a closed-end-fund wish list. Discounts to NAV are increasing -- and if I'm correct, they'll increase even further. Know which closed-end mutual funds you want to buy, so that you aren't scrambling when prices and NAVs become appealing.
In fixed income, own leveraged loans rather than high yield if you must own anything. But cut back even there.
Investment-grade bond funds have a lot of interest-rate exposure right now, as managers have extended maturities to generate greater income - which means far greater risk.
Don't be afraid to buy calls. Options remain cheap, and buying them means you won't face what I see as the growing likelihood of a liquidity event. And even if we get a rally, you won't miss much of it.
The Bright Side
The good news -- I think any downturn will be quick and will give way to a more sustainable and much more universally loved bull market.
If you're caught being long on risk into a quick sell-off, it won't be the end of the world as long as you're not forced to sell. And if you have the cash and can time things well, any deeper sell-off will pave the way for better returns.
More Tips for the Second Half
Our July Trading Strategies roundtable and accompanying special report highlights lots of ways to invest over the next six months. Click below to check out:
This Is Your Investing Playbook for 2017's Second Half