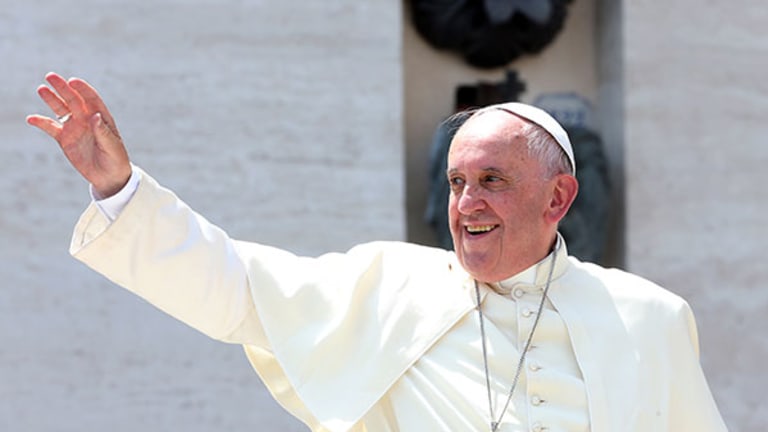 How Pope Francis Shook Up 10 Fortune 500 Boardrooms
Pope Francis's urging to put the global economy to work for people has influenced a group of churches using proxy fights to change how some of America's best-known companies operate.
NEW YORK (TheStreet) -- While Pope Francis has said more than once that global capitalism has run amok, with societies ignoring the common good in an "unfettered pursuit of money," he hasn't advocated abandoning the system.
Instead, he has urged his followers to change it from within: "Business is a noble vocation," at its best when it sees job creation as a vital mission, the pontiff said in a speech Thursday to both houses of Congress. "The right use of natural resources, the proper application of technology and the harnessing of the spirit of enterprise are essential elements of an economy which seeks to be modern, inclusive and sustainable."
The pope, who's bringing that message to the world's biggest capitalist economy in a tour this week, is far from the first to do so. The Interfaith Center on Corporate Responsibility, an organization that represents 300 religious organizations, including Catholic churches and religious orders, has lobbied Fortune 500 companies for decades to change their business practices to better the world.
The organization oversees $100 billion in capital, largely from members' pensions, which it uses to buy shares and then advocate for reforms, often via proxy fights. It's a strategy also employed by prominent activist investors like Carl Icahn and Bill Ackman.
"One of the things that is always interesting and challenging is to channel the activist spirit, remembering that we are investors with fiduciary responsibilities to financial results," said Laura Berry, the center's executive director.
Berry is no stranger to Wall Street. Prior to joining the organization, she spent almost 20 years as a portfolio manager and was keenly aware of the benefits of socially responsible investment. The people who were best at predicting future value were often those looking "through a little bit different of a lens than other people on the Street," Berry said. 
Like most shareholder proposals, submissions from the center's network of religious organizations often fail to garner enough votes to pass. That's not to say they go unheeded, though: The center and its member organizations have gained access to the CEOs of top companies.
In 2014, one group, the Sisters of Charity of Saint Elizabeth, helped convince JPMorgan Chase (JPM) - Get JPMorgan Chase & Co. (JPM) Report-- a bank that grappled with a string of scandals following the financial crisis -- to issue a report on standards and best practices to prevent further issues. More recently, the Rev. Seamus Finn, the chairman of the center's board, convinced Bank of America (BAC) - Get Bank of America Corp Report to draft a similar document, the final version of which may be released in the first quarter of next year.
So far this year, the organization has submitted 253 proposals to large corporations, tackling concerns from corporate governance to climate change, genetically modified foods, and human rights. Here's a look at 10 of them:
1. McDonald's
Use of Antibiotics in Meat Production
Earlier this month, the center, known by the acronym ICCR, submitted a resolution to McDonald's (MCD) - Get McDonald's Corporation (MCD) Report that would ban the non-therapeutic use of antibiotics in livestock. The organization argues that overuse of such medications causes humans to become resistant to antibiotics they may eventually need to treat illness, possibly leading to a pandemic.
While McDonald's has stopped using antibiotics in chicken, ICCR argues that the ban should apply to all meat. The resolution would be considered, at the earliest, at the company's annual meeting next year.
"We question why this important commitment isn't also being applied to the beef and pork it sources, as hamburgers are a mainstay of McDonald's business," said Sister Susan Mika of the Congregation of Benedictine Sisters of Boerne, Texas. "This double-standard makes no sense to us: What's good for the goose ought to be good for the gander, or in this case, the whole farmyard."
2. Amazon
Political Contributions
Whether it's through funding candidates directly or financing lobbyists, it's no secret that corporations play a major role in politics. The ICCR has asked several to submit reports that detail what they're doing.
In the case of Amazon (AMZN) - Get Amazon.com, Inc. Report , ICCR noted that the Seattle-based company ranked near the bottom of the 2013 CPA-Zicklin Index of Corporate Accountability and Disclosure.
To rectify that, the ICCR requested that Amazon provide a semiannual report that outlines the company's policies and procedures for making political contributions as well as its membership in trade associations and tax-exempt organizations that engage in political activities.
The proposal submitted at the company's June shareholder meeting failed to pass, receiving only 20% of the yay votes.
3. AT&T
Political Contributions
Since 2004, AT&T (T) - Get AT&T Inc. Report has spent $65.7 million on political activities, according to data provided by the National Institute on Money in State Politics. Contributions were spread among candidates, political parties, and other groups.
Much like the ICCR's proposal to Amazon, the resolution brought to AT&T requested a semi-annual report that outlined the policies surrounding its political activities as well as its involvement in political organizations.
The proposal submitted at the company's April shareholder meeting received only 20% support.
4. Bank of America
Climate Risk Disclosure
It may seem surprising to single out a bank over environmental issues, but members of the ICCR are experts in following the money trail.
A proposal which included 11 cosponsors from ICCR member organizations requested that Bank of America (BAC) - Get Bank of America Corp Report submit a report to shareholders by September 2015 that details greenhouse gas emissions companies financed by the bank that are known for higher-than-usual emissions, such as coal mining and oil and gas production.
While the ICCR proposal didn't pass, Bank of America is aware of the potential risks of climate change. In 2014, the Charlote, N.C.-based company responded to the Carbon Disclosure Project by noting an increasing awareness "of the role the financial services sector can and should have in promoting climate-change mitigation through its financing activities."
Bank executives said they realized that "reputational risk could arise if we are not developing the appropriate balance of carbon-reliant and low-carbon customers or sources of energy in our business mix."
The proposal submitted at the company's May shareholder meeting won only 6% of votes.
5. Chipotle Mexican Grill
Sustainability Reporting
Chipotle (CMG) - Get Chipotle Mexican Grill, Inc. Report is generally perceived as one of the more progressive Fortune 500 companies -- especially in light of its April announcement that it will no longer prepare food with genetically modified ingredients. The ICCR, however, requested that Chipotle go one step further and prepare an annual report that outlines the company's environmental, social and governance practices.
In a twist, the ICCR cited McDonald's, Darden Restaurants, and Dunkin Brands as companies that already provide sustainability reports. While Chipotle says it is committed to serving "Food with Integrity," its measurement standards aren't always clearly outlined.
The proposal submitted at the company's May shareholder meeting won only 29% of votes.
6. Comcast
Lobbying Expenditures Disclosure
Like many companies, Comcast (CMCSA) - Get Comcast Corporation Class A Report doesn't report on the extent of its political and lobbying activities. But as the largest provider of cable and internet -- how most of us get our news and share our data -- perhaps it should.
The ICCR requested that Comcast submit an annual report that outlines its direct and indirect lobbying efforts as well as the policies and procedures for making lobbying decisions.
"Comcast spent $33.56 million in 2012 and 2013 on direct federal lobbying activities," the ICCR found. The proposal submitted at the company's May shareholder meeting won only 16% of votes.
7. Facebook
Human Rights Risk Assessment - Children's Privacy/Marketing
While privacy on Facebook (FB) - Get Facebook, Inc. Class A Report  has received considerable scrutiny, ads targeting the social network's youngest users haven't had as much.
The ICCR has concerns about that, particularly ads for products the group sees as potentially harmful, and requested that Facebook provide a report identifying the human rights risks inherent in the company's operations.
"Given the unparalleled amount of personal data amassed on its platform, Facebook's business exposes it to children's rights risks that have not been assessed by the company," the proposal reads. "For example, given the influence that food marketing has on children's diets and the extent of the global childhood obesity epidemic, carrying and facilitating extensive food marketing to youth present significant risks."
The proposal submitted at the company's June shareholder meeting failed to pass, receiving only 1% support.
8. Gilead
Sustainability Reporting
The ICCR requested Gilead (GILD) - Get Gilead Sciences, Inc. (GILD) Report join its peers Amgen, Celgene and Biogen Idec in publishing sustainability metrics on an annual basis.
While Gilead said in an annual regulatory filing that its "primary risk related to climate change is increased energy costs," the pharmaceutical company does not yet report on its environmental, social and governance practices.
The proposal submitted at the company's May shareholder meeting won only 25% of votes.
9. Intel
Simple Majority Vote
One lesser-known fact about shareholder proxies is that votes on proposals are not always counted the same way. Company-sponsored proposals, which usually involve electing board members and approving executive pay, are often counted by a simple majority: for vs. against. Meanwhile, the votes for shareholder proposals are counted differently, with abstentions registered as votes against. 
Counting votes that way makes it more difficult for shareholder proposals to pass and distorts the support they get, which affects whether a proposal may be resubmitted.
In 2014, Intel (INTC) - Get Intel Corporation (INTC) Report pledged to review voting standards in time for the 2015 shareholders' meeting but didn't meet that timetable.
"Revised policies have not been put into place, but are needed because Intel counts votes two different ways in its proxy -- a practice we feel is confusing, inconsistent, does not fully honor voter intent, and harms shareholder best-interest," ICCR wrote.
The proposal submitted at the company's May shareholder meeting won only 6% of votes.
10. JPMorgan Chase
Lobbying Expenditures Disclosure
Citing JPMorgan Chase's membership in the U.S. Chamber of Commerce, "by far the most muscular business lobby group in Washington," the ICCR requested that the bank prepare an annual report that discloses its policies and procedures for lobbying.
While the ICCR applauded JPMorgan for restricting the use of trade association payments for political contributions, it asked the bank to extend that standard to lobbying efforts as well.
The proposal submitted at the company's May shareholder meeting won only 5% of votes.