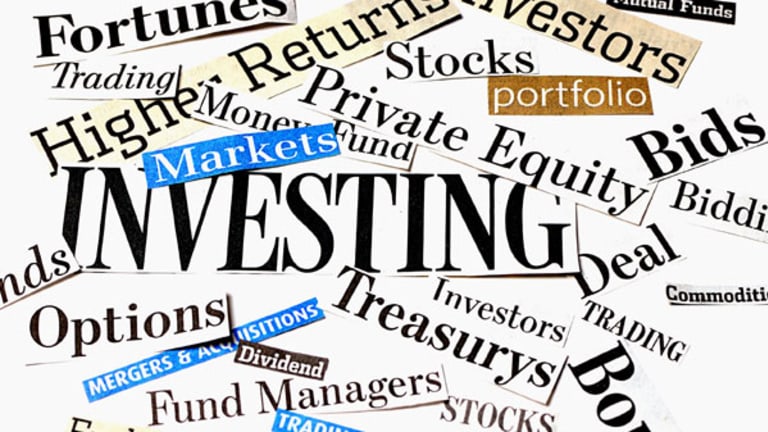 10 ETFs to Buy for 2012
Scott Rothbort presents his ETF investment ideas for the new year.
MILLBURN, N.J. (Stockpickr) -- For the past four years, I have attended and spoke at the annual IMN Super Bowl of Indexing in Phoenix, the largest gathering of indexed and exchange-traded fund investors, advisors and service providers. Many new and recently introduced ETF products as well as timely ETF ideas are presented at the conference.
Every year, I return home from the conference with many new investment ideas worthy of inclusion in one's portfolio. This year is no different.
Without further ado, here are
.
Emerging Markets
I have long written about my investments in Israel. Whether it is through funds such as the
iShares MSCI Israel ETF
(EIS) - Get iShares MSCI Israel ETF Report
or the
Aberdeen Israel Fund
(ISL)
or in individual stocks such as
Teva Pharmaceuticals
(TEVA) - Get Teva Pharmaceutical Industries Ltd. Report
,
Elbit Systems
(ESLT) - Get Elbit Systems Ltd Report
or
Checkpoint Software
(CHKP) - Get Check Point Software Technologies Ltd. Report
, I find that opportunities in Israel are plentiful and diverse.
An expert in investing in the Middle East brought three interesting facts to my attention. First is that Israel is no longer considered an emerging market; rather, it is fully developed, with the second-largest amount of ADR listings of any country in the U.S. markets. Second is that one can define the Middle East to include Turkey, even though the country is more precisely located in Asia Minor. Third, the Turkish market, while emerging, is highly developed and offers excellent opportunities.
>>5 Beaten-Down Stocks That Could Rebound in 2012
Turkey, despite recent diplomatic disputes with Israel, has increased its trade with that nation. Turkey also is a large trading partner with Europe and the U.S. The recent weakness in the European markets resulting from the bank and sovereign debt crisis in the EU has had a negative impact upon Turkish shares. However, Turkey still maintains its currency, the Turkish lira, rather than the Euro, which many of its neighbors and trading partners utilize.
A way to play this emerging market and a rebound in trade with Europe would be through Turkish ADRs or ETFs. I have two suggestions for Turkish investing: the
iShares MSCI Turkey Investible Market Index Fund
(TUR) - Get iShares MSCI Turkey ETF Report
and the country's mobile telecommunications carrier,
Turkcell Iletisim Hizmetleri
(TKC) - Get TURKCELL Iletisim Hizmetleri AS Report
.
Let's not leave Israel out in the cold. If you believe that Internet, mobile communications, alternative energy and technology in general are growth sectors, then Israel is the place to invest.
Start-up Nation: The Story of Israel's Economic Miracle
by Dan Senor and Saul Singer is a must-read. This market is still quite investible, and the iShares Israel ETF, with a decline of about 33% this year, has underperformed the
iShares MSCI Spain ETF
(EWP) - Get iShares MSCI Spain ETF Report
(-28%) and
iShares MSCI Italy
(EWI) - Get iShares MSCI Italy ETF Report
(-24%) year-to-date. The Israeli ETF is way undersold, and I believe that this is providing a great entry point for 2012 and on a long-term basis.
Volatility
I have written extensively about volatility on this site and spend a great deal of time studying the subject. As usual, the Chicago Board Options Exchange, or CBOE, had many of its excellent staff at the Super Bowl of Indexing, one of whom, Matt Moran, provided valuable insight as part of a panel that I moderated. The CBOE develops and markets volatility products, known in the marketplace as the VIX.
Earlier this summer, I wrote a series of articles that sought out
to combat the market's woes and increasing volatility. Now I have two ETFs that can provide this sort of protection for investors.
First is the
PowerShares S&P Low Volatility
(SPLV) - Get Invesco S&P 500 Low Volatility ETF Report
ETF. This ETF, managed by Invesco, invests in stocks in the Standard & Poor's Low Volatility Index. From its inception earlier this year through Sept. 30, the ETF declined 3.08%, vs. a decline of 16.27% for the Standard & Poor's 500 Index.
>>7 Extreme Stocks to Trade in This Volatile Market
Another interesting yet more complex instrument to combat volatility, avoid bear markets and capture longer-term market trends is the
RBS US Large Cap Trendpilot ETN
(TRND) - Get Pacer Trendpilot Fund of Funds ETF Report
, exchange-traded notes issued by the Royal Bank of Scotland. This product provides exposure to the S&P 500 Total Return Index, subject to a set of risk-management rules that will move to cash if a negative trend in the index is established.
Simply put, if the index closes below its 200-day simple
for five consecutive days, then the portfolio will exit the index and invest in three-month U.S. treasuries. Once the index closes above its 200-day simple moving average for five consecutive days, then the portfolio is reinvested in the target index.
A mid-cap version also exists for this product, the
RBS US Mid Cap Trendpilot ETN
(TRNM)
. This is a great way to protect against an emerging bear market, but here is the drawback for this product: During periods of excessive volatility swings, as we have endured since August, the ETN will likely remain in cash because it does not have enough "time" to catch a market upswing. This has indeed been the case for several months now.
Yield Over There
The ever-elusive search for yield continues. The U.S. treasury market is on the one hand well-bid and on the other hand too expensive to really generate any sort of meaningful total return to investors. Of course, there are yield alternatives, such as high-dividend-paying stocks, master limited partnerships and REITs, all of which I have written about, but the search for yield is going global.
>>5 High-Yield Stocks That Could Pop
That said, who wants to own anything with both the words "European" and "debt" in the same breath? Rather, investors at this conference were looking to emerging-markets debt, to stay out of harm's way of the euro currency and pick up some yield along the way.
There are three ETFs which fit this theme:
iShares JPMorgan USD Emerging Markets Bond
(EMB) - Get iShares JP Morgan USD Emerging Markets Bond ETF Report
, with assets of $3.1 billion and an estimated yield of about 5%;
Wisdom Tree Emerging Markets Local Debt
(ELD) - Get WisdomTree Emerging Markets Local Debt Fund Report
, with assets of $1.1 billion and an estimated yield of around 5%; and
PowerShares Emerging Markets Sovereign Debt
(PCY) - Get Invesco Emerging Markets Sovereign Debt ETF Report
, with assets of $1.3 billion and an estimated yield of about 5.5% .
Currency
I strongly believe that the euro is a currency which is in trouble. While the ECB along with the governments of Germany and France will do what it takes to ensure that there is enough liquidity available to European nations and banks, the euro currency will not be in favor with foreign investors. In the short run, the euro might be propped up by ECB and IMF actions, but as 2012 progresses, it is certain to weaken, especially versus the U.S. dollar.
There is an ETF that is a play on shorting the euro vs. the dollar: the
ProShares UltraShort Euro
(EUO) - Get ProShares UltraShort Euro Report
. Please note that this is an inverse leveraged ETF and should only be transacted by highly sophisticated investment managers or individuals.
-- Written by Scott Rothbort in Millburn, N.J.
RELATED LINKS:
>>5 Stocks Setting Up to Break Out
>>6 Stocks, ETFs Endowments Are Bullish On
>>7 Relative Strength Stocks to Beat the Market in 2012
Follow Stockpickr on
and become a fan on
Facebook.
At the time of publication, Rothbort was long EIS, ISL and PCY, although positions can change at any time.
Scott Rothbort has over 25 years of experience in the financial services industry. He is the Founder and President of
, a registered investment advisor specializing in customized separate account management for high net worth individuals. In addition, he is the founder of
, an educational social networking site; and, publisher of
The LakeView Restaurant & Food Chain Report
. Rothbort is also a Term Professor of Finance at Seton Hall University's Stillman School of Business, where he teaches courses in finance and economics. He is the Chief Market Strategist for The Stillman School of Business and the co-supervisor of the Center for Securities Trading and Analysis.
Mr. Rothbort is a regular contributor to
TheStreet.com's RealMoney Silver
website and has frequently appeared as a professional guest on
Bloomberg Radio
,
Bloomberg Television
,
Fox Business Network
,
CNBC Television
,
TheStreet.com TV
and local television. As an expert in the field of derivatives and exchange-traded funds (ETFs), he frequently speaks at industry conferences. He is an ETF advisory board member for the Information Management Network, a global organizer of institutional finance and investment conferences. In addition, he is widely quoted in interviews in the printed press and on the internet.
Mr. Rothbort founded LakeView Asset Management in 2002. Prior to that, since 1991, he worked at Merrill Lynch, where he held a wide variety of senior-level management positions, including Business Director for the Global Equity Derivative Department, Global Director for Equity Swaps Trading and Risk Management, and Director for secured funding and collateral management for the Global Capital Markets Group and Corporate Treasury. Prior to working at Merrill Lynch, within the financial services industry, he worked for County Nat West Securities and Morgan Stanley, where he had international assignments in Tokyo, Hong Kong and London. He began his career working at Price Waterhouse from 1982 to 1984.
Mr. Rothbort received an M.B.A., majoring in Finance and International Business from the Stern School of Business, New York University, in 1992, and a B.Sc. in Economics, majoring in Accounting, from the Wharton School of Business, University of Pennsylvania, in 1982. He is also a graduate of the prestigious Stuyvesant High School in New York City. Mr. Rothbort is married to Layni Horowitz Rothbort, a real estate attorney, and together they have five children.