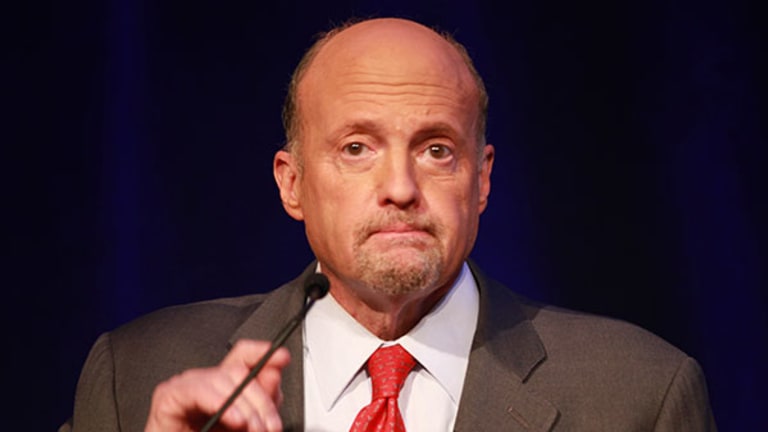 10 Dream Mergers; Fed's Greek Problem; Up Side of Negativity: Jim Cramer's Best Blogs
Catch up on Jim Cramer's ideas from this past week as he discusses deals he wishes would happen, why the Fed's watching Europe, and how negativity is powering this rally.
NEW YORK (Real Money) -- Jim Cramer fills his blog on RealMoney every day with his up-to-the-minute reactions to what's happening in the market and his legendary ahead-of-the-crowd ideas. This week he blogged on:
10 "dream mergers;"
Why skepticism and negativity are the biggest ingredients in this kind of stock rally;
And how the Fed's next move will depend on Europe.
Click here for information on RealMoney, where you can see all the blogs, including Jim Cramer's -- and reader comments -- in real time.
Google Should Buy Twitter, and 9 Other Dream Mergers
Posted on June 16 at 2:10 p.m. EDT
We talk every day about Greece and how hostage we are to this nation of 11 million people, which will no doubt be many million fewer if it defaults because of mass emigration elsewhere. But we don't talk enough about the positive, which is that it keeps the Federal Reserve on hold. And on the eve of a big Fed meeting today we rally because of worries about a cataclysm when Greece defaults. So thanks Greece for giving us an up day.
I am going to use this respite day to dream dreams of takeovers. Why? Because when I see every single health maintenance company, Cigna (CI) - Get Report, Aetna (AET) , UnitedHealth (UNH) - Get Report, Anthem (ANTM) - Get Report and Humana (HUM) - Get Report in talks with each other, it seems logical to bless pretty much anything happening in the merger arena.
Given that the market loves pretty much any transaction, witness that dog of a stock Coty (COTY) - Get Report going up gigantically on what may be a colossal overpay for a bunch of old Procter & Gamble (PG) - Get Report brands, I think it is safe to say we are now in a market where CEOs know that the best thing they can do is go buy another company. If Coty might be willing to pay $12 billion for Wella and a bunch of other tired hair care brands and rally 20%, if every HMO can rally greatly on the thought that they buy out the other companies, it makes perfect sense to put out some dream merger ideas that I think would drive the stocks of both parties much higher.
Let's start with the mea culpa stock of 2015, Twitter (TWTR) - Get Report. I say mea culpa because my charitable trust, Action Alerts PLUS, owns it and I regret that it does because the trust is way down on the position and I fear that without a takeover or a sense that the company's off course -- something I didn't get when the interim CEO spoke last week on CNBC -- then this stock is going lower. It will go lower not because I am bad-mouthing it. Big deal. It will go lower because it is too expensive on an earnings basis.
However, it is not too expensive on a takeover basis. It is worth a terrific amount to the right buyer and the right buyer is Google (GOOGL) - Get Report. Why Google? First of all because Google's stock can't get out of its own way. Did you notice that after years of outperformance Google's stock has become a stinker? It hasn't moved up since December 2013. That's a long time ago. The S&P 500 has gone from 1818 to 2091 in that period. The Dow has gone from 15,875 to 17,872. Yep, Google's stock is just awful.
I think its stock could go up huge if it bought Twitter for a 20% to even 25% premium. Here's why. First, it could fire everyone. And I mean everyone. It has amazing engineers and a terrific salesforce. Twitter could immediately be integrated into its organization. I had felt that either Twitter would reform its wayward ways -- meaning pick a new CEO with direction who isn't weary or from the same product-driven direction as Dick Costolo -- but right now that doesn't look like it is going to happen. Isn't it amazing that literally you could buy a company and fire everyone and do better? That's Google for Twitter.
Now I always say that you shouldn't recommend a stock if the fundamentals aren't that attractive and that's Twitter. But let me tell you how the Google bid comes about. There is a clearly a vacuum at the top of Twitter. So what's to keep Carl Icahn from taking a stake in Twitter and saying this one has to sell itself? I think he could actually make it happen.
OK, another company that makes too much sense not to be acquired: Yahoo! (YHOO) . You subtract all of the stuff it owns -- Yahoo Japan, Alibaba (BABA) - Get Report shares, and you get zero. So why, if you are Verizon (VZ) - Get Report, do you stop at buying AOL (AOL) ? Just go pay $50 and buy Yahoo! You get your money back almost instantly and you become a real Internet player. Remember, Yahoo! will be valued at zero. How can Verizon not want to put Yahoo and AOL under the same roof? This one could actually be a needle mover when combined with AOL.
AT&T (T) - Get Report should buy Yahoo! to keep up with Verizon. You buy something for a small premium to free and you have a winner.
It's time for Qualcomm (QCOM) - Get Report to buy Skyworks Solutions (SWKS) - Get Report. CEO David Aldrich has done a remarkable job turning the $20 billion Skyworks into the best cellphone parts company there is. The stock of Skyworks, which is up 46%, has been red hot. The stock of Qualcomm, currently valued at $100 billion, is down 11% because it is pegged as being momentum-less because of a variety of snafus. But it's got a ton of money doing nothing. Qualcomm's stock soars on this deal.
Coca-Cola (KO) - Get Report should buy Monster Beverage (MNST) - Get Report. Coke's stock has been terrible. It's down 5% for the year. Monster's up 20% but I think it is about to soar because it is now using Coke's distribution system. Coke just closed on the 16.7% acquisition of Monster's stock. It should just go buy the rest. The market would love this.
Kevin Plank just solidified his ownership position of Under Armour (UA) - Get Report with a new class of stock. Time to buy lululemon (LULU) - Get Report for $83, the price it was back two years ago to the day. Sure both LULU and UA are up 20% for the year but UA's been stalled a bit and everyone would love the combined company because it would be a juggernaut that can take on Nike (NKE) - Get Report. Why not? Lulu just had its first real good quarter. Plank would crush it in both men's and women's athletic and yoga clothes. Their stocks would both go much higher.
Hilton (HLT) - Get Report should buy Starwood Hotels & Resorts (HOT) . Hilton's up 8%, Starwood's doing nothing even with today's announcement of the time-share spinoff. Starwood has an interim CEO, Adam Aron. He's been at it for a while. Hilton needs growth, Starwood needs growth. Hilton gets instant growth and its stock soars.
The stock of Kellogg (K) - Get Report has done nothing. That's because it has very few products that the millennials like. It's dying on the vine. It needs to buy bothWhiteWave Foods (WWAV) and Hain Celestial (HAIN) - Get Report. That's right. Both. You buy just one it doesn't move the needle. You buy them both and you have the fastest-growing food company in the industry. This one is such a ridiculous no brainer it drives me crazy that it hasn't happened yet. They should do it before Nestle does it. Or Danone. Or Mondelez (MDLZ) - Get Report. The latter would be especially great because then Mondelez can change its name to WhiteWave or Hain. Anything's better than Mondelez. Please!
Apple (AAPL) - Get Report should by Harman (HAR) . Right now, Apple's trying to get into the connected car with CarPlay. Harman's already in the cars. I wanted Apple to buy Netflix (NFLX) - Get Report to own the living room but I think that's too late. Netflix has moved too much. For $12 billion Apple could buy Harman for $180, a nice premium over the current $121 price and it would own the car. Car's as good as the home.
Finally, Johnson & Johnson (JNJ) - Get Report should buy Bristol-Myers (BMY) - Get Report. Why not? JNJ has so many good franchises but it can't rally to save its life. It's down almost 6% for the year. Bristol's up 11% for the year and it has a fantastic cancer franchise, which could really dovetail nicely with JNJ's business. Obviously JNJ, which is a $272 billion company, could fire everyone at the $109 billion BMY except the scientists and JNJ, which is at $98, opens at $120 the next day.
Far-fetched? Just the opposite. All of these would produce higher prices for the acquirers. How do I know this? Because this is what I do, try to figure out how stocks can go higher.
It's not idle. The CEOs of every single one of these companies save Apple, which doesn't need to do anything, know these are right to do. Go do them. Go make us some money.
How Europe Will Determine the Timing of a U.S. Rate Hike
Posted on June 17 at 3:29 p.m. EDT
Only in this stock market would a statement from the Fed that says things are kind of OK inspire a rally.
Yep, today the Fed told you what we know: that the gross domestic product of our nation is not as robust as we thought but the labor market is a little better. More important, but not stressed in its statement, is that the Fed said it is watching international events as it makes its decisions.
Why is that important? Because so often in the past the Fed acted as if overseas markets shouldn't be included in the calculus. Right now, though, we have this incredibly insane situation developing in Greece where we may see a modern-day European government repudiate its obligations and stick it to its neighbors. We could see a democratically elected government just saying "so long suckers" to all of its lenders and 11 million people could cause incredible chaos if it's handled badly and unexpectedly.
Right now, it is clear that there's no backup plan if these talks between Greece and the rest of Europe break down. If there would be a clear path set out by the European Union that says, "Greece, you default and you are out of the euro and you will get no more money," then we would be better off than we are right now, where it is all unknown.
And that's why I believe the Fed couldn't do anything even if it wanted to. Why not wait and see?
Which brings me to a key point in the debate about if or when the Fed raises rates.
The Fed has a schedule of when it meets. That schedule is etched in stone. Today's meeting happened to fall smack in the middle of the last-ditch portion of Greece negotiations. That's just bad luck for the Fed. It's entirely possible, say, if this meeting were to have been held, per chance, the day after Europe makes a deal with Greece (if there is a deal to be had), I think the Fed would say, "We are going to raise rates next meeting if we keep getting these good employment numbers." If the talks breakdown into pure chaos then, I think the Fed can say, "Glad we waited."
In other words, say the meetings occurred on the last day of the month rather than the middle, the Fed would then have a better handle on Greece. It could move then. The happenstance of a meeting booked a long time ago occurring in the midst of when the Greeks are threatening to bring down the European order wasn't ignored today.
I think it is terrific that the Fed considers the European implications because, try as we might, we can't distance ourselves from them. A weak euro is causing some of the slowdown in the real U.S. economy and the Fed noted that in its statement. Twenty-seven out of thirty companies in the Dow will be affected negatively if there is no deal and Greece gets the boot.
So, a Fed that takes the world into account is a thinking Fed, which is all you can ask for. We recently heard from Christine Lagarde, the head of the IMF, who asked that the Fed not raise rates now because of the difficult European issues. It looks like the Fed heard her and Fed Chief Janet Yellen didn't deny that.
Yellen knows that a hike's a really big deal, and the timing is wrong. It might be better down the road. But at least let's get down the road first before it's decided.

4 Ingredients to Baking This Rally Cake
Posted on June 18 at 2:45 p.m. EDT
It's one part benign Federal Reserve, one part dollar decline, one part possible Greek bailout and about five parts skepticism and negativity. That's the recipe for this kind of rally.
I know, right now, with the averages taking out old highs, it is difficult to believe that there is enough negativity and skepticism to go around. Yet I think there is, as I will demonstrate, and that pessimism may be the most crucial ingredient to baking a rally cake. Especially when you infuse it with a worry reduction sauce that stems from a more benign news backdrop.
Let's start with this Federal Reserve meeting yesterday because, obviously, that's the proximate cause of the advance. If you listened to the press conference after the Fed statement was released, you might have said to yourself, isn't anyone listening to what Fed Chair Janet Yellen is saying? She's saying things are better, not great, and while there is a cost to holding off raising rates, right now, at this very moment, it is outweighed by the risks.
Only in a world where hotshot money managers who are underexposed to the market and political people who believe in a laissez faire form of government, is this commonsensical view derided. If I were Janet Yellen at the end of this press conference I would be tempted to go all "Super Bowl winning coach Bill Belichick," on the reporters and say something that he might say to the jackals in the sports media. Something like, "What is it about what I am saying you don't get? I am not going to tell you when we are going to raise rates until it is a better time to raise rates. I am not playing your game. You don't even matter. I have no time for you," and then stalk off the podium.
Yellen isn't out to please hedge fund managers who are short stocks and bonds. She's not about laissez faire, either. She saw how badly that played out in the last decade. She probably equates laissez faire -- which is the real name for a lot of the jibber-jabber I hear -- with the Irish Potato Famine of 1847 where the British blamed the Irish for being slothful and growing the wrong crops. She's out to try to help the economy, not hurt it.
She didn't go with the bearish script, which would have been to say, "In September we are going to raise rates no matter what." It didn't happen and that opened the door for this magnificent rally, which is, in part, related to managers who realize now they have to start buying stocks because Yellen's not necessarily going to lower the boom three months from now.
Next skepticism? The Greek bailout. We have seen a remarkable turn of events in the last five days' time. We have gone from believing that there will be an eleventh-hour save so don't worry about Greece, to thinking, you know what, these talks are going to break down and it will be total chaos as Greece is kicked out of the euro, to, hey, when Greece is kicked out it won't be so bad because we can see a path of default and drachma introduction that will be harsh but not cataclysmic, to, amazingly, that if Greece defaults, it will be Germany's fault. Hence why German Chancellor Angela Merkel sounded conciliatory today, even as the Greek leadership obviously scorns her.
Yes, this narrative has changed radically since a week ago. The onus has switched from the Greeks needing to make a deal, to the Germans needing to make a deal or the Germans will be derided for losing Greece to the East -- maybe Russia or China -- while also hurting all of the other countries in Europe. There's a budding resentment that Germany's been the biggest beneficiary of the euro, something that's openly true, to a belief that it has to transfer some of that wealth to Greece in return for basically nothing, which while unpalatable to the German leadership, beats looking selfish and unforgiving.
Either way, as the potential failure of the talks at last gets built in, the unknown factor gets tossed out and that's a good thing for the market.
I am non-stop talking about the super-freakin' strong dollar because we are on the cusp of earnings season and investors know that analysts are going to have to cut numbers and cut them big unless the dollar goes down in value. Remember what I always tell you, stocks go higher when estimates go up and stocks go lower when estimates go lower.
We get constant reminders of this. Oracle's (ORCL) - Get Report down today in part because we are all tired of hearing, "Here's how we would have done if the dollar weren't so strong." Now we just say, "This is how you are doing, period, kiddo."
Or to put it another way, you missed estimates, Oracle, and we don't care if it is because of the strong dollar, we are sellers of your stock.
Same thing happened the day before with Federal Express (FDX) - Get Report. No one's asterisking the strong dollar any more as an acceptable excuse. That's why when the dollar went down because the Fed put off a rate increase, the stocks of companies that have the most overseas exposure started doing the best.
I like to use two stocks to best monitor the dollar's impact: Boeing (BA) - Get Report and 3M (MMM) - Get Report. They are actually the only two you need because they are both incredibly well-run companies that do much better when the dollar is weak than when it is strong.
Boeing benefits because the weak euro is a huge subsidy for its mortal enemy competitor, Airbus. 3M is a uniquely international company that happens to be based in Minnesota --- remember one of those "M"s stood for Minnesota -- and only a third of its revenues are derived from business in the U.S. So when the dollar goes down these stocks fly.
If you are a Boeing shareholder I am sure it was quite jarring this week to watch your stock do nothing despite Boeing arguably clobbering Airbus in the order game at the Paris Airshow. But with the rate increase out of the way and the dollar going down, the orders suddenly matter and the stock's shining. Both 3M's and Boeing's earnings estimate forecasts for 2016 could rise, perhaps dramatically, if we, at last, bury the superfreakin' strong greenback; whoever ends up on the ten spot, goes lower.
Now how else do you measure negativity? We have the traditional way, which is the actual tally of bulls and bears taken by the Investors Intelligence poll that comes out every Wednesday. I was shocked yesterday to see that the index had the fewest number of bulls since October, which, you should remember, is the last launching pad to a tremendous rally. That bottom came at a time when we realized that Ebola could be contained. Hitherto it scared so many money managers that they became overly negative at the exact bottom. Or, one could argue, they caused the bottom with their negativity.
The second measure will surprise you, and that's the Fitbit (FIT) - Get Report IPO. I was walking around the New York Stock Exchange today and a lot of the guys I talk to thought that this stock opened up way too high. Others told me they were anxious to short it.
I was shocked it didn't open up much more. Why? Because it happens to be a terrific company with tremendous sales, and, more important, earning growth. As CEO James Park said to me and my pal Scott Wapner, Fitbit isn't one of those companies that says, "We aren't going for profitability because the opportunity for big sales is too great." This company's always been focused on profitability. Which is why I think, if anything, it was undervalued even after today's pop.
This company has outrageous, albeit obviously unsustainable, 441% earnings growth. But let's say earnings for the year slows abruptly to 50%, which is pretty ridiculous given how well it is doing, and then say it slows further to just 30% for 2016, way below what anyone's looking for. Do you know that this stock sells at only 23 times those ridiculously low-ball earnings estimates? That's a substantial discount to the very comparable GoPro's (GPRO) - Get Report stock. That's preposterously cheap. But it's that way because people think it's a fad and that Apple (AAPL) - Get Report will crush them with its watch.
Nope. Not going to happen.
So, a commonsensical Fed, a weaker dollar, a disaster scenario and investor negativity have all combined to produce a combustible rally. We know the drill. Any one of these props can go away. However, the Fed heads aren't immediately going to contradict the chairwoman when they shoot off their mouths and there's a way out of the nightmare Greek narrative just when people have gotten way too negative. That's why the rally seems for real and the dip was, indeed, investable, once again.
At the time of publication, Action Alerts PLUS, which Cramer co-manages as a charitable trust, was long TWTR, WWAV, AAPL, JNJ, MMM and HOT.