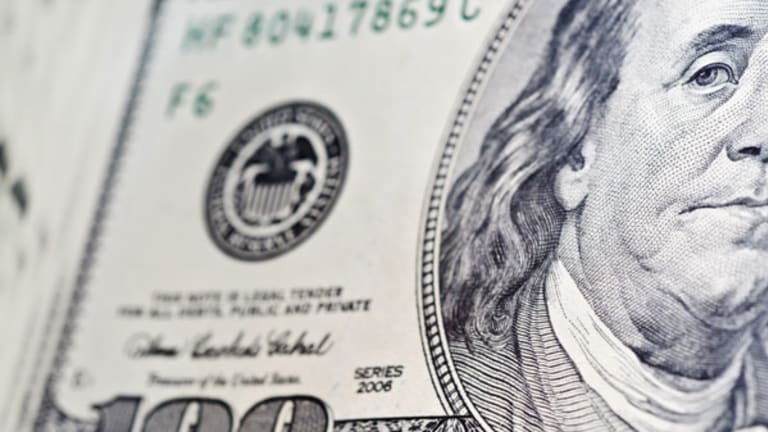 10 Dow Dogs That Are Barking for Gains
Will these high-yielding Dow stocks outperform again?
BALTIMORE (Stockpickr) -- For the last two decades, the "Dogs of the Dow" has been one of the most widely circulated investment strategies out there, offering a individual investors with simple formula to beat the market: Simply buy the 10 highest-yielding Dow stocks at the start of each year, and hold on.
So should you be buying the dogs in 2012?
When Michael O'Higgins introduced his strategy in 1991, it took the market by storm. Backtesting showed that the Dogs of the Dow strategy significantly beat the broad market from the 1920s on. The justification was that the big names of the Dow don't kowtow to market conditions, so their high dividends reflect strong businesses trading cheaply. But the strategy got a black eye during the 1990s, when it trailed the market by a significant clip.
>>5 Stocks Ready for Big Dividend Boosts
So should you be buying these names, or have the Dogs of the Dow lost their bite?
It shouldn't have been a huge surprise that the Dogs of the Dow failed to beat the market during the bull run of the 1990s. During the tech bubble, staid Dow names couldn't possibly move as much as the more volatile tech names that were gaining increasing weight in market indices. While some market watchers have written off the Dogs strategy as a case of
gone awry, the fundamental argument for buying high-yielding Dow stocks negates at least part of that argument.
The timing element of the Dogs strategy can be thrown out -- January isn't perennially the best time to buy stocks. So can the number of stocks in the mix. While the diversification aspect of 10 stocks is great, these names are defensive by their nature, so picking a smaller kennel of stocks isn't necessarily a bad option. But the strategy itself still holds water, and in the last couple of years, the results show it.
The Dogs of the Dow returned 20.5% in 2010 and 16.3% in 2011, dramatically outperforming the broad market both years. Today, we'll take an analyst's look at the
.
AT&T
With a dividend yield that weighs in at 5.5%, telco giant
AT&T
is the highest-yielding Dow name by a long shot. And outperformance has been the result: In the last year, AT&T has beaten its home index by around 7% when dividends are factored in. That performance looks primed to continue in 2012.
AT&T owns the largest cellular carrier business in the country, a fact that's often lost on investors. While top rival
Verizon
(VZ) - Get Verizon Communications Inc. Report
has more subscribers, the firm only owns 55% of its cellular cash cow, versus AT&T's 100% ownership of AT&T Mobility. Early adoption of the iPhone left AT&T with a massive chunk of higher-return smartphone customers, which, when coupled with the firm's legacy landline business, throws off serious cash flows.
That should help guarantee that AT&T's payouts keep flowing in the future.
AT&T shows up on a recent list of
10 Dividend Stocks Still Paying Outsized Yields
.
Verizon
That brings us to the aforementioned Verizon. While Verizon doesn't own its entire network, the firm is no slouch when it comes to scale. Close to 100 million users sit on Verizon's network, giving the firm major cost advantages that pay for things like tower infrastructure improvements. Like AT&T, Verizon also owns a lucrative fixed-line business, which serves residential and business customers across the country.
The introduction of FiOS internet, TV, and phone service has been a costly project for VZ, but it's one that should pay off in spades in the long-term. Because FiOS has higher capacity than traditional coaxial cable, customers are drawn to the new features that the fiber optic cable can support. Impressive cash generation should mean that the firm can continue to pay off significant debt while it shells out dividends.
Verizon's dividend currently yields 5.09%, making it the No.2 Dog of the Dow.
Verizon shows up on a list of
Telecom Stocks Bought and Sold by Hedge Funds
in the most recently reported quarter and is one of the
Top 10 Dividend Stocsk to Own Until Retirement
.
Merck
Big pharma giant
Merck
(MRK) - Get Merck & Co., Inc. (MRK) Report
takes the No. 3 spot on the Dow with a yield of 4.35%. Pharma stocks in general tend to have higher payouts right now, the result of Mr. Market's discounting for the massive black clouds of patent dropoffs overhead. With most major pharmaceutical stocks losing key drugs in the next couple of years, investors are understandably concerned. But Merck is has some defenses against the loss of blockbuster names like Singulair.
One of the biggest defensive moves was the acquisition of Schering-Plough in 2009, a purchase that dramatically expanded its late-stage pipeline and grew its consumer products exposure. While there are still some major unknowns in Merck's pipeline, it certainly beats not having a backup plan. This company generates significant cash right now -- as a result, it's got the wherewithal to handle some revenue bumps in the near-term.
At this point, patent risks are already priced into shares.
Merck shows up on a recent list of
10 Dividend Stocks Held by Highly Rated Fund Managers
.
Pfizer
Pfizer
(PFE) - Get Pfizer Inc. Report
shares a similar plight. Like Merck, the firm took the consolidation route to reduce patent exposure risks, buying Wyeth to expand its drug pipeline and add some marketable offerings to its stable. That should take away some of the sting from the recent loss of Lipitor from patent protection.
Another benefit of the Wyeth acquisition comes a few lines lower on Pfizer's income statement: its costs. The combined firm is expected to realize significant cost savings by operating under a single umbrella. A more cost-effective model will be crucial as PFE navigates this environment. With an impressive balance sheet (Pfizer's hoard of cash effectively makes the firm debt-neutral) and good prospects in its pipeline, there's still reason not to skirt this stock.
A 3.97% yield is just another one of those reasons.
Pfizer, one of
, shows up on a list of the
10 Most Popular Hedge Fund Stock Picks
for the most recently reported quarter.
Johnson & Johnson
Next up is
Johnson & Johnson
(JNJ) - Get Johnson & Johnson (JNJ) Report
, a health care products stock that takes the No. 5 spot on the Dogs of the Dow list thanks to a 3.5% dividend yield. I like to say that Johnson & Johnson is the "prototypical
" -- the firm boasts a large, defensible business, a massive hoard of cash (around $12.6 billion net) and name recognition that few firms enjoy.
All of those factors make JNJ a firm that investors shouldn't ignore.
Johnson & Johnson's business includes everything from consumer products like Band-Aid brand bandages to pharmaceuticals and medical devices. While that pharma exposure comes with the same concerns we're seeing at MRK and PFE, outsized consumer exposure dramatically reduces that risk. Right now, pharmaceuticals make up just over a third of JNJ's sales, versus more than 90% at Pfizer, for example.
That makes this firm a solid core income holding for investors searching out Dow Dogs for their portfolios.
I also featured Johnson & Johnson, one of the
, in
5 Cash-Rich Stocks to Buy in 2012
.
General Electric
General Electric
(GE) - Get General Electric Company (GE) Report
is another name that should probably qualify for "prototypical blue-chip" status. This firm is involved in a bevy of heavy manufacturing segments, from making jet engines to wind turbines and medical equipment. It's also arguably the only way to get financial sector exposure in your Dogs of the Dow portfolio; with around 25% of GE's profits coming from its financial services arm, the company is uniquely positioned to offer investors instant diversification.
GE's industrial arm is still the most attractive part of the firm. While industrials took their knocks during the recession when clients got shy about acquiring capital-intense assets, GE is making up for lost time in 2012.
And investors have been taking note, making GE one of the
in the last quarter.
The firm's 3.4% dividend yield cements it in sixth place on the Dogs list.
As of the most recently reported quarter, General Electric is one of
.
Procter & Gamble
As one of the world's largest consumer products manufacturers,
Procter & Gable
(PG) - Get Procter & Gamble Company Report
is no stranger to Dow investors. But a 3.11% dividend yield gives this stock Dog status for 2012 -- and makes shares worth taking a second look at today.
Procter & Gamble owns some of the most well-known consumer brands out there, from Tide detergent to Charmin toilet paper to Gillette razors. That consumer non-cyclical exposure has been a big benefit for shareholders looking for defensive positioning during shaky market conditions. Because P&G's offerings are crucial for households, and customer stickiness relatively is high for most of its brands, the firm never saw the recessionary sales drops that Wall Street expected back in 2008 and 2009.
Now increasing international exposure is P&G's path to growth. As a burgeoning middle class in the emerging markets starts spending more on household goods, Procter is taking an increasing share of buyers' shopping baskets abroad. Lowered costs should be an important trend to watch in 2012.
Procter & Gamble, one of the
top-yielding consumer non-durables stocks
, is also one of
10 Top Warren Buffett Dividend Stocks
.
DuPont
Chemical manufacturer
DuPont
(DD) - Get DuPont de Nemours, Inc. Report
is one of the most innovative firms in the world when it comes to material sciences. The firm has its hands in everything from bulletproof vests to genetically modified agricultural products. By spreading its focus across disciplines and industries, the firm is able to avoid some of the cyclical nature of the chemical business -- exposure to commodities markets and biofuels should help to drive growth in the near-to-mid-term.
DuPont lives and dies by its ability to develop and market new chemical and fiber offerings. By that standard, the firm has been immensely successful, churning out products that end-users demand. The firm's corporate culture (and the abundance of "lifers" working there) is a big part of fostering that innovation. R&D spending will continue to be a necessary factor for this firm to succeed long-term.
DuPont's 3.1% dividend payout gives it the number-eight Dog status right now.
I also featured DuPont, one of the
, in "
5 Breakout Stocks You Need to See
."
Chevron
Oil supermajor
Chevron
(CVX) - Get Chevron Corporation Report
takes the No. 9 spot, with a dividend payout of 3.03%. Chevron has been minting cash in the last year and change, propelled in the last quarter or two by consistently high oil prices. Because Chevron is completely vertically integrated from its E&P operations all the way to selling gas at the pump, the firm is able to benefit disproportionately when crude prices flirt with triple digits.
Those sustained high prices could also make new projects economically viable in 2012. Investors will want to be sure that CVX doesn't sink too much capital into higher-cost wells.
Chevron is essentially a
, with net cash and investments that weighed in at $33.13 billion at last count. While it's challenging for Chevron to materially add to its massive capacity, rising oil prices should make finding high-return investments for that dry powder a whole lot easier in the months and years ahead.
I also featured Chevron, on of
9 Gold, Oil Stocks That Rise on Bad News
, in "
5 Energy Stocks Funds Love Right Now
."
Kraft
Rounding out our list at number-ten is
Kraft
(KFT)
, the $67 billion packaged food company that owns brands like Nabisco, Oscar Mayer, and Kool-Aid, in addition to its eponymous blue boxes of macaroni and cheese. While rising input costs are a major challenge for Kraft, the firm's scale means that it's better able to pass those costs onto retailers than those retailers can pass them onto consumers. That should help mitigate (but not completely erase) the margin squeeze that some investors are worried about in KFT.
A planned breakup of Kraft's businesses into their snack and grocery arms could potentially extract some value from Kraft's shares while maintaining an impressive dividend payout for investors. At the same time, an ongoing restructuring plan should help push more money from Kraft's sales down to its bottom line - with that same result of leaving more money for the firm's shareholders.
Kraft's dividend yield currently rings in at 3%, making it one of the
top-yielding food and beverage stocks
, as well as one of
10 Stocks That Will Let You Retire
.
To see these stocks in action, check out the
on Stockpickr.
-- Written by Jonas Elmerraji in Baltimore.
RELATED LINKS:
>>5 Rocket Stocks Worth Buying This Week
>>6 Dividend Stocks That Want to Pay You More Money
>>5 Uptrending Stocks That Could Pop
Follow Stockpickr on
and become a fan on
Facebook.
At the time of publication, author had no positions in stocks mentioned.
Jonas Elmerraji is the editor and portfolio manager of the Rhino Stock Report, a free investment advisory that returned 15% in 2008. He is a contributor to numerous financial outlets, including Forbes and Investopedia, and has been featured in Investor's Business Daily, in Consumer's Digest and on MSNBC.com.