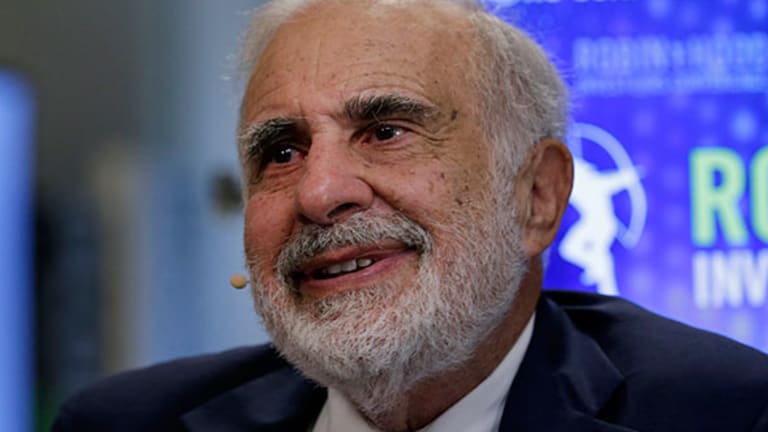 Publish date:
10 Big Investors No Company CEO Ever Wants to Hear From
Shareholder activists are mounting campaigns at a record pace, and few are more successful and feared than these ten.
Shareholder activists are mounting campaigns at a record pace, and few are more successful and feared than these ten.
NEW YORK (TheStreet) -- If it seems like activist investors are more, well, active than ever, you're not imagining things.
In 2014 alone, activists took up positions in 344 companies, a nearly 20% increase from the activity in 2013, according to The Activist Investing Annual Review 2015. Hardly a day seems to go by without news of an activist shareholder armed with billions of dollars targeting a huge and well-known U.S. company.
Here are some of the most successful and feared among them.
1. Carl Icahn -- Icahn Enterprises

In recent months, conglomerate Manitowoc (MTW) - Get Report  and online auction house eBay (EBAY) - Get Report have agreed to spin off assets at the behest of legendary corporate raider-turned-activist Icahn, and in both cases it hasn't been enough. The billionaire activist has recently made pressing for governance changes at companies he's targeted for spinoffs a hallmark of his campaigns.
Case in point: Icahn pressured Manitowoc to strike a deal that would make it easier for an activist or hostile bidder to pressure the company's food service equipment unit (which is being spun off in response to Icahn's demands) into a deal once it is completely spun off from the company's cranes business. That is being done through governance changes Manitowoc agreed to for the company's food service business. 
Last year, Icahn even went after tech giantApple (AAPL) - Get Report , demanding that CEO Tim Cook buy back more shares. Apple raised its share repurchase program only to have the activist return again just this month, telling the company to buy stock back faster.
2. Bill Ackman -- Pershing Square Capital Management
Earlier this month, Ackman reached a deal with animal health care company Zoetis (ZTS) - Get Report to expand its board and add a dissident director.
His highest-profile campaign of 2014 involved the fund's partnership with Valeant Pharmaceuticals International (VRX) in their joint $45 billion hostile bid for Allergan (AGN) - Get Report . (After Valeant lost out to a cash and stock offer valued at $129 per share or $66 billion from Actavis (ACT) - Get Report , one activist fund manager gushed that Ackman deserved "massive credit" for the unusual effort that was "charting new territory.")
3. Jeff Smith -- Starboard Value
Starboard has probably made the biggest waves over the past year. Staples (SPLS) agreed to acquireOffice Depot (ODP) - Get Report earlier this month after being pressured by Smith. That was after Office Depot struck a deal to acquire OfficeMax. Smith got a board seat in that merger saying he wanted to oversee the integration.
Another high-profile win for Starboard came last year when the fund took over the entire board of Darden Restaurants (DRI) - Get Report after a hard-fought proxy fight. Smith has also been agitating forYahoo! (YHOO) to merge with smaller rival AOL (AOL) .
4. Jeff Ubben -- ValueAct Capital Partners
Financial data provider and governance advisor MSCI (MSCI) - Get Report recently agreed to expand the size of its board to 12 members and appoint three new directors as part of an agreement with Jeffrey Ubben of ValueAct. The agreement comes after Ubben sent a letter to MSCI on Jan. 6 expressing "great frustration" with how the board of MSCI had been handling its request for a director seat.
Ubben is probably best known for winning a seat on the board of Microsoft (MSFT) - Get Report back in 2013.
5. Nelson Peltz -- Trian Fund Management
Peltz has been engaged in takeovers since the 1980s, but the co-founder of Trian Fund Management is still going strong. Last year, he was busy pressing PepsiCo (PEP) - Get Report to split up its beverage and snack-food units. He settled with the beverage giant, for now, by having retired Heinz CEO William Johnson added to the company's board.
Peltz has also engaged with financial institutions. Last year Bank of New York Mellon (BK) - Get Report added Peltz's co-founder Ed Garden to its board.
6. Paul Singer -- Elliott Management
Singer often approaches technology companies with what amount to stalking-horse bids to pressure them to sell. Last year, he put in a $3 billion bid for Riverbed Technology (RVBD) , which sells enterprise hardware and software systems. At the end of the year, the company was sold toTeachers' Private Capital and Thomas Bravo for $3.6 billion.
Recently, Elliott revealed a stake in data integration software company Informatica (INFA) -- a company that was on The Deal's list of most likely activist targets -- and said the company's shares were "significantly undervalued."
7. Barry Rosenstein -- Jana Partners
After Rosenstein called on PetSmart (PETM) to sell itself, the pet retailer did just that. The company went to a BC Partners-led consortium for $8.7 billion -- the biggest leveraged buyout of 2014.
Jana also revealed a small stake in McDonald's (MCD) - Get Report last year, but there hasn't been an inkling of a campaign at the fast food chain -- yet.
8. Thomas Sandell -- Sandell Asset Management
Sandell's most recent campaign was unveiled in January, when the activist sent a letter to the board of midstream service company SemGroup (SEMG) - Get Report , telling it to sell itself given low commodity prices and sector consolidation.
Last year, Sandell went after Bob Evans Farms (BOBE) , telling it to split up its businesses. Though the activist didn't get his full slate elected, he got directors on the company's board, giving him a say in the company's direction.
9. Dan Loeb -- Third Point
Loeb is perhaps best-known for his recent fight with auction house Sotheby's (BID) - Get Report . After a knock-down, drag-out proxy fight that included some memorable letters from Loeb to the board and investors, including one excoriating senior management for lavish meals at expensive restaurants, the hedge fund manager settled for seats on the company's board.
10. Mario Gabelli -- Gamco Asset Management
Gamco launched 55 activist campaigns at U.S. companies from January 2009 to mid-2014, according to statistics from FactSet. Though more of a merger-arb investor, Gabelli has gotten involved with a number of proxy fights and doesn't take no for an answer.
Most recently, Gabelli continued his multi-year saga of seeking to influence plastics manufacturer Myers Industries (MYE) - Get Report .