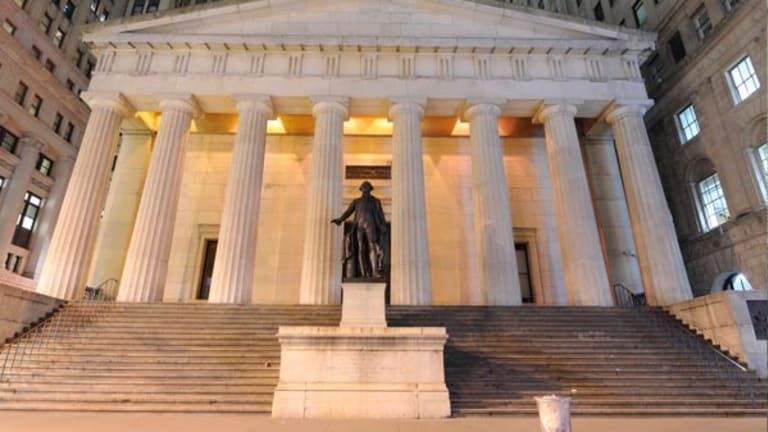 Publish date:
10 Best-Performing S&P 500 Stocks of 2011
Energy and tech has led the index so far this year.
Energy and tech has led the index so far this year.
BOSTON (TheStreet) -- The S&P 500 Index has advanced 7% in 2011 as investors ignored weaker-than-expected U.S. economic growth, Chinese inflation and the Japanese disaster and, instead, focused on corporate profits and accommodative monetary policy. However, not all index components performed comparably. The following 10 stocks have delivered the biggest gains this year. Below is a closer look at the stocks, ordered by 2011 return.
10.
Wynn Resorts
(WYNN) - Get Report
owns hotels and casinos. Its Wynn Macau resort, located in the burgeoning gambling capital of China, continues to exceed all expectations, boosting first-quarter revenue 47%. The once-lagging Las Vegas properties are also rebounding, having grown sales 24% in the first quarter. The report, released on April 19, was indisputably positive. Net sales beat the consensus estimate by 9.1% and adjusted earnings beat by an eye-catching 88%, helping to sustain Wynn's share-price momentum. Its stock has risen 39% in 2011.
9.
Humana
(HUM) - Get Report
is a health- and supplemental-benefits manager, with a market value of nearly $13 billion. The company's stock has appreciated 40% in 2011, easily outperforming major indices. Humana delivered a poor fourth-quarter report, missing the consensus earnings forecast by 19% and sales by 0.4%. Still, a recent dividend initiation and sustained sales growth have attracted investors to the health-care stock. Also, recent contract wins
a subsidiary won the South region TRICARE contract and elevated profit guidance has goosed the stock 39% in 2011.
8.
Marathon Oil
(MRO) - Get Report
is an integrated oil and gas company with exploration, production, refining and marketing operations. With a market value of $37 billion, Marathon, based in Houston, is large enough to have integrated operations, but lacks the global scale advantages of
Exxon
(XOM) - Get Report
and
Chevron
(CVX) - Get Report
. Planning to spin off its downstream operations into
Marathon Petroleum
, management is focused on enhancing exploration. The stock is up 40% in 2011. Shareholders will receive one share of Petroleum for every two shares of Oil held.
7.
Tesoro
(TSO)
is an oil-and-gas refining and marketing company, selling gasoline and diesel fuels through more than 880 retail stations in the U.S. Refiners become substantially more profitable when gasoline prices climb. Thus, the recent spike in crude oil disproportionately benefits companies like Tesoro, which is expected to report a 61 cent adjusted per-share profit on May 4, after posting a loss of 84 cents for the year-earlier period. Sales are expected to have grown 28% to $5.8 billion. Tesoro's stock has rallied 41% in 2011, but is down 1.6% in a month.
6.
Micron
(MU) - Get Report
manufactures memory chips for personal computers, flash drives and digital cameras. Micron, widely expected to suffer margin compression and increased competition in 2011, has bucked the trend. After falling 24% in 2010 and ranking among the worst-performing and cheapest S&P 500 stocks, Micron has surged 46% in 2011. Fiscal second-quarter adjusted earnings tumbled 87% to seven cents, but beat the consensus estimate of just two cents as Micron posted a 19% gross margin. That margin is expected to rebound to 23% next quarter.
5.
Helmerich & Payne
(HP) - Get Report
is a contract driller for oil and gas. Its orders have jumped since oil passed $90 a barrel and they're expected to grow in 2011. Helmerich's adjusted fiscal first-quarter earnings surged 59% to 96 cents, beating analysts' consensus estimate, as sales soared 50%. And, still, the stock trades at a 26% earnings discount to its peers. What's key for Helmerich & Payne is so-called rig utilization. In the last quarter, 84% of its rigs were used, up from 62% a year earlier. The company, which owns rigs for complex drilling, releases earnings today.
4.
Cabot Oil & Gas
(COG) - Get Report
produces and stores natural gas for resale. Its realized natural-gas price fell 28% in 2010, but hedging helped offset that drop. Cabot is involved in the Marcellus shale project. As a result, Morgan Stanley expects Cabot to boost total production 40% in 2011. Recent Middle East turbulence should benefit the longer-term demand for natural gas, which, unlike oil, is overflowing in the U.S.
3.
H&R Block
(HRB) - Get Report
provides tax-return preparation and filing to individuals in the U.S. Its stock has risen 39% in 2011, after having fallen 47% in 2010. More and more Americans are shirking accountants and using tax-prep software, such as TurboTax from
Intuit
(INTU) - Get Report
, to file their returns. H&R's
Block at Home
is gaining traction, though. Adjusted fiscal third-quarter earnings tumbled 69% to 6 cents, but beat consensus by 33%, even as sales fell 10%. Total tax returns prepared have grown 6.1 % this tax season and retail returns prepared are up 3.6%. Total online returns prepared soared 27% and total digital returns climbed 12%. H&R was prohibited from offering refund anticipation loans this year. Management expects market share gains in 2011.
2.
Biogen Idec
(BIIB) - Get Report
is a biotechnology company, with numerous late- and early-stage drug candidates.Its stock has jumped 48% in 2011 as the company delivered a solid, though not outstanding, quarterly earnings report, but its stock jumped 15% in reaction as management signaled that BG12 Phase III clinical data came in better than anticipated, indicating that competition to Biogen's multiple sclerosis franchise may be less threatening than anticipated. Biogen's stock is still reasonably valued, selling for 16-times forward earnings, a 40% industry discount.
1.
National Semiconductor
(NSM)
is a chipmaker, focused on analog and mixed-signal integrated circuits and sub-systems. The company's stock has rocketed 76% in 2011 as
Texas Instruments
(TXN) - Get Report
tendered an offer of $6.3 billion, or $25 a share, in cash, for the company's outstanding shares. Texas Instruments, whose revenue has advanced a more modest 7% in 2011, is hoping to expand its exposure to the fast-growth power management arena, in which National has a strong presence, which will benefit from TI's global sales force and manufacturing operations.
10 Best-Performing S&P 500 Stocks Portfolio
-- Written by Jake Lynch in Boston.
RELATED STORIES:
Microsoft Investors' Patience About to Pay Off
Become a fan of TheStreet on Facebook.
Disclosure: TheStreet's editorial policy prohibits staff editors, reporters and analysts from holding positions in any individual stocks.