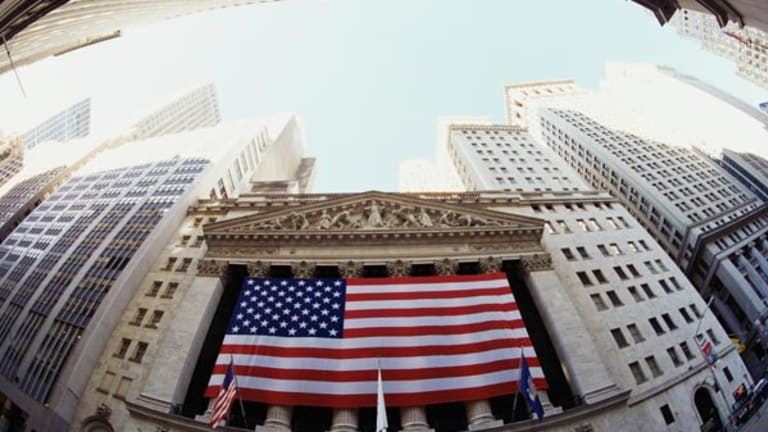 Publish date:
10 Best-Performing S&P 500 Stocks of 2011
Stocks in the U.S. benchmark have risen as much as 43% in 2011.
Stocks in the U.S. benchmark have risen as much as 43% in 2011.
BOSTON (TheStreet) -- The S&P 500 Index has risen more than 4% in 2011, a faster pace than last year. But, recent geopolitical uncertainty has held back gains.
The benchmark for U.S. stocks has fallen from a high of 1,343 reached Feb. 18. Unrest in the Middle East and the subsequent spike in the price of crude oil spooked investors about consumers' tolerance for higher gasoline prices. Then, the earthquake and ensuing nuclear calamity prompted a sell-off. Shares rebounded in the past week, but there are other risks looming -- a host of geopolitical concerns and the threat of slower economic and profit growth.
10 Worst-Performing S&P 500 Stocks of 2011
Amid this backdrop of uncertainty, the following
have delivered outstanding 2011 gains, rising at least 32% and as much as 43%. Below is a look at what propelled their share prices.
10.
CBS Corp.
(CBS) - Get Report
is a diversified media company, with television broadcasting, publishing and billboard advertising businesses.
The company's stock has jumped 30% in 2011 on strong quarterly results and expectations for higher advertising demand, and rates, as the recovery accelerates. CBS has lucrative broadcasting deals, including the rights to AFC
NFL
games and to the
NCAA Men's College Basketball Championship
.
Its stock, still reasonably valued, costs 13-times forward earnings, a discount of more than 50% to the media industry average. CBS recently inked a deal with
Netflix
(NFLX) - Get Report
, which will stream its content online, and was named a
Morgan Stanley
(MS) - Get Report
Best Idea
. The company is predicted to buy back billions of dollars worth of shares in 2011 and 2012.
9.
Helmerich & Payne
(HP) - Get Report
is a contract driller for oil and gas. Its orders have jumped since oil passed $90 a barrel and they're expected to grow in 2011.
The company's shares have appreciated 33% in 2011, easily outperforming benchmark indices. Helmerich's adjusted fiscal first-quarter earnings surged 59% to 96 cents, beating analysts' consensus estimate, as sales soared 50%. And, still, the stock trades at a 26% earnings discount to its peers.
What's key for Helmerich & Payne is so-called rig utilization. In the latest quarter, 84% of its rigs were used, up from 62% a year earlier. The company, which owns rigs designed for complex drilling, expects business to grow in 2011. Exploration and production companies are rushing to produce and sell petroleum products while prices remain elevated.
Top-Performing Energy Stocks Picked by Funds
8.
Cabot Oil & Gas
(COG) - Get Report
is another beneficiary of growing energy demand. Based in Houston, Cabot is an oil and gas exploration company that also produces and stores natural gas for resale.
The company's stock is up 35% in 2011. Most of Cabot's sales come from natural gas, an abundant resource here in the U.S. that hasn't enjoyed the price jump that crude oil has. Its realized natural-gas price fell 28% in 2010, but hedging helped offset that drop. Adjusted fourth-quarter earnings still tumbled 75% to 19 cents and sales dropped 7.1%.
Cabot is involved in the Marcellus shale project. As a result, Morgan Stanley expects Cabot to boost total production 40% during 2011. Recent Middle East turbulence should benefit the longer-term demand for natural gas, which, unlike oil, is overflowing in the U.S.
7.
CB Richard Ellis
(CBG)
is a commercial real estate company, offering services to occupiers, owners, lenders and investors.
The company's stock has appreciated 36% in 2011, helped by a rebound in the outlook for commercial properties and better-than-anticipated fourth-quarter results. CB's adjusted quarterly earnings gained 25% to 36 cents, exceeding consensus. Sales gained 27%.
CB Richard Ellis recently raised $800 million through term loans to purchase the real estate investment unit of
ING
. Of analysts following the company, three rate its stock "buy" and six rate it "hold." Most feel that the share price has limited upside. The stock has soared 91% in just 12 months. The commercial real estate market, long considered "the next shoe to drop" is turning aroud faster than most expected.
6.
Marathon Oil
(MRO) - Get Report
is an integrated oil and gas exploration and production company with a market value of $36 billion. It discovers, drills for, produces, refines and markets petroleum products.
Marathon's stock has climbed 38% in 2011, besting indices and energy competitors. Its adjusted fourth-quarter earnings more than tripled to $1.09, as sales increased 29%. Marathon is still quite cheap, selling for 8.9-times forward earnings, a 35% industry discount.
About two-thirds of analysts who evaluate the company recommend buying its stock.
Goldman Sachs
(GS) - Get Report
expects it to rise another 33% to $68. Refineries, which generally have poor margins, are soaring because, as oil prices retain $100-a-barrel-plus territory, profits multiply.
5.
H&R Block
(HRB) - Get Report
provides tax-return preparation and filing to individuals in the U.S.
Its stock has risen 39% in 2011, after having fallen 47% in 2010. More and more Americans are shirking accountants and using tax-prep software, such as
TurboTax
from
Intuit
(INTU) - Get Report
, to file their returns. H&R's
Block at Home
is gaining traction, though.
The company's adjusted fiscal third-quarter earnings tumbled 69% to 6 cents, but beat the consensus forecast by 33%, even as sales fell 10%. Total retail returns rose 17% in February and digital returns climbed 13%. H&R was prohibited from offering RALs, or refund anticipation loans, this year by regulators. Still, management expects market share gains in 2011, and H&R's stock costs 9.9-times forward earnings, a 40% industry discount.
4.
Tesoro
(TSO)
is an oil refiner and marketer, turning raw petroleum products into transportation fuels, including gasoline, jet fuel and diesel. It sells these fuels in wholesale and retail markets, with nearly 900 stations selling to car drivers in the U.S.
Tesoro's stock has soared 42% already in 2011 as its outlook improved dramatically. Whereas integrated oil companies' profits improve on higher oil, refiners, like Tesoro, swing from consistent losses to sizable profits as crude prices pop. Tesoro's fourth-quarter loss narrowed 88% to 13 cents a share as sales increased 20% to $5.5 billion. The operating margin climbed into positive territory. Tesoro is still cheap relative to peer equities, selling for a forward earnings multiple of 10, a 26% discount. A third of analysts in coverage rank it "buy."
3.
JDS Uniphase
(JDSU)
makes high-tech products, including test and measurement components for telecom companies and optical modules for medical instrumentation, semiconductor manufacturing and display companies.
The company's stock has returned 39% in 2011 after gaining an impressive 75% in 2010. JDS's adjusted fiscal second-quarter earnings more than doubled to 29 cents, beating consensus by 49%, as sales stretched 38%. Its fiscal third-quarter sales guidance beat expectations, boosting the shares.
JDS still receives "buy" ratings from 54% of analysts covering its stock and is reasonably priced at 18-times forward earnings, a modest peer discount. The company is benefitting from a telecommunications buildout in emerging markets, with 23% of quarterly sales from Asia. Its business in developing regions, like Asia and South America, is rapidly expanding.
2.
Big Lots
(BIG) - Get Report
is a closeout retailer, selling food, health and beauty and decorative products. Its stock has surged 43% in 2011 as management expressed interest in a private-equity takeover.
Big Lots has enjoyed solid sales and profit growth since the recession and is considered a likely retail target. Its fourth-quarter adjusted earnings grew 11% to $1.46, exceeding estimates, as sales advanced 3.8%. The consumer trade-down stocks, also including
Dollar Tree
(DLTR) - Get Report
and
Family Dollar
(FDO)
, have continued to outperform during the recovery because consumers' debt levels and unemployment have remained elevated.
Big Lots shares sell for a forward earnings multiple of 12, a 39% retail-industry discount. Around 31% of researchers rank the stock "buy", giving it lackluster sentiment.
1.
Micron
(MU) - Get Report
designs and manufactures semiconductors for memory components, used in mobile phones, computers and networking products.
Micron's stock has surged 44% in 2011 after dropping 24% last year on concern about market-share losses. During that span, Micron ranked as one of the cheapest S&P 500 stocks based on expected earnings. Its fiscal second-quarter adjusted profit plummeted 87% to 7 cents, but beat the consensus estimate by 367%. Sales rose 15%. Memory-chip prices are among the most volatile in the semiconductor industry, causing profit margins to fluctuate wildly. Micron is still cheap relative to peers, though, costing 8.9-times forward earnings, a 39% discount. Around 70% of analysts rank it "buy."
-- Written by Jake Lynch in Boston.
Visit the 10 Best-Performing S&P 500 Stocks Portfolio
RELATED STORIES:
Morgan Stanley's Best Stock Ideas Now
Become a fan of TheStreet on Facebook.
Disclosure: TheStreet's editorial policy prohibits staff editors, reporters and analysts from holding positions in any individual stocks.