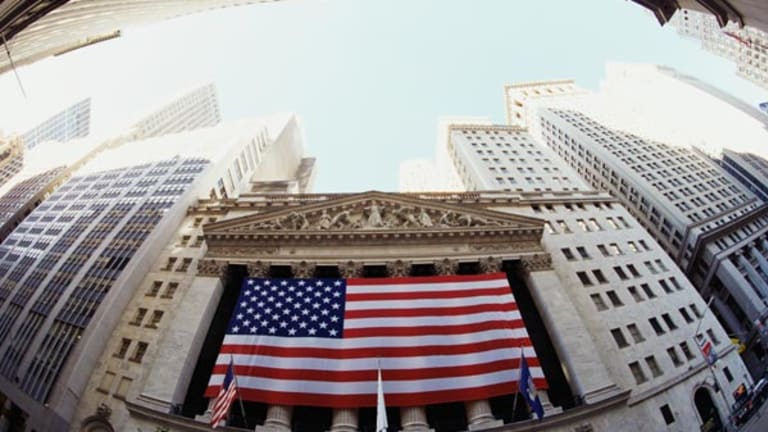 10 Best-Performing S&P 500 Stocks of 2010
The best of the bunch have more than doubled this year. And several are poised to outperform in 2011.
BOSTON (TheStreet) -- The S&P 500 has risen 5.6% so far in 2010, underperforming bonds and trailing last year's stock-market performance. Still, some companies have produced outsized gains. Here is a look at the 10 best-performing S&P 500 stocks of 2010 and their prospects for next year. They are ordered by year-to-date return, from big to biggest.
10.
Citrix Systems
(CTXS) - Get Citrix Systems Inc. Report
is a Fort Lauderdale, Florida-based software-as-a-service and cloud-computing company, designing programs that allow individuals to access data regardless of location, device or network. Citrix's top product, XenDesktop, enables employees to work on a virtualized desktop through company-owned laptops and their home computers. Other products include GoToMeeting, XenServer and NetScaler, which aims to reduce infrastructure costs and boost program speed. Citrix acquired
VMLogic
during the third quarter. It invested in
Kaviza
and bought
Paglo
earlier in the year. An acquisition strategy and strong demand for cloud-computing helped boost sales 66% in the past 12 months and earnings per share 61%.
Outlook
: Citrix's stock has delivered outstanding gains in 2010, jumping 61%, but analysts have moderated their views. Of those covering Citrix, 12 advise purchasing its shares, 20 recommend holding and one suggests selling them. A median price target of $63.06 implies that the stock is 5% above fair value and will decline in the next 12 months. Bullish forecaster
Lazard Capital Markets
expects the stock to advance 21% to $80. On the other end of the spectrum,
JPMorgan
predicts the stock will drop 32% to $45.
9.
AutoZone
(AZO) - Get AutoZone Inc. Report
sells replacement car parts and accessories through more than 4,000 stores in the U.S., Puerto Rico and Mexico. In addition to selling directly to consumers, AutoZone has a commercial business, selling parts to repair garages, dealers and service stations. AutoZone's business picked up during the Great Recession as Americans put off buying new cars. A newfound thrift -- and deleveraging -- have proven to be enduring trends, boosting AutoZone's foot traffic and sales. Revenue has increased 6% a year since 2007, as earnings per share jumped 21% a year. There is no sign that business is slowing. Fiscal fourth-quarter same-store sales rose 6.7% as the company opened 80 stores.
Outlook
: AutoZone's stock has soared 62% in 2010, but researchers have a middling view of its 2011 potential. Of those covering AutoZone, nine recommend purchasing its shares, 17 advise holding and one advocates selling. A median target of $241.36 suggests the stock will decline 6% in the next year. Bullish forecaster
Nomura
expects it to appreciate 28% to $330.
FBR Capital Markets
values AutoZone at $195, implying that it is 24% overpriced.
8. Austin, Texas-based
Whole Foods Market
( WFMI) owns and operates natural- and organic-food supermarkets, selling grocery, meat, poultry, fish, baked goods and prepared foods as well as tea, coffee and vitamins. The company has roughly 300 stores in the U.S., U.K. and Canada. Whole Foods suffered a precipitous drop in sales in 2009 as consumers traded down to discount stores, but it has rebounded impressively in the recovery. Its 12-month sales are up 12% and net profit has gained 67%. Fiscal fourth-quarter identical-store sales, reported Nov. 3, rose 8.7%. Considered a "lifestyle brand," Whole Foods has an avid customer base.
Outlook
: Whole Foods shares have soared 70% this year. Of analysts covering Whole Foods, seven rate its stock "buy," 13 rate it "hold" and two rank it "sell." A median target of $45.69 implies that the stock is overpriced. The company has already opened two stores in its fiscal 2011, with 11 leases tendered and 52 leases signed. Whole Foods still has tremendous growth prospects, but is a costly investment.
7.
Limited Brands
(LTD)
is a specialty retailer of women's intimate apparel as well as beauty and personal-care products. The company owns Victoria's Secret and Bath & Body Works, selling their merchandise through retail outlets, catalogs and Web sites. In the past 12 months, Limited has increased sales 7.7% as profits soared. Third-quarter net income more than quadrupled to $61 million. Comparable-store sales increased 10%. In response, the board paid a $3 special dividend and authorized a new $200 million stock-repurchase program.
Outlook
: Limited's stock has risen 72% in 2010. Nevertheless, researchers are optimistic about future performance. Of those evaluating Limited, 10 recommend purchasing its shares, eight advise holding and one says to sell. A median target of $35.50 suggests a one-year gain of 7%.
Nomura
offers the highest price target, predicting a rise of 27% to $42.
Goldman Sachs
expects a 25% drop to $25.
6.
Wynn Resorts
(WYNN) - Get Wynn Resorts Limited Report
develops, owns and operates hotel and casino properties. It owns the Wynn Las Vegas hotel and casino and Wynn Macau in the burgeoning Macau region of China. Wynn suffered a third-quarter net loss as it extinguished debt, but its Macau division continues to post outstanding results. Macau's quarterly net sales soared 50%. The company declared a dividend of $8 per share, yielding roughly 8% on each share of common stock. As Wynn's Las Vegas properties stagnated, it invested in China. It recently added Encore, a hotel expansion with additional gaming space, to its existing Macau property.
Outlook
: Wynn's stock has soared 74% this year. Analysts offer mixed opinions on the shares' trajectory. Currently, seven advise buying, 17 advise holding and two advocate selling. A median price target of $104.29 indicates the stock is roughly 2% below the consensus fair value.
UBS
expects a gain of 26% $129.
Jefferies
predicts a climb of 34% to $137. Both
Citigroup
and
Barclays
believe Wynn's stock will drop 12% to $90.
5.
Family Dollar Stores
(FDO)
operates a chain of self-service retail discount stores in the U.S. Family Dollar sells items ranging from food to apparel to electronics. In fiscal 2010, the company revised its geographic strategy, opening 200 stores, closing 70 and relocating 13. Fiscal 2010, ended Aug. 29, was a banner year. Sales gained 6.3% and net income increased 23%. Quarterly same-store sales rose 4.8%, proving that bargain-hunting is still ramping up with 9.6% unemployment. Family Dollar has capitalized on the thrift trend and boosted prices. Its quarterly operating profit margin rose from 5.1% to 5.4%.
Outlook
: Family Dollar's stock has surged 79% this year, outperforming the S&P 500 by nearly 74 percentage points. Analysts remain optimistic about Family Dollar due to its reasonable cost. Of those covering the stock, 14 rate it "buy," 13 rate it "hold" and two rank it "sell." A median target of $48.92 indicates the stock has passed consensus fair value.
Citigroup
,
UBS
and
Deutsche Bank
all predict that Family Dollar will rise 8% to $8.
Piper Jaffray
forecasts a drop of 26% to $37. Family Dollar accelerated a $750 million share-repurchase program in October.
4.
Priceline.com
undefined
is an online travel company, enabling individuals to secure airline tickets, hotel rooms, car rentals and other services at a discount. Its Name Your Own Price feature lets users bid on airline tickets for specified dates and locations, creating a service that assists travelers in finding cheap fares and airlines in hitting capacity requirements. A low-cost business model translates to lofty margins. Priceline posted a third-quarter operating profit margin of 34%. Hotel room night bookings jumped 54%. And the acquisition of
Travel Jigsaw
, completed in May, helped Priceline achieve 97% growth in days booked for rental cars.
Outlook
: Although Priceline's stock has rocketed 86% in 2010, analysts are still overwhelmingly bullish. Of those evaluating Priceline, 17 advocate purchasing its shares and four recommend holding them. None suggest clients sell. A median target of $463.94 suggests that the stock will appreciate 15% in the next 12 months.
Citigroup
is particularly optimistic, expecting Priceline shares to gain 33% to $540.
UBS
values Priceline at $425, implying a modest 5% of upside in the next year. Impressively, Priceline's stock has risen 37% in the past three months.
3.
Salesforce.com
(CRM) - Get Salesforce Inc. Report
, now synonymous with cloud computing, was perhaps the most popular technology investment of 2010. Its ticker denotes its principal business: customer relationship management. Salesforce sells software that helps companies organize, automate and synchronize business processes, specifically pertaining to sales, making it easier to sign, retain and market to customers at a lower cost. The company has boosted revenue 25% in the past 12 months. Salesforce software is being used at companies ranging from small, local businesses to Fortune 500 companies. In the past year, it purchased
Jigsaw Data
and made an investment in Japan-based
KK Salesforce
.
Outlook
: Salesforce's stock has increased 95% so far in 2010 and has rallied 29% in the past three months. Analysts still recommend overweighting Salesforce in their portfolios. Of those rating the stock, 21 encourage purchasing and 15 say to hold. None advocate selling the shares. Still, a median price target of $133.63 indicates that the stock has run 8% past fair value.
RBC
and
Macquarie
believe Salesforce will rise another 4% to $150, whereas
Credit Suisse
expects Salesforce to drop roughly 30% to $100.
2. Cambridge, Mass.-based
Akamai Technologies
(AKAM) - Get Akamai Technologies Inc. Report
designs software that accelerates the delivery of all types of content over the Internet. In addition to its core cloud offering, Edge Platform, Akamai builds custom services for businesses. It runs an HD streaming network. Its mobile-focused subsidiary,
Velocitude
, was purchased in June. Since 2007, Akamai has increased revenue 19% annually, on average, and boosted earnings per share 21% a year. Akamai is in an outstanding position to grow in 2011, given that it holds $608 million of cash and equivalents and just $59 million of debt. The quarterly operating profit margin narrowed from 25% to 23%.
Outlook
: Akamai's stock has more than doubled in 2010, trouncing U.S. tech indices. Of researchers evaluating the company, eight rate its stock "buy" and 14 rate it "hold." None rank it "sell." It is now marginally below the median price target of $52.23, indicating that it is fairly valued based on the consensus valuation.
Goldman Sachs
expects the stock to rally another 16% and hit $60.
Credit Suisse
offers an opposite view, foreseeing a drop of 28% to $37.50.
1.
Cummins
(CMI) - Get Cummins Inc. Report
makes diesel and natural-gas engines, electric-power-generation systems and engine components. Its products are used in industrial equipment and agricultural and construction machinery. Consequently, Cummins has benefitted tremendously from infrastructure investments -- bridges, roads and the like -- in emerging markets. In the third quarter, its sales in regions outside the U.S. jumped 56%. Cummins' trailing 12-month profit has more than quadrupled from a year earlier. Its gross margin widened from 23% to 26% in the latest quarter. Cummins pays a quarterly dividend of 26 cents.
Outlook
: Cummins shares have more than doubled in the past 12 months, outperforming U.S. benchmarks and industrial competitors by a wide margin. However, the stock costs 28% less than the machinery industry average, based on forward earnings. Nine of the analysts who cover Cummins rate it "buy" and eight rank it "hold." None rate it "sell." A median price target of $104.33 implies a gain of 7%.
Credit Suisse
offers the highest price target, predicting a gain of 27% to $124.
JPMorgan
values the stock at $97.
-- Written by Jake Lynch in Boston.
RELATED STORIES:
3 Unknown Consumer Stocks for Black Friday
10 Worst-Performing S&P 500 Stocks of 2010
Become a fan of TheStreet on Facebook.
Disclosure: TheStreet's editorial policy prohibits staff editors, reporters and analysts from holding positions in any individual stocks.