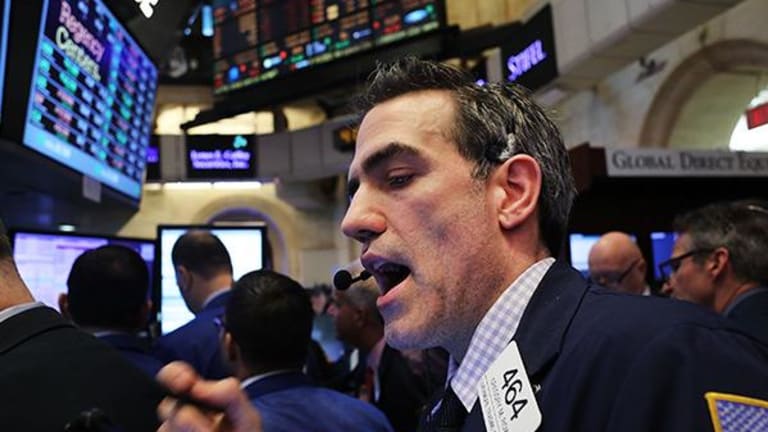 1% Isn't Much of a Solution for the Market
But it's a start, and stocks may try the downside again.
This article originally appeared at 06:00 ET on Real Money, our premium site for active traders. Click here to get great columns like this from Helene Meisler and other writers even earlier in the trading day.
After a day where the market finally saw a decline of 1%, it's only natural for folks to wonder if it will continue or will it be a one-off event. My guess is we get a relief lift and then try the downside again.
Let's start with a group that I have harped about over and over for weeks (OK, it's been months), the transports. There was a sharp breakdown on Tuesday. And all of a sudden everyone seemed to notice. In fact, I saw many taking small victory laps for having turned bearish on the transports on Monday. If it took you until Monday to notice the transports have been in trouble, I wouldn't be proud of that. They are down on the year.
I would not be surprised to see the transports have a rally attempt in the next day or two, especially since folks tended to pile on during Tuesday's rout. There is a measured target of 8600-8700.
And then there are the banks. The Bank Index is down 10% from the recent highs and I have not seen too many who have been bullish on the group willing to give up yet. I think that is a problem. But there is support near 90 so a bounce is not out of the question -- in fact, it should attempt to bounce. But wouldn't a bounce give it the missing right shoulder of a head-and-shoulders top?
There were some interesting developments away from the charts. First, breadth was poor, but it has essentially been poor since mid-February. Yet at least for now the cumulative advance/decline line did not make a lower low.
The S&P made a lower low and the number of stocks making new lows on the NYSE contracted for the first time. Oh sure, that's probably because the oil stocks did not see much selling -- group rotation goes both ways -- but that would be rationalizing the indicator. Fewer is fewer.
Yet over on Nasdaq we see the number of stocks making new lows expanded, and not by a small amount. That is one reason I think if we bounce, we should come back down again.
Another reason is sentiment. It's clearly no longer complacent. The equity put/call ratio was 79%, the highest since the last day of January. But is it bearish? Not yet. Many sentiment indicators have seen the complacency get squeezed from the market, but for me to believe there is enough bearishness out there that we can rally, well, I'd have to see more than one day.
Thus in my view, Tuesday's action was a good start toward bringing sentiment down and shaking out weak holders, exactly what a correction should do. I expect we'll see some more of this in the next week or so. I am comfortable waiting for some extremes to appear.
For more market analysis from Helene Meisler, sign up for Top Stocks, published five times a week.
At the time of publication, Meisler had no positions in the stocks mentioned.