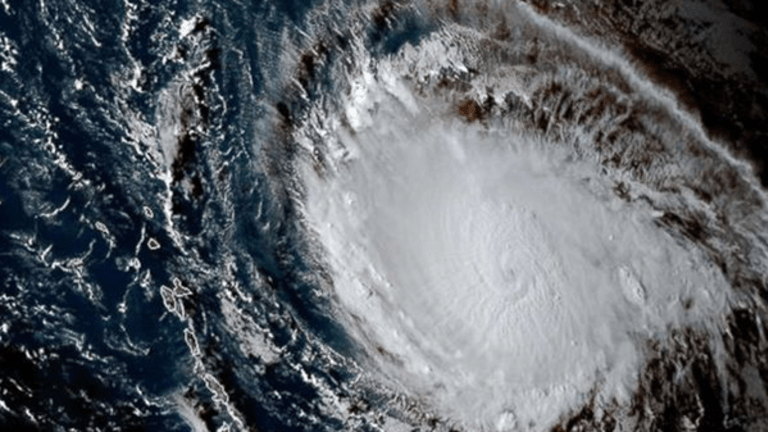 'Potentially Catastrophic' Hurricane Irma Heads Towards South Florida Coast
Hurricane Irma could be first category 5 storm to hit the U.S. since Andrew in 1992, with damage estimates topping Katrina's wreckage.
Hurricane Irma could be first category 5 storm to hit the U.S. since Andrew in 1992, with damage estimates topping Katrina's wreckage.
The U.S. National Hurricane Center said Wednesday that Hurricane Irma is a "potentially catastrophic" storm that could bring 185 mile-per-hour winds to the coast of South Florida later this week as it gathers pace towards the Puerto Rico and the Virgin Islands.
Irma's eye passed over the Caribbean island of Barbuda, some 1,300 miles southeast of Miami, early Wednesday and could be only the fourth category 5 hurricane to hit the U.S. mainland since the early 1930s - the last of which, Hurricane Andrew, caused around $50 billion in damage in 2017 dollar terms. 
"Irma is a potentially catastrophic category 5 hurricane and will bring life-threatening wind, storm surge and rainfall hazards to portions of the northern Leedward Islands, including the Virgin Island and Puerto Rico, on Wednesday," the NHC said in a statement. "The change of direct impacts from Irma later this week ... continues to increase in the Florida Key and portions of the Florida Peninsula. However, it is too soon to specify the timing and magnitude of these impacts."
European insurance stocks followed their U.S. counterparts lower Wednesday as Irma sped towards Florida, the country's 7th-largest economy, and analysts rushed to estimate the ultimate cost of both it and Hurricane Harvey, whose flood waters in and around the city of Houston, America's 4th-largest city, are only now starting to recede. 
Barclays analyst Jay Gleb said that a category 4 Irma, which would have winds in the 150 mph range, could cause insured losses of as much as $130 billion, with the total figure rising past that of Hurricane Katrina's $160 billion total in 2005. 
Reinsurance group Scor SE (SCRYY) was marked 0.9% lower in early Paris trading at €33.95 each while German rivals Munich Re (MURGY) and Hannover Re (HVRRY) were each seen 0.6% lower respectively against a 0.3% declines for the DAX performance index. In Zurich, Swiss Re (SSREY) , which makes up the so-called "Big Four" of European reinsurance groups, traded 1.2% lower at Sfr83.19 each against a 0.5% loss for the SMI benchmark.
Insurance stocks led the S&P 500 lower Tuesday, with companies exposed to markets in Florida, such as Heritage Insurance Holdings (HRTG) - Get Report , plunging more than 16% on heavy volume to a record low $9.35 each, and HCI Group HCI, which slumped 20% to end the day at $30.94. Larger, more nationally-focused insurers, including Travelers Co. (TRV) - Get Report and Progressive Corp. (PGR) - Get Report fell 3.7% and 3.4% respectively. 
Beyond the commercial costs of the Texas and Florida storms, which could collectively top $360 billion, Bloomberg has reported that the Federal Emergency Management Agency's main Disaster Relief Fund is spending around $9.3 million every hour to cope with the recovery effort in Houston. At that rate, according to Bloomberg, FEMA will run out of funds by Friday -- the day before Irma is expected to make landfall in Florida -- unless congressional lawmakers approve the $8 billion in new cash requested by the Trump administration. 
More of What's Trending on TheStreet: