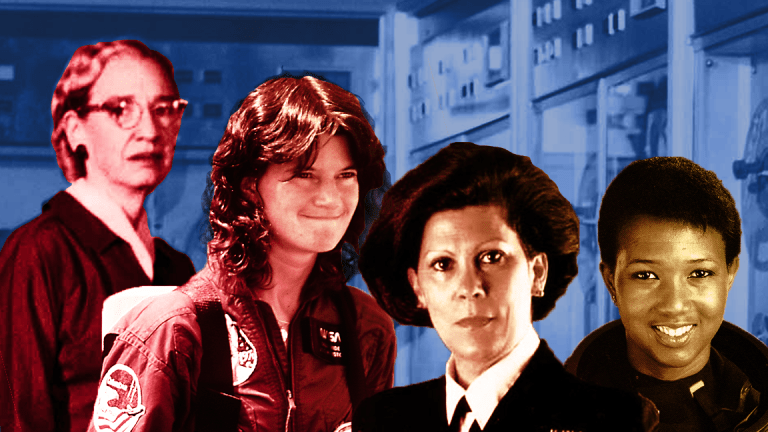 This Thanksgiving, We Are Thankful for These Inspiring Female Business Leaders
#AlphaRising is so grateful to all the amazing women who have taken the time to tell us their stories. They are trailblazers and now part of history. Now it's your turn to help get your daughter into the history books.
Since the launch of #AlphaRising back in July, we're had the opportunity to interview inspiring women and hear their eye-opening business stories.
So it only seems apropos -- especially at this time of the year -- that we look back and give thanks.
We are so grateful to the amazing women who have opened up their hearts and offices to us and offered tons of great advice to the next generation of female leaders.
We are grateful to now be a part of the conversation. 
And we are appreciative of the fact that the conversation is getting bigger, especially amid the #MeToo movement.
We are especially grateful to all the men who have supported and sponsored these amazing women. Leaders Kerrie MacPherson, Global Client Service Partner at EY, and Sallie Krawcheck, founder of Ellevest, both said that men supported their rise to the top.
And we are so indebted to the women who have opened our eyes to lack of women in the STEM (science, technology, engineering and mathematics) fields.
It started back in July when we went to the FordHub in the Westfield World Trade Center in downtown NYC and met Victoria Schein, Ford's (F) - Get Free Report 24-year-old research engineer who has some 20 patents under her belt.
She said she's creating things that don't exist and "making history, one patent at a time." 
But she was the only girl in her internship program at Ford.
And then we went to the Verizon Wireless (VZ) - Get Free Report operations center in N.J. and we spent tile with Nicki Palmer, Chief Network Officer, who not only was so open about how she beat breast cancer, but also clued us into the lack of women in these jobs.
"There is such and underrepresentation out of there...of the 9 million tech jobs that are open...women are on track to fill very little," she said. 
According to online job search site Monster, 3.6 million, or 12.73% of all job listings, are for STEM occupations.
As a matter of fact, the top three jobs listing on the site are for the following positions: application software developers, computer user support specialists and computer systems analysts.
"Considering this field is in demand and there's a labor shortage, especially among women, they should know they have even more negotiating power than ever before, says Vicki Salemi, Monster career expert. 
And considering it's so hard for our college grads to get jobs these days, we should do more to encourage everyone  into these fields.
"You're going to need to learn how to code to survive the 21st century. That's just a fact," says Girls Who Code founder Reshma Saujani.
Palmer completely agrees. So do we. So buy Saujnai's book, Girls Who Code: Learn to Code and Change the World, for your daughter or niece this holiday. Or watch the movie "Hidden Figures," with your family this weekend if you haven't already.
And take a moment to reflect on the female trailblazers in STEM.  Women like:
Rear Admiral Grace Hopper, (1906-1992), the grandmother of computer programming, who revolutionized computer programming as we know it.
Or Sally Ride, (1951-2012) the first female astronaut.
Or Mae C. Jemison, (1956-) the first African-American female astronaut.
Or Antonia Novello, (1944-) the first women and first person of Latin decent to be the U.S. surgeon general, who focused on AIDS and underage smoking.
Tell your daughters about these women who made history.
"We need women -- who make up half the workforce -- to partake in the technological revolution if our country wants to continue to succeed," said Palmer.
Now go help your daughters find their their place in the history books.
What women inspire you? Who are you grateful for? Let us know.
More of What's Trending on TheStreet: