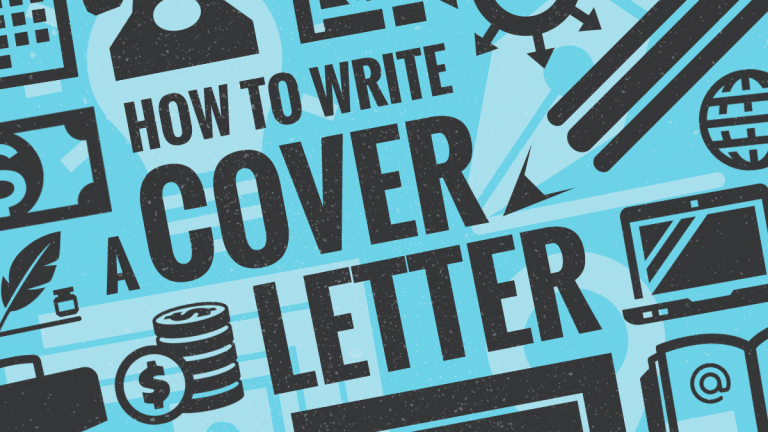 How to Write a Cover Letter in 6 Steps, With Template
A good cover letter can be the key to getting you that first job interview. Here are the steps necessary for any good cover letter.
You can have as impressive a resume as possible when you're putting yourself out there for jobs, but it's your cover letter that gets your foot in the door.
The cover letter functions as an introduction, not too long but still informative, sort of an elevator pitch for the job. It should tell a story and show personality but still lay out your skills as a worker. Look, cover letters are hard. You didn't come here because you don't know what they are, you're here because cover letters are overwhelming, and creating a new one for every application is frustrating.
A templates can help you understand how to compose a cover letter, but generally there are steps to take for any cover letter, regardless of the job. Here's what you need to know.
Cover Letter Template
Before we break down the steps to a good cover letter, here's a template to get yourself familiarized with one that incorporates those steps:
Dear [Name],

I am eagerly writing to you to apply for the open [Job Title] position at [Company]. I've long admired the company's [positive attribute] that has made it a leader in its industry, and I think my current role as [Current Job Title] at [Current Company] makes me a particularly qualified candidate for this position.

As [Current Job Title], I have spent my time [summation of responsibilities]. However, my story starts after graduating [College] with a degree in [Major] and getting my first position at [Previous Company]. There, I learned [relevant skills] as a [Job Title] before moving up to [Job Title] at [Previous Company], eventually landing at the job I have today.

These positions taught me [list of relevant skills], all of which have put me in a position to succeed at [Company.] When my old team at [Previous Company] was tasked with [task], we worked day and night to achieve our goal and managed to [accomplishment]. Managing a team at [Current Company], I've been able to increase [accomplishment]. These projects also served as learning experience, preparing me for [job responsibilities].

The skills I have learned and the team-building experiences I've had have prepared me firsthand for the challenges of this job. I'd love to elaborate on my experiences with you in person and show what I can bring to this company. Thank you for your time, and I look forward to hearing from you.

Sincerely,

[Name]
Generally, your contact info will go at the top if you're sending a physical cover letter and at the bottom if you're doing it online or via email.
Steps for Writing a Cover Letter
So what steps do we take to get from a template like this to an impressive cover letter that gives you a better chance of landing that interview? These are the six steps we recommend.
Step 1: Research the Company You're Applying For
Just like every cover letter should be a little different, every company is a little different. Well, they certainly market themselves as different anyway.
Take a quick but thorough glance into the company and the values they espouse. It can give you quite a bit of direction with regard to the tone you'll be taking with your cover letter. Some stuffy companies, when you visit their website, present as plain as can be. Other companies try to showcase personality and present themselves as more off-kilter. A plain cover letter probably won't do in this case, and they'll be sure to indicate that in the job description.
Some places clearly value teamwork, while others stress independence. Little things like these that can be found in a job description or an 'About' page on the company website can go a long way when you need to know how to sell yourself.
Step 2: Start Strong and Stand Out
Once you have a better understanding of the tone you should take with your cover letter, it's time to start writing it.
The opening of your cover letter is arguably the toughest part. If you start it in an unmemorable, cliche way, those first few lines may be the only thing the human resources person will read before moving on.
Even the greeting you start with can make a difference. If the hiring manager's name is attached, Dear [Name] will suffice. But if there is no name, it's trickier. You'll need to find a greeting that's professional without being too stuffy or formal.
The introductory paragraph needs to get right to the point. What is the position you're applying for? How did you find out about the opening? What can immediately convey to the person reading this that you are eminently qualified for this position? This is where your research can really come in handy. Perhaps there's something in the company's history or the job description that you can add as well to make it clear just how dedicated you are.
Are you sending an actual, physical cover letter? If so, you'll want your contact info at the top of the letter too, preferably as a professional-looking header.
Step 3: Highlight Relevant Experience
With a strong introduction, you've at least hooked them into reading the rest of the cover letter. Now you need to sell yourself as someone who isn't just dedicated, but uniquely qualified to handle this position.
If you currently work a full-time job, your responsibilities and successes here are what should be highlighted most. From there, your other jobs and their responsibilities should be stressed as well. Someone with direct experience but who has also worn many hats in their career is sure to impress.
That tip is, of course, more for people with extensive job experience. What if you don't have that? What if you're looking for an internship? Or your experience is mostly relegated to internships and part-time jobs in college? There is still plenty to be mined from that, even if it isn't the most directly related job experience. You can still establish yourself as a hard worker, and a cover letter that shows how hard you've scraped to get to where you are is more likely to impress than a cover letter where you fudge your job history with blatant lies.
A cover letter isn't just a laundry list of things you have done; it should be treated as a narrative. You're telling the story of what got you to this point and how it makes you the person for the job. You'd be amazed at how a good story can keep you afloat against people with similar or better job experience.
Step 4: Explain How You Could Contribute and Use Examples
Whether your job history is directly or tangentially related to this new position, what you need to prove above all is that it has put you in a position to contribute to this job.
Comb through that job description, it's likely to have plenty of indications of what the company wants from you. What have you done in your career that relates to the skills and expectations of this new job? Be specific. If there's an expectation to supervise an entire department, talk about experience you've had managing and the success your team had. If you can, quantify your success with numbers. An outside-the-box story of a project your team took on not only shows your abilities but can be an engaging read.
It's still a delicate balance. You want to prove how good you could be at this job while maintaining an engaging tone, but you also have to keep brevity in mind. Hiring managers aren't going to read a sprawling novel of a cover letter. Make every word count and keep things concise. Having a cover letter that is to-the-point, results-oriented and appealing in tone can itself show that you are someone who very badly wants this job and can do it well.
Step 5: End Firmly and Confidently
By this point, you've highlighted why you're qualified and what you've done to warrant consideration. Now that you've sold them on qualifications, end by selling them on moxie.
Reiterate your strongest selling points. Stress how much you want this position, and let them know you would love the chance to interview with them and show them in-person that you're the right pick for the job.
Thank them for reading, sign your name and include brief contact info, and you've finished a cover letter draft.
Step 6: Proofread and Send
Now reread it a few times, if possible. Imagine putting in all that work to stress all the right things that could get you an interview, only for a typo in the opening paragraph to blow it.
Petty as that may seem, it can happen. People value proper grammar and spelling, and it's in your best interests to proofread thoroughly. Once you've got everything polished and ready to go, send it out with your resume. Now, all that's left to do is wait.