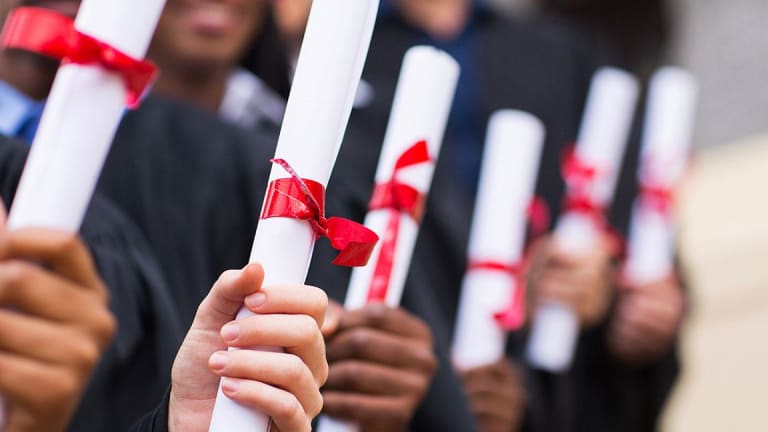 Will You Make More Money With a Certificate or a Degree?
An increasing number of universities are now offering certificate graduate programs where you can show your mastery of a particular business skill, or use toward earning a full degree.
You still can't beat an MBA from an elite school, with Harvard MBA grads pulling down a record $150,000 last year.
But a growing number of colleges and universities are rolling out graduate level certificate programs in business and related fields that may provide a quicker and more cost effective alternative for some students, experts say.
Graduate students across the U.S. earned 42,886 certificates in 2016, up nearly 20% from 2013, according to the Council of Graduate School's latest report.
This impressive growth comes even as many MBA programs see a decline in applications, including some of the top programs.
A decline in foreign students is a factor. But the cost of earning a full MBA has also grown dramatically, forcing young professionals looking for an edge to weigh their options more carefully than ever before.
"What I am seeing more of is a question of 'do I need the full experience of an MBA?'" notes John D.C. Miles, who works for Admissionado, a consulting firm that helps aspiring business leaders get into MBA programs.
"The people who know where they want to go are leaning toward the certification or niche program," he adds.
Just take that Harvard MBA. While Harvard business school students still pull down the big money, they pay more than ever before for their prestigious, two-year degree.
The cost of a Harvard MBA has roughly doubled since 2000, recently crossing the $200,000, for tuition, room and board and other fees and expenses.
Not alone, eight other top MBA programs now cost well in excess of $200,000, with Stanford University leading the pack at more than $225,000, according to the latest cost surveys.
You don't have to be top tier to be expensive, though, with the average, all-in cost of an MBA program in the U.S. weighing in at around $140,000.
By contrast, certificate programs can cost a fraction of a full-MBA and don't require you to ditch your job.
Harvard Business School offers a Certificate of Management Excellence, with costs in the $45,000-range for completing three, one-week programs.
An MIT Sloan Executive Certificate runs in the $13,000 and $14,000 range.
It's not just the top schools that are doing this, though. Universities across the country are also adding certificates to their MBA and other graduate level business offerings.
UCLA charges $5,000 for a certificate in business administration, which takes one year of part-time study to complete, compared to $96,000 for an MBA, not counting room and board. Rutgers and Pepperdine offer "mini" MBA certificates for $5,000 and $6,000, respectively.
In a growing number of cases, business schools are offering stackable certificates or courses that can be taken on their own or combined to eventually earn an MBA.
The University of Kansas offers a Foundations of Business certificate for $15,300. It takes about a year to complete, with students earning 18 credit hours along the way, notes Dee Steinle, executive director for MBA and MSB programs at the University of Kansas. Those who want to, can continue on and earn the additional 24 credit hours needed for the full MBA, which is priced at $35,700, Steinle says.
"Time and money are the biggest drivers for any professional student if you are working full time," Steinle says.
But it's not just rising costs that are driving interest in certificate programs, experts say.
Young professionals are also increasingly embracing certificates as a way to bone up on the skills they need to compete in today's more highly specialized workforce.
And employers are becoming increasingly knowledgeable and receptive to certificates as opposed to just looking for the MBA or master's on a resume.
"A modern employer looking for good talent, especially younger talent, will understand someone is putting their tool kit together with a lot of different tools," Steinle says. "It's not just a master's degree in that toolbox."
Business schools and their engineering counterparts are also adding certificates in a number of highly specialized areas as well.
The University of Kansas' engineering school, for example, just added a certificate in cyber security.
Certifications are particularly useful when someone has already started down a particular, niche career path, Miles says. That could mean a biotech engineer adding a certificate in biotech marketing or a health care executive looking to get a certificate in management.
"Certificates are great for that domain and niche experience and you are looking to amplify that," Miles said.
Certificates can also lead to a bump in pay, about $5,000 on average, though there are no numbers yet specifically for graduate level certifications, says Jeff Strohl, research director for the Georgetown University Center on Education and the Workforce.
"If you throw a certificate on top of a degree, there are fairly significant earnings increases," Strohl says.
Still, the MBA has hardly outlived its usefulness and may be the best fit if one is looking to go into consulting or other fields where broader leadership rather than niche prowess is prized, Miles argues.
Despite their high costs, students with decent graduate school entrance scores can negotiate for financial aid. MBA programs are eager to maintain high average entrance scores of their students, which, in turn, play a big role in the national rankings published by various news organizations, he says.
"They (MBA programs) are assessing leadership potential and how you have led teams in the past," Miles says. "It's ultimately about one word: Leadership."