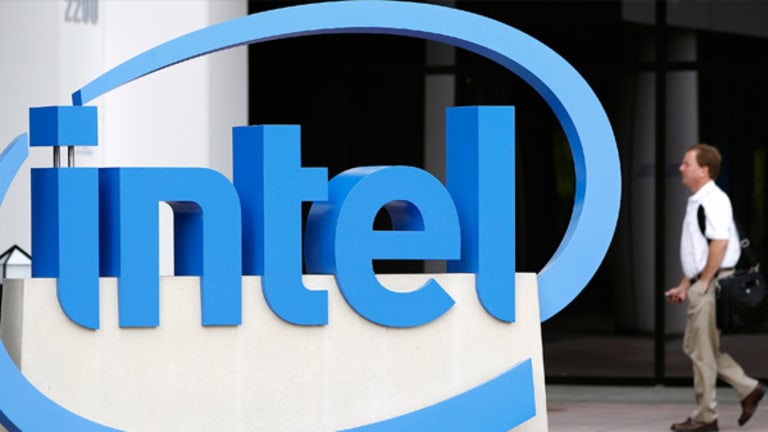 Why Warren Buffett Would Buy Intel's Stock Now
Buffett was wise to sell when he did. He would be equally wise to buy now.
NEW YORK (TheStreet) -- At the risk of sounding like an Intel (INTC) - Get Intel Corporation ReportINTC apologist, the chip company seems to be grossly misunderstood.
Despite the potential that now exists in the company's move toward the Internet of Things, Intel remains a haven for bears who can't or won't forgive the company's management for having missed the growth opportunity in mobile. But that's in the past. Investing is about the future. And no one knows that better than Warren Buffett.
It has been two years since Buffett's Berkshire Hathaway( BRK-A)BRK-A sent shockwaves through the tech world he dumped his stake in Intel, shunning his buy-and-hold strategy.
Through August 2011, Berkshire had accumulated 5.66 million shares in Intel for an average price of $22.05. Then two months later, Buffett's company added 5.84 million shares for an average price of $21.46.
It was then learned on May 8, 2012 that Berkshire sold all of its 11.5 million shares for an average price of $27.25, netting roughly $63 million. Not bad for nine months' worth of work.
It was not unusual for Buffett to reshuffle his portfolio. That same year, investors learned that Berkshire cut its stake in Johnson & Johnson (JNJ) - Get Johnson & Johnson ReportJNJ and Kraft Foods (KRFT) KRFT. It was a clear lack of confidence in Intel, nonetheless. And for that matter, a well-timed move.
After Buffett's exit, Intel's stock lost roughly 30% of its value during the next six months, falling as low as $19.11 and closing the year at $19.47. Intel's stock has never been the same since, which is precisely why Buffett might consider buying again.
As with most leading tech companies, Intel is working through a challenge that all corporations face at some point in their existence -- figuring out the next move when your premium product no longer brings in all the bacon.
For Intel, the declining PC industry, where its processors dominated for three decades, has given way to smartphones and mobile devices. Qualcomm (QCOM) - Get Qualcomm Inc ReportQCOM and BroadcomundefinedBRCM have emerged victors in these areas. But that doesn't mean the Intel of today lacks value, which is what Buffett always seeks to uncover.
Recall, Buffett loves monopolies. And one of the reasons Berkshire dumped Intel was because Microsoft (MSFT) - Get Microsoft Corporation ReportMSFT decided to open its new Windows operating system (at the time, Windows 7) to Qualcomm, among others. And when you factor in all of the constant fears regurgitating then about the decline of PC markets, being bearish Intel was easy.
Fast forward two years later: Intel's earnings show that the PC and server declines have not been as bad as predicted. In fact, in the recent quarter, these two businesses for Intel posted $4.12 billion in operating income, which was up 13% year over year. Even more impressive was that they generated roughly 70% in gross margin.
And when you consider Intel's aggressive moves into the Internet of Things, including its acquisition of Basis Science, a company that specializes in wearable device technologies for health and wellness applications, Intel is well positioned to recapture growth. I'm sure Buffett is aware.
The wearable gadgets market is predicted to grow to $8 billion in the next four years. That market ended 2013 at $1.4 billion. Intel, which has begun to leverage resources to deliver new products that offer greater utility and value to its customers, has acquired an immediate position in the next growth area of tech.
And with the PC/server market having stabilized, Intel can harvest years of rich cash flow while at the same time increase its capabilities and scale in growth areas. Buffett was wise to sell when he did. He would be equally wise to buy now.
At the time of publication, the author held no position in any of the stocks mentioned.
This article represents the opinion of a contributor and not necessarily that of TheStreet or its editorial staff.