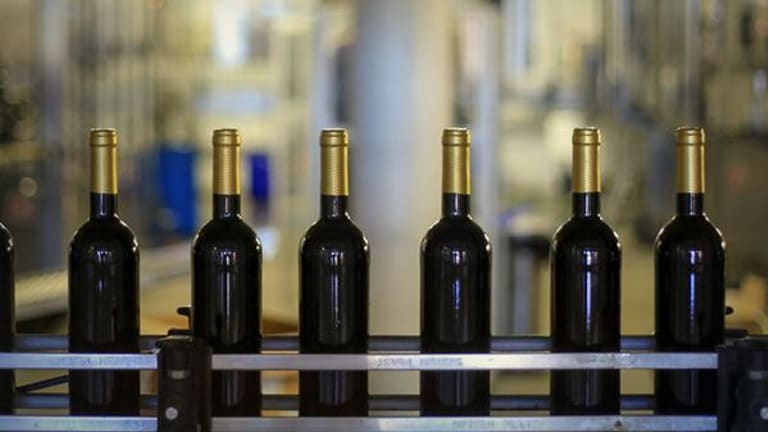 Why Burgundy Is the Thinking Person's Wine
Great Burgundy captivates the palate and challenges the mind simultaneously.
We stand in a dark, dank cellar on a cold November morning, glasses in hand as Gilles Lafouge draws wine from barrel with a pipette and give each of us a sample to swirl, smell, savor and then spit into a bucket. I've come to Burgundy to experience its wine-making culture; the nine guys I'm with come every fall from St. Louis to immerse themselves in the food and wine of their favorite region. Two of them, the father and son Tony Bommarito, are importers; the other seven obsess over producers and vintages both here and at home, where a group of them gathers for lunch every week.
They're in excellent company. Now that the harvest is over, importers and journalists are flocking to this rural part of France about 200 miles southeast of Paris to talk to producers and assess their wares. One morning at breakfast at Chambres de L'imprimerie, a charming bed and breakfast on the outskirts of Beaune, the capital of the wine trade here, I run into Jancis Robinson, the longtime wine critic at the Financial Times. She's off to taste at Domaine de la Romanee-Conti, one of the world's most famous estates. Even though she's been at this for 40 years, she admits that it's still a little disorienting to spit wines that go for thousands of dollars a bottle, but that's the only way to stay sober when you taste upwards of 100 wines a day, writing notes as you go.
Only the wine elite can visit DRC, but Burgundy is a great place for drinkers of all levels of sophistication to learn about wine. The easiest way to do that is to stay in Beaune. The largest producers, called negociants, offer wines at all levels from basic Bourgogne, which can be made from grapes grown anywhere in Burgundy, to village, which must come from a single town like Beaune or Volnay, to single-vineyard wines like DRC's Romanee-Conti. Houses such as Drouhin and Louis Jadot can easily accommodate visitors and give them a sense of how the specific plot of land where grapes are grown manifests itself in the wine made from them. Almost all of Burgundy's whites are Chardonnay, its reds Pinot Noir, so place rather than variety is paramount here: the precise soil on which a vine grows, the slope of the hill on which it sites, the exposure to sun it receives.
The best wines here are aged in oak barrels, which soften a wine by giving it a minute bit of exposure to oxygen and, if new, impart flavors of almond and grilled bread. Louis Jadot created its own cooperage, Cadus, in 1995, just north of Beaune. Staves of wood from French forests dry outside the facility, where workers produce the barrels in a highly mechanized process that culminates in toasting, where the half-made barrel is placed over open flame to completely dry the wood and condition it in a way that will impart flavor to the wine placed in it. Cadus offers three levels of toast. Jadot uses the bulk of the barrels, but producers around Burgundy and all over the world buy from Cadus.
Beaune is a mecca for winemakers, some of whom end up staying here. Alex Gambal came in 1993 and started making wine under his own name four years later. His wines are worth seeking out, and his candor can help Americans understand Burgundy better. He's quite open, for example, in talking about the financial pressures that the poor harvests of 2013, 2014 and 2015 put on many producers, a topic that would be hard to raise with most Frenchmen.
But most of the winemakers here come from families who have farmed the land for generations. Anne Parent of Domaine Parent in Pommard says that Thomas Jefferson visited her ancestor Etienne at her family's estate and later planted cuttings from Parent vines at Monticello. She shows the difference vintage can make with a tasting of three premier cru reds from the three Epenots vineyards. The 2013, she says, is a wine to drink now; it's smooth and delicate, with good acidity but soft tannins. The vintage was so fragile that Parent used fewer new oak barrels so as not to overwhelm the grapes. While 2013 was a challenging year with hail in July, 2011 was much warmer, she says, and the Epenots from that year had more tannin and savory, earthy notes. The summer of 2009 was warm and dry, perfect weather for growing grapes, which the wine shows with its notes or orange and cranberry on the nose, balance of fruit and earth on the palate and precise finish.
Family ties are thick among Burgundy's winemakers. Gilles Lafouge, for example, married a daughter of the Bouzereau family in Meursault, whose 2015 whites I found Cartesian in their precision and purity. One of the Missourians agreed but said that the 2014s were even better; the weather that year was a little cooler, and so the fruit was more suited to the winemaker's style.
The Pernot family has made wine in Puligny-Montrachet for generations and accumulated about 57 acres of vineyards - a massive amount for Burgundy, where thanks to French inheritance laws and the high cost of land estates tend to be small. Paul Pernot has handed off the winemaking duties to his sons Paul and Michel, whose wines are coherent and appealing, with more oak influence than Bouzereau's. Paul's son Phillipe will eventually inherit some of the family land, but in the meantime he married into another local family and makes wine under the Pernod-Belicard. His Meursault village has classic notes of almond and apple and manages to be both lush and precise at the same time, a rare feat in winemaking but one characteristic of Burgundy.
The St. Louis crew didn't go to DRC, but they did visit two producers in Vosne-Romanee. At Meo-Camuzet, we tasted the 2015s in the cellar and spat into a communal bucket. Anne Parent called 2015 a "bling-bling vintage," because the summer warmth translated into a lot of fruit in the wine. That allowed winemakers to include more stems than usual when they pressed their red grapes. The stems impart tannin, which gives structure, but they also add water, which means less alcohol in the wine and in hard years like 2013 can have an unappealing taste. The Meo-Camuzet reds show that warmth in their fruit and robustness. We tasted about 15 wines, but they were distinct enough, the fruit precise enough, that the exercise never got tedious. A premier cru from Au Cros Parantoux, a vineyard in Vosne-Romanee, started off with cassis, then moved to darker fruit before a finish that combined smoke, fruit and savory notes.
The sensibility at
, a five-minute walk away was ethereal by comparison. The winemaker Nicole Lamarche pours her wines for us at a table in a formal reception hall rather than in a cellar. Her Vosne-Romanee Premier Cru Les Malconsorts has notes of rose and fresh wild strawberry on the nose with a bright, fresh acidity. The Grand Cru La Grande Rue, just south of Romanee-Conti, had a subtlety and elegance of fruit, evanescent but compelling. Lamarche said she picked all of the fruit from the vineyard on September 11, 2015 based on how taste of the grapes evolved in the preceding days. She included all of the stems in the wine to give it structure and longevity. And yet one of my companions, who's tasted a lot of Burgundy over many years, thought she'd failed to capture the fruit in the vintage. That interaction between the sensual and analytical, between winemaking as art and winemaking as craft, makes him and so many others return endlessly to Burgundy.