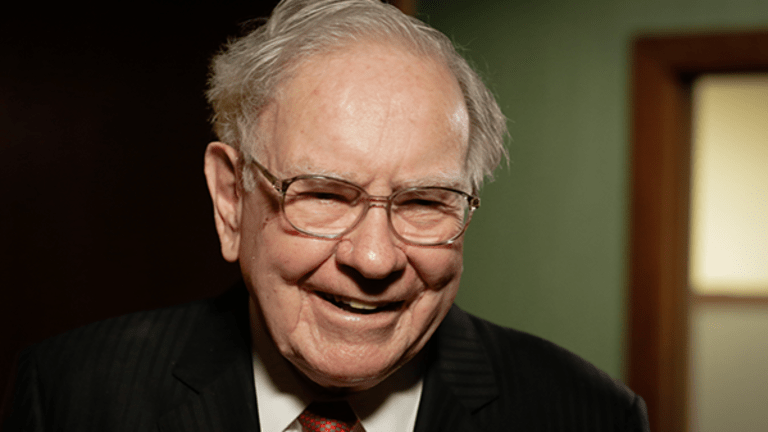 How to Make Your Life Successful Just Like Billionaire Warren Buffett
Tips and tricks for wholesome living taken straight from the Oracle of Omaha. Give these a try as soon as possible to improve your life.
He's no Jay Gatsby. Billionaire investor Warren Buffett has spent 87 years avoiding the party scene many might expect from someone worth $77 billion.
Instead, Buffett is an avid reader, a self-proclaimed bridge addict and an astoundingly generous philanthropist. When he's not leading Berkshire Hathaway (BRK.A) - Get Berkshire Hathaway Inc. Class A Report (BRK.B) - Get Berkshire Hathaway Inc. Class B Report , Buffett is often found poring over an encyclopedia in favor of a tabloid, or downing a Coca-Cola (KO) - Get Coca-Cola Company Report cherry coke instead of a dirty martini. Here's a look at the way Warren Buffett has built his successful life.
Start Early and Learn Often.
Buffett made his first investment when he was just 11 years old back in 1941. He bought three shares of Cities Services Preferred for $38 each. Shortly after he bought them, the stock dropped in price to $27. As soon as the price ticked up to $40, Buffett sold. Had he held the stock for longer, he would have seen Cities Services shares shoot to $200. This, Buffett has said, informed his strict investing strategy: buy and hold.
Equities weren't his only side hustle as a child. The young Buffett opened a lucrative pinball business in a barbershop and split the profits with the shop owner. After profiting from the first pinball machine, Buffett and his partner, friend Don Danley, invested their earnings in more machines at more barbershops. After one year of operating the business, the two sold it for $1,000, according to Business Insider.
Buffett also delivered Washington Post newspapers, sold gum and soda and washed cars. By the time he was 16, he was making more money than many of his teachers with a small fortune of about $53,000 in today's dollars.
Today, Buffett has some serious stock holdings. 
One of Buffett's top picks is Apple Inc. (AAPL) - Get Apple Inc. Report . The investor has never sold an Apple share, and said last month that he sees Apple becoming the first trillion-dollar company. Other big Buffett holdings include Coca-Cola, Wells Fargo (WFC) - Get Wells Fargo & Company Report , American Airlines (AAL) - Get American Airlines Group, Inc. Report , American Express (AXP) - Get American Express Company Report , Bank of America (BAC) - Get Bank of America Corp Report , Costco (COST) - Get Costco Wholesale Corporation Report , Kraft Heinz (KHC) - Get Kraft Heinz Company Report , Southweat Airlines (LUV) - Get Southwest Airlines Co. Report , Moody's (MCO) - Get Moody's Corporation Report and Restaurant Brands (QSR) - Get Restaurant Brands International Inc Report .
Have Patience and Don't Be Afraid to Fail.
Even with strong momentum coming out of high school and college, Buffett was rejected by the Harvard Business School. He's said to have left the in-person interview thinking he wowed the admissions counselor, even calling a friend to urge him to join Buffett in Cambridge. But Buffett was turned down, and instead attended Columbia Business School.
When he graduated business school, Buffett asked his idol and mentor Ben Graham for a job at his Wall Street firm, Graham Newman. But Graham turned Buffett away, instead saving the spot for a young Jewish man since it was much harder for Jews to get work on Wall Street than it would be for Buffett.
With that, Buffett returned to Omaha and took a job at his father's brokerage firm, according to Business Insider. He worked there for three years before Graham had a change of heart and hired Buffett in 1954. Although Buffett was a millionaire by age 32, he didn't amass more than 99% of his wealth until after his 50th birthday.
Read. Read Some More.
Buffett has attributed a great deal of his success to his borderline obsessive penchant for reading. According to some reports, he estimates he'll spend as much as 80% of every day reading. Buffett starts every morning with several newspapers. He doesn't keep a computer at his desk, preferring instead a world encyclopedia and the day's printed news.
Buffett said he reads as many as 500 pages from books each day, according to CNBC. "That's how knowledge works. It builds up, like compound interest," Buffett said.
When he's not spending free time reading, Buffett is known for his skills at the bridge table. He has told reporters he's a self-proclaimed bridge addict and "wouldn't notice" a naked woman walking by if he were in the middle of a bridge game. Buffett also strums the ukulele. These certainly aren't the pastimes one would expect from a mega-rich billionaire, but Buffett keeps it real and keeps it simple.
Give Back.
Buffett has donated about $25 billion to charity throughout his life, with a large portion going to his friend and Microsoft (MSFT) - Get Microsoft Corporation Report founder Bill Gates' Gates Foundation.
Buffett also started the Giving Pledge with Gates. Those who sign the pledge promise to donate a majority of their wealth to charity before their death. The 154 signers include Groupon (GRPN) - Get Groupon, Inc. Report founder Brad Keywell, Epic (EPOR) founder Judy Faulkner, Spanx founder Sara Blakely and activist investor Bill Ackman.
More of What's Trending on TheStreet: