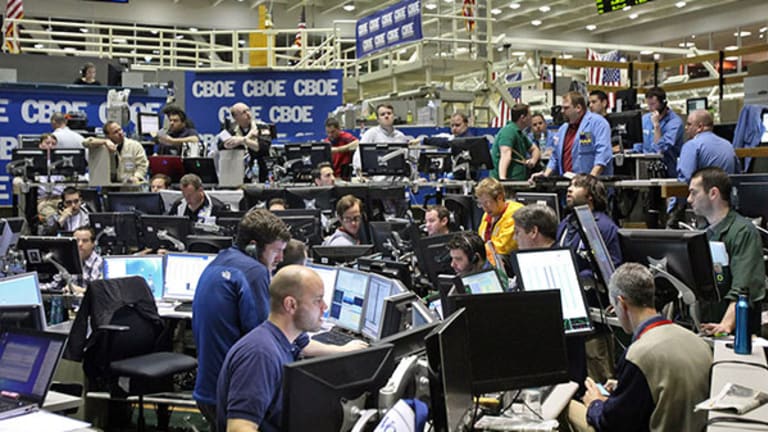 Trading Verizon With a Bullish Vertical Call Spread
The preferred trading tactic for Verizon is the bullishly biased vertical call spread. Buy to open April 45 calls and sell to open April 50 calls for $1.50 debit.
NEW YORK (TheStreet) -- Over the past 52 weeks, Verizon Communications (VZ) has traded between $38 and $52. Over the past few weeks, Verizon has traded between $43 and $46+ as the stock, as well as almost all stocks, have been quite volatile. Blame that fact on conspiring short-sellers and angst-laden buyers who stayed in cash or sold at the bottom and won't come back until it's "safe to buy again."
At the $46 level, Verizon has a dividend yield of almost 5% and trades at a forward PE of 11 times, or 4 times consensus next year's earnings estimate of $4 per share. For this current quarter ending September 30, consensus sees Verizon growing at a 16% year-over-year rate. Those projected earnings are $1.08 vs. last year's 89 cents.
Given the volatility of the current market environment, if you are going to trade options, it will most times pay to use both a limit order, as well as trying to buy when your neighbor is selling. Thus, the following trade is based on that premise, along with using a price for VZ that is near $45.
The trading tactic I prefer now for VZ is the bullishly biased verticalcall spread.
Trades: Buy to open VZ Apr 45 calls and sell to open VZ Apr 50 calls for $1.50 debit.
The suggested target to close for a gain is a bid of $2.00 and the suggested stop is a bid of $1.00. As always, this is a guideline and you should always stick to your trading plan and what's best for your risk/reward tolerance.
This article is commentary by an independent contributor. At the time of publication, the author held no positions in the stocks mentioned.