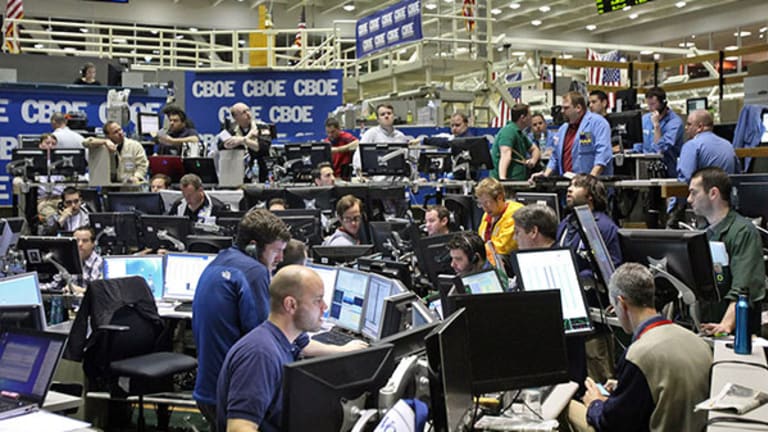 Trading Bank of America With a Dynamic Synthetic Call
The best trade tactic for BAC is called the dynamic synthetic call, where you buy the underlying stock and the at-the-money puts.
NEW YORK (TheStreet) -- Bank of America (BAC) on July 8 was at $16.25. By July 22, BofA hit $18.25. Since then, it has slipped a bit, closing Wednesday at $17.88. For the past 52 weeks, Bank of America has traded between $15 and $18.50. Given the chaos of the market so far this year, for any stock to be trading near its 52-week high now is a plus for the stock as well as a possible sign of better things to come. And an increasing relative strength is always a good thing for stocks you are long. 
In BAC's case, that improvement in its relative strength is most likely due to the company's potential for showing improving earnings well into 2016, if not beyond. And as earnings grow, most times so does a stock's dividend and its percentage rate of return relative to the stock's current price. 
The stock closed Thursday at $17.81, off 0.31%.
Technically, Bank of America has a one-year stochastic pattern now, which I read as being slightly bullish with rising potential. I read its RSI as also being in a slightly bullish pattern, trending such on its one-year chart.
BAC Weekly
Normally stocks that trade in the "teens" have options volatilities that trade much higher than the low 20's, which is the level of BAC options vols today. Thus this "low" vol in BAC definitely lowers the capital at risk in this trade.
The trade tactic I prefer now for BAC is what I call the "dynamic synthetic call" (DSC). Thus it is best to read this article to understand the DSC tactical approach and what it entails. This tactic has a trader buying the underlying stock and the at-the-money) puts. However, two puts are bought relative to the buying of each 100 shares of stock purchased.
The additional put purchased can be used to add another 100 shares of BAC at some price and time in the near future, or it can be traded separately should BAC decline well enough in price so that the additional long put, if sold, creates a profit that you deem to be closed out. This way, the position would revert back to being a synthetic call, specifically that of being long a BAC synthetic November 18 call.
Should BAC rise and continue to trend upward, the position would at some price and time become profitable to either close in full, or partially so. One example of a partial closing would be selling the long stock and selling one or both long puts.
The trade is as follows: Buy 100 shares of BAC common stock for $17.90 and buy to open 2 November 18 puts for 89 cents (or a total of 1.78 points, which is 89 cents times 2).  
The total capital at risk would be the cost of the stock plus the cost of the 2 puts, added together. That math would equate to the breakeven price point for the trade. That example would be: BAC stock (100 shares) bought for $17.90 and 2 BAC November 18 puts bought for $0.89 (total = 1.78 debit/cost). Adding $17.90 (100 shares) + $1.78 (2 long puts) = total capital outlay of $19.68 per DSC.
The $18 strike is the guaranteed stop-loss price for the long stock bought at $17.90 due to the position being long 1 put that could be exercised at $18. That equates to a 10-cent credit relative to stock bought at $17.90, if that put is exercised. Adding the risk capital together represents a total of capital at risk of $1.78 minus that 10-cent credit, or 1.68 points per DSC.  
As for suggested targets to close, for a gain or at a stop loss, I prefer to use my standard target of the 25% level for both. Thus, with total risk being 1.68 points, a 40-cents+ total gain or loss would be those suggested targets. However, due to the various paths an options trader can take with the DSC position, it is best to let the market do what it will and then decide whether to alter/morph the DSC as things change over the course of the trade. 
If you for any reason are uncertain regarding this DSC trade, then my rule of "when in doubt, stay out" becomes your answer! However, if that's the case, paper trade this DSC for edification purposes, and maybe in the future a DSC trade might set up and you will know what to do, as well as how to execute it.
This article is commentary by an independent contributor. At the time of publication, the author held no positions in the stocks mentioned.