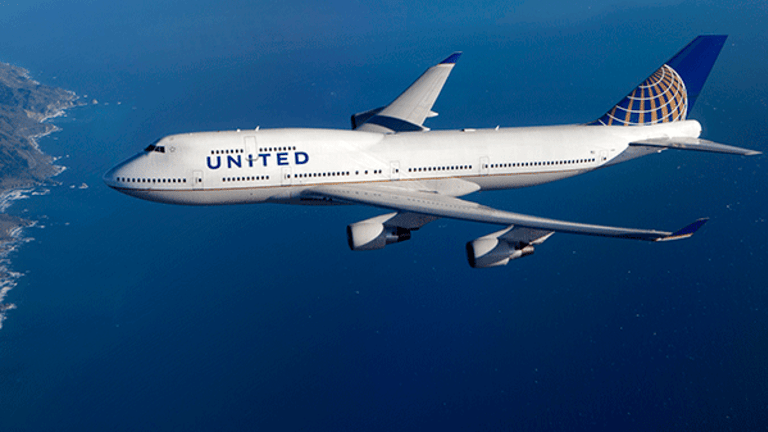 Trade Idea: A Bear Call Spread on Boeing
This is a good way to make some lunch money, and keep your face from being ripped off.
Boeing (BA) - Get Free Report reports this Wednesday morning prior to the opening bell at 11 Wall Street. In fact, in this busy week for quarterly earnings releases, not only does Boeing report, but so do just about all of Boeing's competitors. From the defense industry, you'll hear from Lockheed Martin (LMT) - Get Free Report , General Dynamics (GD) - Get Free Report , Raytheon (RTN) - Get Free Report and Northrup Grumman (NOC) - Get Free Report .
On top of that, competitors from the aerospace industry will go to the tape this week. You'll see data from firms such as United Technologies (UTX) - Get Free Report and Textron (TXT) - Get Free Report . Boeing does not truly make an apples-to-apples comparison with any of these firms, and perhaps that is why it caught my eye this time around. It's not going to be easy from here on out.
I really don't know, but something seems to not fit here. I mean, these are all "Trump" stocks that have already benefited, and will benefit in a large way, if policies such as lowered corporate taxes or increased fiscal spending were to be implemented. BA really does give you some bang for your buck.
The stock looks expensive, at least on the surface, trading at a PE ratio of 24, while every other name I just mentioned lands at a PE somewhere between 16 and 20. Some of that is due to the juicy dividend yield, which after its recent increase is now 3.6%, easily the highest among these stocks. You've got to wonder, though: is Boeing really a Trump stock? Is Boeing worth the value assigned?
Sure, BA has the Air Force One contract. We all know it was just pressured into lowering the cost of that program to the U.S. government. Sure, BA makes the F/A-18 Super Hornet fighter plane, which the president is using as leverage against Lockheed Martin in order to reduce the cost of that firms F-35. Even if that's just a bluff, there's no reason to think that the F-18 is going to go completely away any time soon. Orders for the F-18 have recently come in from Canada and Kuwait. Earlier this month, SpiceJet (India) agreed to buy an additional 100 to 150 commercial aircraft from Boeing. The new and improved deal (which is a beefed up version of a smaller deal announced in 2014) could be worth $22B before discounts (which is customary) are taken.
Wait! What was that? Boeing sells aircraft all over the world. Everybody knows that. In December, Boeing signed a huge deal to supply IranAir with 80 aircraft worth somewhere between $8 billion and $16.4 billion. Could this flourishing international business become a problem? The president is pushing an "America First" policy. While making products in the U.S. and selling them abroad should not be a problem here, there could be tension abroad, causing headwinds for large American exporters. Especially ones that have significant competition elsewhere, such as Airbus (EADSY) - Get Free Report . Boeing has orders to deliver 292 aircraft to Chinese customers, just in case that was going to be your next question.
Now, to be clear, I don't think Boeing is a sure sell. I do think that the stock is a bit on the expensive side, and is technically closer to existing in an overbought state than its already mentioned domestic competitors. I think that the nature of the firm's international business will have to intersect with the direction of the nation's trade policies at some point, and that will cause some uncertainty. Uncertainty can always blunt direction. By the way, just about 10 days ago, RBC Capital started coverage on Boeing with an Underperform, and slapped a $136 price target on the stock. What they mentioned as concerns were declining profit margins in the commercial aircraft business, and the new president's trade policy agenda.
For our example, we'll always use minimal lots, and what was the last sale.
The Strategy: For new traders, this is known as a "Bear Call Spread". This is a tailor-made options strategy for guys like me (and maybe you) who don't go around shorting $160 stocks. You get paid upfront with this strategy, and even if things go wrong and you lose money, the maximum loss is capped. This is a good way to make some lunch money, and keep your face from being ripped off
BA: Last sale $159.53. This trade does not involve the equity.
The Trades:
1) Sale (write) $160 January 27 call for $2.36
2) Purchase $165 January 27 call for $.71
These call options expire this Friday (you can go out further for higher stakes), and you have just pocketed $1.65, or $165 using minimal lots, if the stock goes lower, or closes this Friday below $160, you keep the premium collected. If the stock responds well to earnings, and goes higher, your worst case scenario is a Friday close above $165. In that occasion, you would be called away at $160, and you would call the shares away from someone else at $165. On paper, that's a $500 loss, but you took in $165, so your risk is only $335 plus commission.
If you have the risk tolerance and are feeling aggressive, you could sell (write) the $157.50 calls for $3.80 instead of the $160s for $2.36. Now, you're bringing in $309 instead of $165, but your net risk also moves up from $335 to $441. Whether or not that is worth it, is up to the individual.
At the time of publication, Stephen Guilfoyle had no positions in the stocks mentioned.