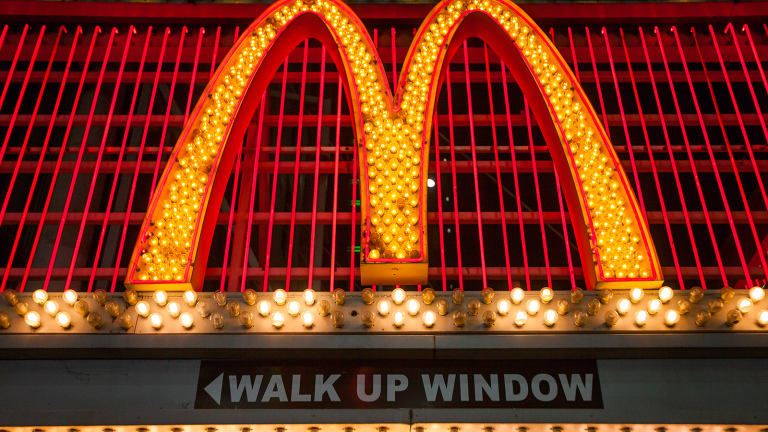 3 Things to Learn About Leadership From McDonald's CEO Steve Easterbrook
He's the man behind McDonald's strong third quarter. Here's what we can learn from Steve Easterbrook's smart management style.
Steve Easterbrook knows more than just how to sell burgers.
Since Easterbrook took over as CEO at McDonald's Corp. (MCD) in 2015, shares of the fast food titan have surged 65%, easily outperforming the S&P 500 Index's 22% gain in the same period.
The company's strength came into the spotlight Tuesday when McDonald's reported a strong third quarter and highlighted increasing comparable store sales and customer traffic.
In the two years Easterbrook has led the Illinois-based company, he's exhibited a strong management style that has kept McDonald's from falling behind as competition tightens. Here are three lessons to learn from Easterbrook on effective leadership in the face of a changing industry.
Sometimes, the Devil Is in the Details
Boosting McDonald's strong third quarter were plentiful deals that customers devoured. There were $1 soda deals and build-your-own burger deals. There were McPick Two deals that offered two menu items for just $5. There were Signature Crafted sandwiches more reminiscent of a street side café than the corner fast food joint.
Essentially, Easterbrook implemented deals that appealed to customers and didn't have to fundamentally change the nature of the company. Sure, it's increased its offerings and upped premium menu items, but these are details geared specifically toward pointed change.
And they worked. McDonald's reported same-store sales growth of 4.1% year-over-year in the U.S. Globally, that figure topped 6%.
Easterbrook's detail-oriented turnaround plan is an answer to the broader consumer shift in sentiment to expect more from fast food restaurants.
Easterbrook is capitalizing on the downfall of his competition, too. As Chipotle Mexican Grill (CMG) still tries to get its mojo back following a string of food safety issues, Easterbrook has implemented in his stores part of what made Chipotle so successful. McDonald's now has make-your-own options, allowing customers to create their meal to their individual liking.
Search for Stability
In the third quarter, McDonald's refranchised businesses in China and Hong Kong, reaching its goal to refranchise 4,000 restaurants over one year ahead of time, CFO Kevin Ozan said on Tuesday's earnings call.
That refranchising offers more stability in revenue and income, plus higher returns on invested capital, McDonald's said. Operating the stores becomes less expensive, and rent and royalties payments are more predictable. Those are the kinds of moves made with the shareholder in mind.
Easterbrook operates his business with clear intentions and relative transparency. His goals are set with returns in mind, and that often means searching for stability. He's been so successful in achieving that stability because he knows the business inside and out, and he understands what investors want and need.
Because he was previously chief brand officer, Easterbrook arguably knows McDonald's better than anyone in the C-suite. He understands the brand and utilizes his knowledge to achieve stable, positive positioning for the company.
Just as Easterbrook knows that the customers want options, individuality and fresh deals, he knows that the investors want tangible returns.
Be Nimble
Easterbrook has been with McDonald's since 1993 aside from two years he spent away as CEO of U.K. chain PizzaExpress and later noodle shop chain Wagamama. When Easterbrook returned to McDonald's he planned to implement the speed and agility of the smaller firms he led.
That was no easy task, as McDonald's is enormous, typically far larger than most of its competition. But Easterbrook understood that implementing turnaround ideas and improving the customer experience needed to happen as soon as possible, regardless of the corporation's size.
According to several reports, the blockbuster idea of all-day breakfast at McDonald's had been floated for years before Easterbrook took the helm. But it wasn't until he became CEO that the dream became a reality. He's not one for hemming and hawing, but rather for doing.
More of What's Trending on TheStreet: